Contribute
Your support helps us cover dance in New York City and beyond! Donate now.
10 Hairy Legs Presents "Just Suits"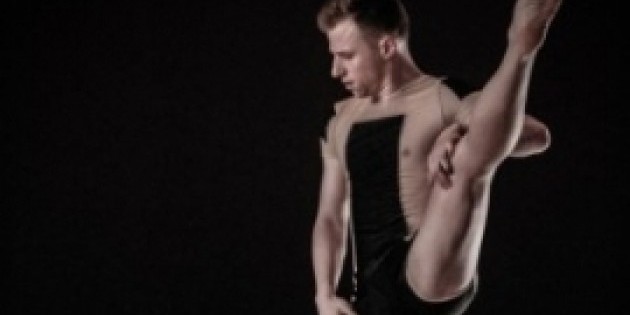 FREE Admission!
10 HAIRY LEGS PRESENTS JUST SUITS
HUB CITY SOUNDS 2013
TWO COMPANY PREMIERES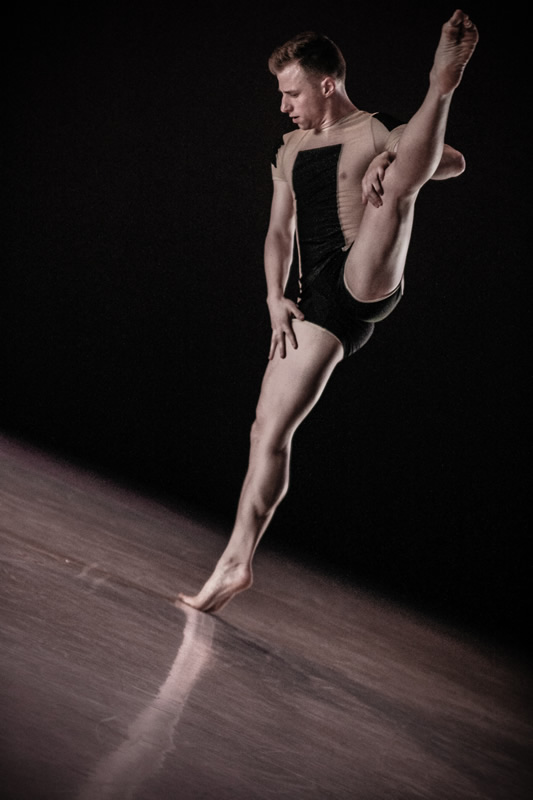 Photo: Steven Trumon Gray


Highland Park, New Jersey -­- Randy James' all male dance company, 10 Hairy Legs, will perform Just Suits at Crossroads Theatre, 7 Livingston Avenue, New Brunswick on August 24 at 5:00 pm as part of Hub City Sound's 2013 month long festival of music and dance. Admission is free.
Just Suits will feature two company premieres: David Dorfman and Dan Froot's duet Bull, and Claire Porter's solo Piano. Completing the program will be David Parker's duet Bang and Porter's Interview.
"Bull" in many ways was the "son" of "Horn" (1990) which was the first in a series of three original duets that comprise "Live Sax Acts" by David Dorfman and Dan Froot. Where "Horn" was a non-verbal, sax-playing, body-flinging show of affection and competition charting Dan and Dave's budding friendship, "Bull" dug deeper, using verbal improvisation and provocation amplified through electronic bullhorns to excavate intimate feelings rarely shared by men together. The fifteen minute performance piece features a slap dance, replete with pleasantries exchanged in a banter as crisp as the slaps. Later, crotch-grabbing replaces slaps as fodder for commentary and a personal fantasy section ensues where the duo re-define "hotness" for themselves. By "Bull's" end, a hope for tenderness permeates the stage. Company members Kyle Marshall and Carlo Antonio Villanueva will debut in the work.
Porter, a 2013 Guggenheim Fellowship award recipient for choreography, pulls apart what seems to be normal and then puts it all back together in funny, absurd, touching pieces of spoken word and movement. "Her repertoire is cleverly crafted from everyday gestures that reveal human foibles." Wilma Salisbury, The Plain Dealer. Company member Tyner Dumortier will perform Piano.
David Parker's Bang is a subtly witty duet. The performers lie side by side on the floor, punctuating their movements with slaps and unexpected kisses. Performed by company members Kyle Marshall and Nick Sciscione, it is an ode to the rhythm of the body. Parker set the work on 10 Hairy Legs last season – the first time it has been performed by a company other than his own. Alex Biegelson will perform
Porter's Interview.
10 Hairy Legs, now in our second season, is a repertory company – comprised entirely of men -­- of Randy James' work as well as existing and new works by today's most significant choreographers, not meant to reflect a specific point of view about the male experience, but rather to celebrate and explore the tremendous technical and emotional range of today's male dancer. 10 Hairy Legs seeks to advance the understanding of the male role in dance through the creation, acquisition and performance of exceptional work. Our World Debut performance prompted Robert Johnson, Dance Critic for The Star-Ledger, to cite 10 Hairy Legs among the top 20 dance events of 2012 in his year-end review, along with notables in the field such as The Paris Opera Ballet, Dance Theatre of Harlem, Bill T. Jones, Jiri Kylian and Sylvie Guillem.
The Founding Principal dancers are: Alex Biegelson, Tyner Dumortier, Kyle Marshall, Scott Schneider and Nick Sciscione. In addition to 10 Hairy Legs, they currently appear with Stephen Petronio, Doug Elkins, ZviDance and Carolyn Dorfman Dance Company. Tony Bordonaro, Robert Burke, Aaron Ramos and Carlo Antonio Villaneuva join the founding members.
For more information about this event: 732-729-0320 X 203 or www.newbrunswickarts.org
10 Hairy Legs is funded in part by a leadership grants from The Geraldine R. Dodge Foundation, New Music USA's 2013 Live Music For Dance Program, with generous support from the Geraldine R. Dodge Foundation, The Blanche and Irving Laurie Foundation, and the Middlesex County Cultural and Heritage Commission.
Partner organizations for Hub City Sounds include The City of New Brunswick, Civic League of Greater New Brunswick, New Brunswick Recreation, New Brunswick Jazz Festival, New Brunswick Jazz Project, George Street Playhouse, American Repertory Ballet, State Theatre Regional Arts Center, Crossroads Theatre Company, New Brunswick City Market, JT Jazz Project, Judah Tribe, Devon's Renaissance, 10 Hairy Legs, CoLAB Arts, 90.3 The Core, Don Giovanni Records, and Elijah's Promise.