COMING SOON to a STooP NEAR YOU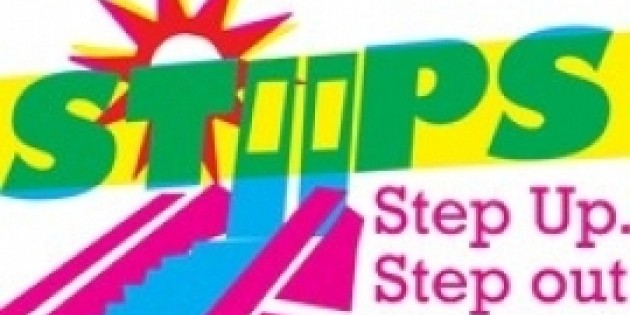 A community-building event to be held on June 23, 2013
STooPS is a community-building event to be held on June 23, 2013
(rain date June 30, 2013)
where homeowners, artists, and businesses collaborate to bring the people of Bed-Stuy outside.
15 home and business owners will allow local artists to share interactive music, dance, spoken word, and much more on their STooPS, yards or sidewalks. Participants will start the day at The Freebrook Mansion then Step Outside to engage with the amazing STooPS artists and each other. Throughout the day, guests will be welcome to return to Freebrook and other CooL Spots where local vendors, businesses, and organizations will offer additional activities as well as goods and services. Finally, the audience will return to Freebrook for a culminating performance featuring Brooklyn based artists, and then head to the official After Party at Simplicity Wine Bar & Cafe to continue to engage and support local businesses.
The Bed-Stuy community is ever changing, so it takes more effort for this community to remain cohesive. Getting to know neighbors enables the community to realize the resources that currently exist which makes room for sustainable and supportive partnerships to be built. These partnerships help the community to grow and develop from within rather than relying on outside resources. At the same time, building and maintaining this strong community also makes the neighborhood safer and more attractive which can open the way for outside attention and additional investments.
STooPS is just one way to engage, support, and develop the Bed-Stuy community, and as STooPS expands, the entire Brooklyn community grows stronger.
THE ARTISTS
As STooPS rapidly approaches, we are excited to share some of the confirmed artists who are graciously sharing their work with the Bed-Stuy community:



Afro Mosaic Soul Dance Collective (Culminating Performer) formed in 2005 when six respected freestyle dancers from the New York City house music/dance community joined forces. Inspired by the underground club dancers of venues like the Loft and Paradise Garage and Hip Hop/ House Dance pioneers like the M.O.P.T.O.P. crew, they dubbed their movement aesthetic Mosaic Soul, and began putting together pieces sourced from the New York City underground club culture and African diaspora to bring inspiration and emotional healing to all.

Ase Dance Theatre Collective (Culminating Performer) under the artistic direction of its founder, Adia Tamar Whitaker, a dancer/choreographer and vocalist from San Francisco's Bay Area, is a Brooklyn based dance theater collective dedicated to preserving the past, present, and future of the African presence in the "New World".

Tiffany C. Baldwin (STooPS Performer) was born and raised in Bed-Stuy and wanted to do something that her neighborhood could relate to. She will share "My Art Walks," a series of hand painted Converse sneakers created just for the STooPS and inspired by Spike Lee's Do The Right Thing.

Millicent Johnnie (Culminating Performer) choreographed The Life of Clementine Hunter opera directed by Robert Wilson and The Parable of the Sower opera workshop directed by Peter Sallars. Her choreography has also been featured in the film Scary Movie 5. Her national tours include Symphony for the Dance Floor with Daniel Bernard Roumain, The Urban Bush Women, Hubbard Street II, Dallas Black Dance Theater II and The Alternate Roots Cultural Tour Uprooted: The Katrina Project.

The Noel Pointer Foundation (STooPS Performer) was incorporated in 1995 under the direction of Chinita Pointer, wife of the late Grammy nominated jazz violinist Noel Pointer. In 1998, the Noel Pointer Foundation created a string music education program for 12 students at Public School 44. The NPF Youth Orchestra, formed in 2008, performs with famous music icons and ensembles such as Mos Def, Mark O'Connor, Strings of Brooklyn and the Brooklyn Conservatory of Music. Since the Foundation's inception, NPF has served over 17,500 New York City children.


For more information about these and other artists, stay tuned to www.stoopsbedstuy.org/the-artist.
THE FUNDRAISER
STooPS is raising 000 for:
artists' fees
marketing materials (postcards, street signs, banners, etc.)
space rental at The Freebrook Mansion
AND photographer & videographer fees (to capture this magical event)
There are a variety of perks available to donors including the STooPS SightSeer Schedule, STooPS T-Shirts, private yoga and Pilates sessions, and a Bed-Stuy Body Bundle from STooPS founder & artistic director, Kendra Ross.

For more information, including how to donate, visit www.indiegogo.com/projects/step-up-for-stoops.
THE EVENT
STooPS will begin with an opening reception at The Freebrook Mansion where the community will be introduced to the event, it's purpose, sponsoring businesses, staff, and the gracious homeowners. The audience will be encouraged to meet, mingle, and purchase goods and services from participating vendors. STooPS SightSeer Schedules listing all participating STooPS and performances will be available for purchase for 0. From Freebrook, community members will be sent on their way to witness art, enjoy the neighborhood, and get to know their community.

Artists will share site-specific showcases on various Bed-Stuy STooPS, sidewalks, and yards. Performance art and video pieces will be performed in looped cycles while visual artworks will be on display throughout the event. All artists will be available at their STooP between performances to discuss their work, get to know the community, and inspire community members to get to know each other.

At 5:00pm, the audience will be invited to return to Freebrook for the culminating performance featuring Brooklyn based artists such as Ase Dance Theatre Collective, Millicent Johnnie, and Afro Mosaic Soul Dance Collective. Following the performance, the audience will migrate to the official After Party at Simplicity Wine Bar & Cafe to continue community networking amongst artists, residents, and homeowners while supporting the local business sponsors.

For more information visit www.stoopsbedstuy.org.
ABOUT THE FOUNDER & ARTISTIC DIRECTOR
Kendra Ross is a dancer, teaching artist, and community worker from Detroit, MI who now lives in Bedford-Stuyvesant. She was a dancer for Urban Bush Women and currently works for their B.O.L.D network where she co-teaches dance workshops, has been staff for their annual Summer Leadership Institute and co-facilitates community engagement workshops. As a performer, Kendra has traveled the world dancing for Urban Bush Women, DJ Kid Koala, MBDance, Monstah Black, and many more. (For more info please visit kendrajross.com) STooPS is Kendra's creative brain child and she is thankful for those who have stepped up to help this child grow!!
STooPS is made possible by contributions from House of Art Gallery, Zaiko Energy, Jakada Juice, Brooklyn Brewery, and other Bed-Stuy businesses along with the generous support of individual donors.