HERO by Jessica Gaynor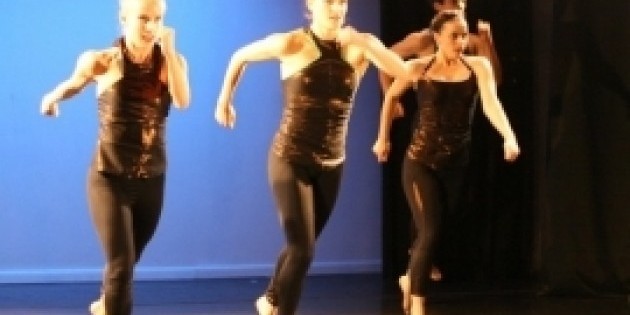 Presented by Gowanus Art + Production this Aug 21-22 at 8pm
Gowanus Art + Production presents
JESSICA GAYNOR DANCE
HERO
at The Green Building
August 21-22, 2013 at 8pm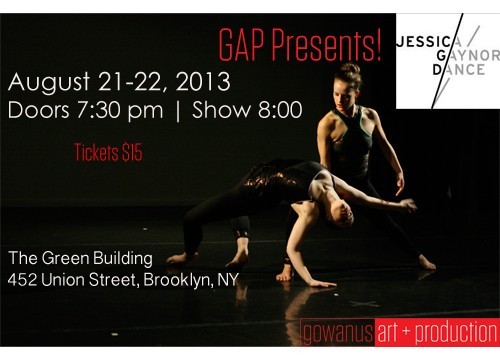 Brooklyn, NY, July 1, 2013 – Gowanus Art + Production presents Jessica Gaynor Dance in HERO, August 21-22, 2013 at 8pm at The Green Building,Gowanus Art + Production, 452 Union Street, Brooklyn, NY 11231. (F/G train to Carroll St.) Tickets are 5 and are available at http://www.brownpapertickets.com/event/403758
Hailed for its "risk-laden" (DIY Dancer) choreography and "sophisticated approach to pure-dance," (The New Yorker), Jessica Gaynor Dance performs pieces that utilize extreme physicality, intricate patterning and formal structures in an exploration of the complexities of human experience. "HERO is a well-constructed dance filled with virtuosity and visual pleasure." (The Dance Enthusiast)
HERO showcases the inspiring potential of the human form. Each of the six dancers in HERO takes on the role of a unique character whose particular defining traits have been abstracted and distilled to the point of representing a kind of archetype of human physicality. HERO features original music by Devin Maxwell, lighting design by Andrew Dickerson and costume design by Renee Kurz. Performing the work will be dancers Michael Bagne, Emily Diers, Kyle Gerry, Jordan Risdon, Kristi Tornga and Madeline Wilcox.
Jessica Gaynor holds a BA in American Studies from Brown University and an MFA in Dance Performance and Choreography from California Institute of the Arts. Over the last decade, Jessica Gaynor Dance has performed at The Skirball Center/NYU, Jacob's Pillow Inside/Out, City Center Studio 4, Dance Theater Workshop, The 92nd Street Y, The Kitchen, Triskelion Arts, Dance Space, Williamsburg Arts Nexus, Jennifer Muller/The Works HATCH series, Hudson Guild Theater, Brooklyn Arts Exchange, The Merce Cunningham Studio, DanceNOW/NYC, The FAR Space, Movement Research, Brown University and Built on Stilts on Martha's Vineyard. Jessica Gaynor Dance was a Gotham Arts Exchange Emerging Artist in 2010, and its long-time collaborative relationship with composer Devin Maxwell, has been supported by a New Music USA commission. Jessica Gaynor Dance is a member of Pentacle's (DanceWorks, Inc.) Gallery Roster. Besides her work with Jessica Gaynor Dance, Gaynor has set repertory on students at Brown University, Grand Canyon University and the Fieldston School. Gaynor is currently on the faculty at The Brearley School and serves on the Board of Directors at Triskelion Arts.
HERO premiered November 15-18, 2012 at Triskelion Arts and will be performed at Jacob's Pillow Inside/Out on July 31, 2013 at 6:15pm.
HERO was developed at Triskelion Arts where it premiered as part of their presenting season, and was sponsored, in part, by Triskelion Arts' Space Subsidy Program made possible with support from The Andrew W. Mellon Foundation.
Listing info:
Jessica Gaynor Dance
HERO
August 21-22 at 8pm
The Green Building, Gowanus Art + Production
Tickets: 5, http://www.brownpapertickets.com/event/403758
http://www.gowanusarts.com/events/gap-presents-jessica-gaynor-dance/
452 Union Street, Brooklyn, NY 11231
F/G Train to Carroll St.
For more information, visit www.jessicagaynordance.com.