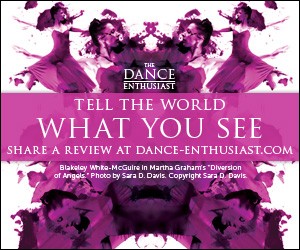 Pentacle's Fall Further II
Tuesday September 24th at 8PM (changed from 7:30PM)
PENTACLE'S
FALL FURTHER II

A Dance Celebration Featuring Companies from Pentacle's Gallery Artists
Barkin/Selissen Project
Clancyworks Dance Company
Jessica Gaynor Dance
Lorraine Chapman The Company
Ramya Ramnarayan
Prashant Shah
Tuesday September 24th at 8 PM (changed from 7:30 PM)
Ailey Citigroup Theater, 405 West 55 Street
All Tickets: 0 in advance; 4 at the door
Reservations:
http://fallfurther.bpt.me
Information:
212.278.8111 ext. 8
BARKIN/SELISSEN PROJECT
"Barkin/Selissen steal this show with a male/female duet of impeccable clarity."
-
offoffoff.com
CLANCYWORKS DANCE COMPANY from Maryland
"Clancy's choreography builds emotional and intellectual content with abstract, yet probing
psychological use of bodies in contact with each other. Her use of minimal but dramatic
props is exceptional." -Jennifer Noyer, Albuquerque Journal
JESSICA GAYNOR DANCE
"Gaynor skillfully plays with structure...her pieces are intriguing and vibrant."
-eye on the arts
LCTC - Lorraine Chapman The Company
"(her) work combines dynamic, sharp-edged movement and compelling theatricality...
satisfying on a visceral level (and) a cerebral level as well."
-Karen Campbell, Boston Herald
RAMYA RAMNARAYAN
"(she) moves between characterful storytelling and nonrepresentational dance. She
does this with remarkable fluency." -The New York Times
PRASHANT SHAH
"Shah's performance displayed wonderful contrasts, with moments of sharp clarity...
He seemed caught up in a whirlwind, looking down upon the audience from a
cloud." -Robert Johnson, Star Ledger
www.pentacle.org