November Dance Events at 92Y‏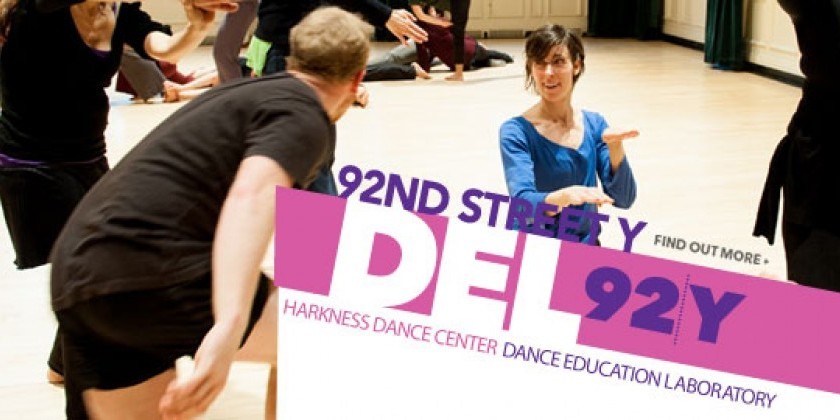 Company:
92ND STREET Y
NOVEMBER DANCE EVENTS at 92nd Street Y
92ND STREET Y NOVEMBER DANCE EVENTS
TICKETS/INFO | www.92Y.org | 1395 Lexington Ave. | 212.415.5500
Highlights:
Nov 1—LEGACY of MARY ANTHONY
Nov 8-10—AMERICAN DANCE GUILD ANNUAL PERFORMANCE FESTIVAL
Nov 22—BENJAMIN KIMITCH
Fri, Nov 1, 12 pm, $5
Fridays at Noon | THE LEGACY OF MARY ANTHONY
Celebrating more than 70 active years in modern dance, legendary dancer and choreographer Mary Anthony presents rarely performed dances from the 1950s through the 1990s, with performances from 360 Dance Company and DanceFusion, among others. Mary Anthony danced in the Hanya Holm Dance Company in the 1940s and went on to appear in Broadway shows. She founded her dance company, the Mary Anthony Dance Theatre, in 1956. Ms. Anthony will be present at this performance.
Fridays at Noon tickets are $5 and can be purchased in advance online or at the 92Y Box Office in the lobby.
Sat, Nov 2, 9:30 pm-2 am, 8:30 pm class, $15
Saturday Night Dance Parties | ARGENTINE TANGO MILONGAS
Tangos, milongas, valses and Latin musica tropica, hosted by Karina Romero and Dardo Galletto. Jackets required for men. Light refreshments and cash bar.
Fri & Sat, Nov 8 & 9, 8 pm; Sun, Nov 10, 3 and 7:30 pm; $20
Dig Dance | AMERICAN DANCE GUILD ANNUAL PERFORMANCE FESTIVAL: CROSS POLLINATION
92Y and the American Dance Guild have both nurtured modern dance; in fact, Lucile Nathanson, who served as the Director of 92Y's Dance Department, went on to form the American Dance Guild. This year's annual ADG performance festival, featuring 33 choreographers and four different programs honoring three artists, takes place at 92Y. Lar Lubovitch & Company marks its 45th anniversary with a special performance; Marilyn Wood of the International Center for Celebration does a presentation on her collaborative community performance festival events; and performances of Ten Imaginary Dances, Supreme Court and The Contra Dances honor dancer/author/designer Remy Charlip.
Fri, Nov 8, 7:30 pm: Celia Ipiotis presents the video of her "Eye on Dance" interview with Remy Charlip.
Fri, Nov 8, 8 pm: Works by Lar Lubovitch; Remy Charlip's Ten Imaginary Dances, performed by David G. Vaughan and his Twelve Contra Dances, performed by H. T. Chen & Dancers; Margaret Beals; Susan Bernhard; Nai-Ni Chen Dance Company; Isadora Duncan, performed by Catherine Gallant; a reconstruction of Martha Graham's Imperial Gesture by Kim Jones; and Yuki Hasegawa.
Sat, Nov 9, 8 pm: Works by Lar Lubovitch; Charlip's Supreme Court, performed by Lance Westergard and Patrick Scully; Yung-Li Chen; Bill Evans; Adriane Fang; Maya Dance Theatre from Singapore; Gloria McLean; and Mary Seidman. Marilyn Wood reflects, with images and text, on her "Celebration Art" events around the world.
Sun, Nov 10, 3 pm: Marilyn Wood's presentation on her "Celebration Art" events; Aileen Passlof's Falling Dance, inspired by Charlip's drawings and performed by Arthur Aviles; Michael Cerwinski; Julia Cotton; Kate Davis: Kaoru Ikeda; Belinda McGuire; Rebecca Rice; Maxine Steinman and Keith Thompson.
Sun, Nov 10, 7 pm: Celia Ipiotis presents "Eye on Dance" video of Anna Sokolow and Sophie Maslow
Sun, Nov 10, 7:30 pm: Charlip's Supreme Court; Jeanne Bresciani performs work by Isadora Duncan; Deborah Zall performs Anna Sokolow's Kaddish; Jean Churchill; Tina Croll; Teresa Fellion; Elizabeth Shea; Jenny Showalter; Sasha Spielvogel; Nancy Zendora
Sat, Nov 16, 8:30 pm and 9 pm, 7:30 pm workshop, $15 in advance, $20 at door
BAROQUE BALL WITH CATHERINE TUROCY
Join dancers of The New York Baroque Dance Company directed by Catherine Turocy, and a canary torsi, directed by Yanira Castro, as they gambol through the pavane, canary, minuet and a Playford country dance.  Each 75 minute program will begin with a pavane danced by all present as dancers and audience process around the hall.  Performances of dances from the past alternate with teaching passages to audience members. Plus, passages from Castro's work-in-progress, Court/Garden. Historical costumes encouraged.
Sun, Nov 17 and 24, 1:30-6:30 pm, $185 until Nov 8, $200 after
DEL Weekend Workshop | CLAIRE PORTER: THE CHOREOGRAPHIC PROCESS OF DANCE AND TEXT
Experience the artistry of 2013 Guggenheim Fellow Claire Porter, the dancer and choreographer known for creating dances that include text she writes herself. Discover new ideas and devices to spur the creation of works using dance and text. Explore compositional strategies and structures for expanding and manipulating movement into choreography. Implement Porter's creative processes to inspire your students' artistry and learning and make connections to the Dance Making and Dance Literacy strands of the NYCDOE Blueprint. With Catherine Gallant.
Sun, Nov 17, 2-8 pm, $6
Israeli Folk Dance | WORKSHOP ON LEADERSHIP SKILLS
For teachers of Israeli folk dance in schools and amateur performing groups. Learn about theme development, including Jewish holiday dances and costume planning. Explore specific choreographic skills to bring traditional dances and themes to the stage. With Ruth Goodman. Advance registration is requested.
Fri, Nov 22, 12 pm, $5
Fridays at Noon | BENJAMIN KIMITCH: COMPELLING SIMPLICITY
Benjamin Kimitch curates a program of choreographers – Maggie Bennett, Andy de Groat and Molly Poerstel – whose artistic voices share a quiet and compelling simplicity, even as they embrace complex construction. De Groat revives his Fan Dance of 1978, with music by Michael Galasso, performed by a multi-generational cast that includes some of the original cast. De Groat describes Fan Dance is a short hymn to freedom based on a geometrical ensemble and variations in a constantly changing space. Poerstel explores naturalism, heritage and autobiography and investigates the emotional terrain of the body in her work-in-progress The Highlands. Performed by Hadar Ahuvia and Alice McDonald, the dance is set to music by Sam Taylor. Maggie Bennett presents Through Frame, a work-in-progress that deconstructs the idea of a frame and asks if the body and our interior selves can frame space rather than the external world framing our bodies.  
Fridays at Noon tickets are $5 and can be purchased in advance online or at the 92Y Box Office in the lobby.
Sat, Nov 23, 9 pm-2 am, 8 pm class, $15 in advance, $20 at door
Saturday Night Dance Parties | MILLENNIUM HUSTLE BATTLE OF THE DJs
Hosted by NYC Hustle Diva Lori Brizzie. Not to be missed! Features Hustle, Latin and West-Coast Swing. Light refreshments and cash bar.
Wed, Nov 27, 9 pm-4 am, $25 at door
Israeli Folk Dance | THANKSGIVING MARATHON
Join us for a night to be thankful for – our annual bash!
Wednesdays, Ongoing
ISRAELI FOLK DANCE – OPEN SESSION
From the early evening and into the wee hours of the next morning, folk-dance masters Ruth Goodman and Danny Uziel lead the Israeli folk-dance party that has become a staple of the folk-dance scene among the cognoscenti. Call the Israeli Folk Dance Hotline at 212.415.5737 for schedule updates.
DOUG VARONE AND DANCERS IN RESIDENCE AT 92Y
Join Doug Varone and his exceptional dancers for performances, open rehearsals and workshops during their sixth year in residence at 92Y. Master classes for pre-professionals and professionals. For further information call 212.415.5553.
In 1935, what became 92nd Street Y's Harkness Dance Center provided a home to the fledgling American modern dance movement and its leader, Martha Graham. In the decades that followed, every great American dancer and choreographer – visionaries including Alvin Ailey, Merce Cunningham, Jerome Robbins, Agnes de Mille, Robert Joffrey and Donald McKayle – spent time at 92Y, building the foundation for modern dance as we know it. Through the generous support of the Harkness Foundation for Dance, the Dance Center continues this proud tradition of dance teaching, creation and performance, serving the professional world and the community at large. Technique classes range from ballet and modern dance to hip-hop and Flamenco. Rounding out the program are several performance programs including the annual 92nd Street Y Harkness Dance Festival; a professional development program for dance educators; and several teen dance troupes. For more information, please visit http://www.92y.org/dance.
92nd Street Y is a world-class nonprofit community and cultural center that connects people at every stage of life to the worlds of education, the arts, health and wellness, and Jewish life. Through the breadth and depth of 92Y's extraordinary programs, we enrich lives, create community and elevate humanity. More than 300,000 people a year visit 92Y's New York City venues, and millions more join us through the Internet, satellite broadcasts and other digital media. A proudly Jewish organization since its founding in 1874, 92Y embraces its heritage and enthusiastically welcomes people of all backgrounds and perspectives. For more information, visit www.92Y.org.