PHILADELPHIA: BALLETX FALL SERIES 2013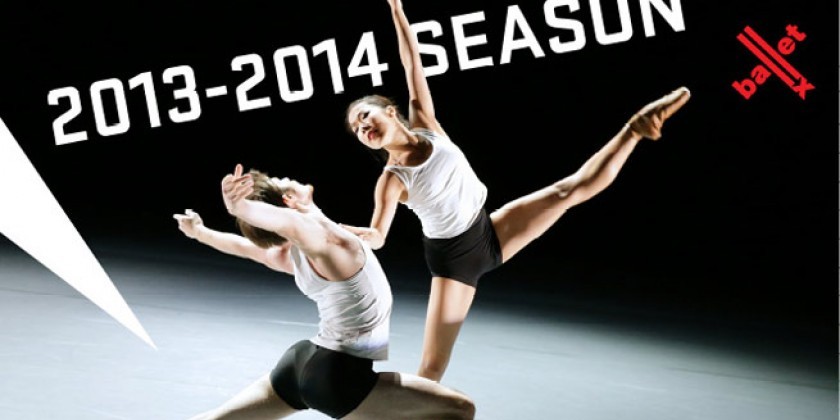 Company:
BalletX‏
"[BalletX] connects ballet to the language of today."—The New York Times
BALLETX FALL SERIES 2013
THREE COMPELLING WORLD PREMIERES
AND THE X-PROCESS, A UNIQUE NEW DANCE APPRECIATION INITIATIVE
Philadelphia--BalletX, Philadelphia's premier contemporary ballet company and the resident dance company of The Wilma Theater, is thrilled to announce the upcoming new works for Fall Series (November 20-24). In line with the company's mission to produce original choreography that expands the vocabulary of classical dance for all audiences, Fall Series will feature three world-premieres from renowned choreographers Adam Barruch, Gabrielle Lamb and Matthew Neenan.
The Fall Series marks the start of a new dance appreciation initiative called The X-Process that will accompany the 2013-2014 Season. The X-Process is made possible through Engaging Dance Audiences administered by Dance/USA with generous funding from The Doris Duke Foundation. The X-Process features interactive lectures, artist conversations, and a new company blog that will take participants behind the scenes to learn how ballet is turned into BalletX.
FALL SERIES 2013
GABRIELLE LAMB
World Premiere
Award-winning choreographer and filmmaker Gabrielle Lamb returns to BalletX after her successful ballet Stations of Mercury (Spring 2013) with a new world premiere.  Stemming from Gabrielle's interest in her own family genealogy, this ballet will explore ancestry and the story of family ghosts—both past and future—and how their presence can influence and shape the decisions of the living.
Gabrielle has danced with the Finnish National Ballet, Boston Ballet, Cleveland Ballet, and Les Grands Ballets Canadiens in Montreal, among others. After nine years as a soloist at Les Grands Ballets Canadiens, she was invited by choreographer Christopher Wheeldon to join his company Morphoses in New York. Ms. Lamb is the winner of the 2009 National Choreographic Competition of Hubbard Street Dance Chicago as well as the Grand Prize in Milwaukee Ballet's 2013 Genesis International Choreographic Competition. Her work has been presented by Les Grands Ballets Canadiens, the Dance Theatre of Harlem, the American Dance Festival, and Jacob's Pillow, and in 2012 her film en dedans, an exploration of dancers' dreams and experiences created with BalletX, was featured at Dance on Camera at the Lincoln Center.
ADAM BARRUCH
World Premiere
Adam Barruch is a New York-based choreographer, dancer, and filmmaker, and makes his BalletX debut with a new ballet that explores the transformation of human sensuality across time. A rising artist on the national stage, Barruch has been hailed by The Chicago Tribune as "a breath of fresh air" in the field of dance.
Adam is currently a dancer with Sylvain Émard Danse in Montreal. His work has been presented at City Center, The Juilliard School, Cunningham Studio, Ailey-Citigroup Theater, The Baryshnikov Arts Center, Jacob's Pillow and The Yard on Martha's Vineyard.
MATTHEW NEENAN
World Premiere
Praised by The New York Times for "one of the most appealing and singular choreographic voices in ballet today," Matthew Neenan pushes the company onto a multidisciplinary frontier with a new ballet that blurs the line between music and dance. Developing themes of love and despair, this world premiere rejoices in the transcendent power of finding one's voice.
Matthew is the co-founder and Co-Artistic Director of BalletX, now in its seventh season. Matthew danced with the Pennsylvania Ballet from 2004-2007 and in 2007, he was named the company's Choreographer in Residence. Matthew's work has been performed by the Pennsylvania Ballet (13 commissions), Washington Ballet, Tulsa Ballet, Colorado Ballet, Ballet Memphis, Milwaukee Ballet, Oregon Ballet Theatre, Juilliard Dance, Sacramento Ballet, and Opera Company of Philadelphia, among others.
Performances run November 20-24 at The Wilma Theater on the Avenue of the Arts
The Fall Series Performance Dates/Times:
Wednesday, November 20, 8:00PM, Opening Night, with pre-performance Q&A
Thursday, November 21, 8:00PM
Friday, November 22, 8:00PM
Saturday, November 23, 2:00PM, with pre-performance Q&A
Saturday, November 23, 8:00PM
Sunday, November 24, 2:00PM
The X-Process and Special Events:
Wednesday, November 20, 7:00PM-Open Conversation with Artists, moderated by Dance Critic Elizabeth Zimmer (Ballet Review, Dance Magazine, Metro, The Village Voice and The Philadelphia Inquirer)
Thursday, November 21, 10:00PM-Young Xers Night (Join company members at The Misconduct Tavern)
Saturday, November 23, 4:30PM-A Pie, A Pint, & The Process (Interactive lecture series presented by Elizabeth Zimmer.  Pizza and beer will be served before the lecture.  This will be a ticketed event.)
BalletX's 2013-2014 Season continues with Winter Series 2014 (February 12-16, 2014) and Summer Series 2014 (July 9-13, 2014).
_______________________
MORE INFORMATION
About BalletX: BalletX unites world-class choreographers with an outstanding company of professional dancers to forge new works of athleticism, emotion, and grace. The daring vision of its award-winning founders and artistic directors, Christine Cox and Matthew Neenan, BalletX challenges the boundaries of classical ballet by encouraging formal experimentation while preserving rigorous technique. The Company is committed to producing new works of the highest quality and integrity that bring the combined visions of choreographers and dancers to life and cultivate in audiences a collective appetite for bold new dance.
Fall Series 2013 made possible by: The William Penn Foundation, Comcast, The Sporting Club, The John S. and James L. Knight Foundation, The Jerome Robbins New Essential Works (NEW) Program, Shubert Foundation, The Barra Foundation, Philadelphia Cultural Fund and Pennsylvania Council on the Arts.
BalletX
265 S. Broad Street • Philadelphia, PA · 19107 • 215-893-9456 • www.balletx.org
Facebook/@BalletX • Twitter/@BalletX • YouTube/BalletXVideo