Alvin Ailey American Dance Theater's New York City Center season is only one week away!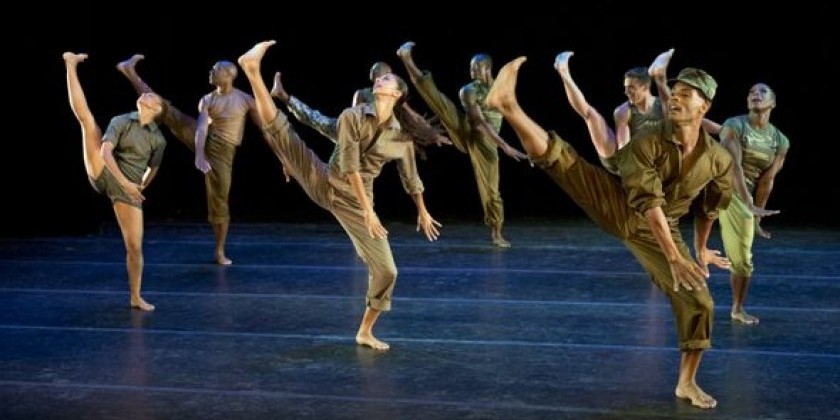 Company:
Alvin Ailey Dance Company
Alvin Ailey American Dance Theater in Bill T. Jones's D-Man in the Waters (Part 1). Photo by Paul Kolnik
Alvin Ailey American Dance Theater at New York City Center
December 4, 2013 – January 5, 2014
Alvin Ailey American Dance Theater, beloved as one of the world's most popular dance companies and New York City Center's Principal Dance Company, returns to the New York City Center stage for the 42nd consecutive year from December 4, 2013 – January 5, 2014 with exciting performances that have become a joyous holiday tradition. Artistic Director Robert Battle continues to expand the Company's diverse repertory with premieres and new productions representing a wide range of important choreographic voices giving Ailey's extraordinary group of artists new ways to inspire audiences, including:
> New York and Company premiere on Wednesday, December 4th of Chroma, Wayne McGregor's ballet filled with layered, beautiful dancing and a driving score by Joby Talbot and orchestrations of music by Jack White III of The White Stripe
 
> Ailey's signature American masterpiece Revelations – acclaimed as an inspiring must-see for all – will be performed with live music on Dec. 4, Dec. 6 , Dec 7 mat & eve
 
> World premiere of LIFT  on Friday, December 6th by in-demand choreographer Aszure Barton, an exhilarating exchange with Ailey's renowned dancers who inspired the process, movement, and composition, as well as the  original percussive score by musical partner Curtis Macdonald
> D-Man in the Waters (Part I), a New York Dance and Performance ("Bessie") Award-winning work by modern dance innovator Bill T. Jones is a celebration of life and the resiliency of the human spirit, premiering on Wednesday, December 11th
> Ailey's dancers have become known as inspiring interpreters of the dance storytelling of celebrated choreographer Ronald K. Brown. Four Corners makes its New York City Center premiere on Thursday, December 19th and  leads Ailey's eleven dancers on a powerful and hope-filled journey of tribulation, devotion and triumph as they rise to seek a life of peace on the "mountaintop"
> In a program aptly titled Ailey/Ellington (playing Dec 13, 15 mat, 18, 21 mat), new productions of Alvin Ailey's Pas De Duke and The River, set to music by Duke Ellington, celebrates a marriage between America's two great art forms – modern dance and jazz music

> Special programs include:
    aA—¦    Family Matinee Series performances each Saturday during the season at 2pm
    aA—¦    "All New" Programs playing on Dec. 13, 15 mat, 18, 21 mat
    aA—¦    The Tuesday, December 17th performance celebrating Matthew Rushing and his inspiring artistry
    aA—¦    Joyous holiday performances on Tuesday, December 24th and Wednesday, December 25th
    aA—¦    A New Year's Eve performance featuring beloved Ailey dancers of the past and present
    aA—¦    A special January 5th finale performance celebrating what would have been Alvin Ailey's 83rd birthday

Ticket Price

Tickets starting at $25 are available for purchase at the New York City Center Box Office, through CityTix® at (212) 581-1212, or online at www.alvinailey.org or www.nycitycenter.org.  Discount tickets are available for Ailey Super Fans who purchase tickets for more than one performance, for students with an appropriate ID, and for groups of ten or more (discounts do not apply to $25 tickets).  For group sales, call 212-405-9082 or e-mail groupsales@alvinailey.org.
New York City Center
131 West 55th Street, between 6th and 7th Avenues
New York, NY
(212) 581-1212
www.nycitycenter.org
Performance Times
Opening Night Gala (Dec. 4th)                        7:00pm (note earlier curtain time)
Tuesday - Thursday evenings                         7:30pm (note new curtain time)
Friday & Saturday evenings                                                                 8:00pm
Sunday evenings                                                                                  7:30pm
Saturday matinees                                                                                2:00pm
Sunday matinees                                                                                  3:00pm
New Year's Eve (Dec. 31st)                              7:00pm (note earlier curtain time)
ABOUT ALVIN AILEY AMERICAN DANCE THEATER
Alvin Ailey American Dance Theater, recognized by U.S. Congressional resolution as a vital American "Cultural Ambassador to the World," grew from a nowaA€Afabled March 1958 performance in New York that changed forever the perception of American dance. Founded by Alvin Ailey, and guided by Judith Jamison beginning in 1989, the Company is now led by Robert Battle, whom Judith Jamison chose to succeed her on July 1, 2011. Alvin Ailey American Dance Theater has performed for an estimated 23 million people in 71 countries on 6 continents, promoting the uniqueness of the AfricanaA€AAmerican cultural experience and the preservation and enrichment of the American modern dance tradition. In addition to being the Principal Dance Company of New York City Center, where its performances have become a yearaA€Aend tradition, the Ailey company performs annually at the John F. Kennedy Center for the Performing Arts in Washington, DC, the Auditorium Theatre in Chicago, the Adrienne Arsht Center for the Performing Arts of MiamiaA€ADade County in Miami, The Fox Theatre in Atlanta, Zellerbach Hall in Berkeley, CA and at the New Jersey Performing Arts Center in Newark where it is the Principal Resident Affiliate), and appears frequently in other major theaters throughout the United States and the world during extensive yearly tours. The Ailey organization also includes Ailey II (1974), a second performing company of emerging young dancers and innovative choreographers; The Ailey School (1969), one of the most extensive dance training programs in the world; Ailey Arts in Education & Community Programs, which brings dance into the classrooms, communities and lives of people of all ages; and The Ailey Extension (2005), a program offering dance and fitness classes to the general public, which began with the opening of Ailey's permanent home—the largest building dedicated to dance in New York City, the dance capital of the world —named The Joan Weill Center for Dance, at 55th Street at 9th Avenue in New York City. For more information, visit www.alvinailey.org.