Dance Lumiere at Scandinavia House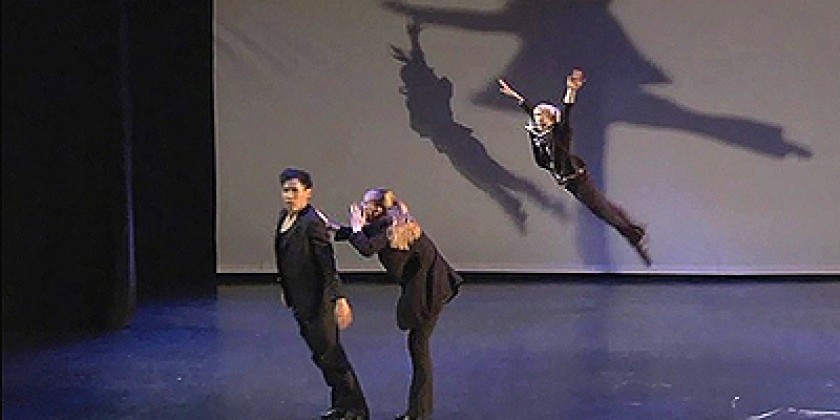 Company:
Dance Lumiere

Kathryn Roszak's Danse Lumière presents the New York premiere of

"SECRETS ON THE WAY"
A Dance-Noir Inspired by the Poetry of Tomas Tranströmer
Created and Choreographed by Kathryn Roszak

Monday April 7th at 8 PM
Scandinavia House, Victor Borge Hall, 58 Park Avenue (between 37th & 38th Streets)
Tickets: $20; $15 for members of Scandinavia House and Poet's House, NYC
Reservations: 212.847.9740  or  e-mail  event_reservation@amscan.org


                             "Kathryn Roszak is an artist whose work defies the boundaries of a single genre."
                                                                   Lou Fancher, San Jose MercuryNews.com, March 28, 2013

                             "In Secrets on the Way, Kathryn Roszak's accomplished and spirited Danse
                              Lumière has suavely and powerfully formulated interpretations of poems by
                              the great Tomas Tranströmer that beautifully capture the writer's lyric austerity,
                              his severe vision."
                                                Sandra M. Gilbert, Prof. Emerita of English at the U. of California/Davis,
                                                                                                          Poetry Flash Magazine, June 2013

                              "..intelligent, finely crafted dance theater."
                                                                                                           San Francisco Bay Guardian, 2011


The American-Scandinavian Foundation is pleased to present Kathryn Roszak's San Francisco-based Danse Lumière in the New York premiere of "Secrets on the Way," a dance noir inspired by the poetry of Swedish poet Tomas Tranströmer, winner of the 2011 Nobel Prize, Monday April 7th at 8 PM at New York's Scandinavia House, 58 Park Avenue (between 37th & 38th Streets).   A fusion of dance, theater and poetry, "Secrets on the Way" was created and choreographed by Kathryn Roszak for six dancers and a narrator.   Actor Earll Kingston will read several Tranströmer poems in  English translations by Robert Bly and May Swenson. 

Following the Berkeley, California performances of "Secrets on the Way," Linda Rugg, Chair of the Scandinavian Department at U.C. Berkeley, found that "Young dancers move through a tangled love affair, a strange death on a subway platform, exile in the forest, the threat of dangers both without and within...a narrative of modern life, flashes of strong emotion, and a palpable sense of the world's beauty."

Danse Lumière has distinguished itself  for adapting great works of literature for the stage through the fusion of dance, music, and theater. Past works by Roszak include "The Fifth Book of Peace," inspired by National Book Award-winner Maxine Hong Kingston's book of the same name, presented by Dance Mission, S.F., in collaboration with Lines Contemporary Ballet's B.F.A. program.   Roszak created "Mountains and Rivers Without End," inspired by Pulitzer Prize-winning poet Gary Snyder, presented by The Asian Art Museum, S.F., and "Mysteriosos," inspired by Obie Award-winning poet/playwright Michael McClure, presented by Jazzschool, Berkeley, Ca.   Roszak's "Pensive Spring: A Portrait of Emily Dickinson," was presented by Cal Performances' "Fall Free for All," and the production was named one of the top ten dance performances in 2011 by the San Francisco Bay Guardian.

Danse Lumière's artistic director Kathryn Roszak trained at the San Francisco Ballet, School of American Ballet, and the American Conservatory Theater.   She has performed with the San Francisco Ballet, San Francisco Opera Ballet, and Berkeley Repertory Theatre.   In addition to her work for her Danse Lumière, Roszak has choreographed for the American Conservatory Theatre, San Francisco Opera Center, and Kent Nagano's Berkeley Symphony.   She currently teachers Dance and Film at the Osher Lifelong Learning Institute at U.C. Berkeley and also serves as the Dance Specialist for Cal Performances, where she hosts Lobby Talks and selected 'Sightlines" pre-performance events.    In 1995 Kathryn founded Danse Lumiere (known as Anima Mundi until 2006).  In New York, her choreography has been presented at LaMaMa E.T.C., and in the Bay Area at the Herbst Theater, Grace Cathedral, the Asian Art Museum, and the University of S.F.    The group has been seen at The Smithsonian Institution in Washington D.C. and the Copenhagen Cultural Festival in Denmark.

Winner of the 2011 Nobel Prize, Tomas Tranströmer is one of the most celebrated and influential poetic figures of his generation.  He was born in Stockholm in 1931 and is a psychologist by profession, beginning that career in the 1960s at a juvenile corrections institute in Sweden.   He is one of the world's most translated poets, with books appearing in over fifty languages.   Tranströmer is also a highly regarded amateur pianist and entomologist.

"Secrets on the Way" is co-presented with The American-Scandinavia Foundation and Poets House, NYC, and supported in part by a grant from the Barbro Osher Pro Suecia Foundation and the Scandinavian Department at U.C. Berkeley.
 
Kathryn Roszak in "Secrets on the Way"
Photo by Matthew Poeisy