NEW YORK LIVE ARTS continues Sound Bar in March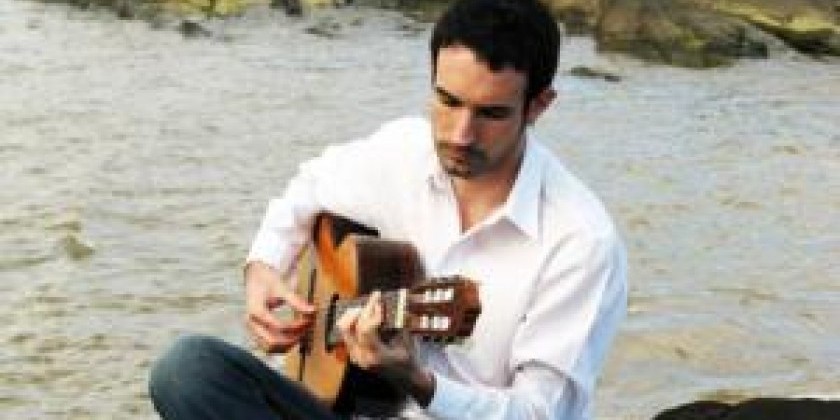 Company:
NEW YORK LIVE ARTS
NEW YORK LIVE ARTS
continues
Sound Bar
at the Live Gallery Café
featuring live music on Mondays in March
March Sound Bar's Kick Off on March 10 at 7:00pm
New York, NY, March 7, – New York Live Arts announces continued March programming for Sound Bar, a new program featuring live music curated by New York Live Arts in association with LE TRAIN BLEU, with happy hour drink specials at the Live Gallery Café from 6:00pm – 9:00pm each Monday in March.
The March Sound Bar's kick off on March 10 at 7:00pm with original music by solo guitar musician Marco Sartor. A recent graduate of the Yale School of Music, Sartor will present an evening of both classical and traditional solo guitar works.
Other artists performing in March will be Trio Azul (March 17), Aurora Artega (March 24) and Wily Fire (March 31). (Complete listing details below.)
The launch of Sound Bar gives up and coming music artists opportunities to work in the intimate setting of Live Arts' converted lobby; conversely, audiences will enjoy experiencing the acoustic music performances in an informal setting.   
"Engaging artists is a vital daily presence here at New York Live Arts," noted Producing Director Michael Lonergan. "Launching Sound Bar is another way for us to continue our support of contemporary artists in the creation of new work while allowing them a platform for audience engagement. Our goal is to continue to expand our footprint of creativity by offering more opportunities for artists."
All Sound Bar evenings take place at the Live Gallery Café in New York Live Arts' ground floor lobby. The Live Gallery Café will serve happy hour drink specials and a menu of savory bites from 6:00 – 9:00pm on Sound Bar evenings. Admission is free; reservations are not required. Program and artists subject to change. New York Live Arts is located at 219 West 19th Street (between 7th and 8th Avenues) in New York City.
Listing info for Sound Bar, spring 2014
Marco Sartor > Mar 10 at 7:00pm
Trio Azul > Mar 17 at 7:00pm
Aurora Artega > Mar 24 at 7:00pm
Wily Fire > Mar 31 at 7:00pm
Live Gallery Café
New York Live Arts
T: 212-924-0077 | www.newyorklivearts.org
219 W 19th Street, New York, NY 10011

 
About Sound Bar:
The newly launched Sound Bar is a Mondays-only happy hour lounge. New York Live Arts has teamed up with local musicians and artists to bring free performances to our lobby on West 19th Street in a casual lounge atmosphere. For its inaugural series, New York Live Arts has invited conductor Ransom Wilson and his ensemble LE TRAIN BLUE to develop evenings of acoustic music that vary from a rap cantata to an imaginative percussion quartet.  
About LE TRAIN BLEU:
LE TRAIN BLEU is a new musical collective formed by conductor and flutist Ransom Wilson. The musicians are among the most exciting young players in New York and are chosen for their brilliance as well as their expressive qualities. In the 2011-12 season they were a resident ensemble at the Galapagos Art Space, where they presented a three-concert series of new and interesting music. The New York Times said of their debut performance:  "Under Mr. Wilson's baton, the Train Bleu ensemble was both incisive and joyous in execution." They collaborated with the Lar Lubovitch Dance Company at the Baryshnikov Arts Center and recorded their first album. Last season they presented their first New York series concert at DROM, performed at the River to River and Arts and Ideas festivals and joined forces with opera moderne for Viktor Ullman's posthumous masterpiece Der Kaiser von Atlantis. This season brings a week with the Lar Lubovitch Dance Company, a Britten anniversary production with opera moderne and two series concerts at DROM.
ABOUT NEW YORK LIVE ARTS
New York Live Arts is an internationally recognized destination for innovative movement-based artistry offering audiences access to art and artists notable for their conceptual rigor, formal experimentation and active engagement with the social, political and cultural currents of our times. At the center of this identity is Bill T. Jones, Executive Artistic Director, a world-renowned choreographer, dancer, theater director and writer.
We commission, produce and present performances in our 20,000 square foot home, which includes a 184-seat theater and two 1,200 square foot studios that can be combined into one large studio. New York Live Arts serves as home base for the Bill T. Jones/Arnie Zane Dance Company, provides an extensive range of participatory programs for adults and young people and supports the continuing professional development of artists. Our influence extends beyond NYC through our international cultural exchange program that currently places artists in Eastern Europe, the Middle East and Africa.
Funding Support for New York Live Arts
Major support for New York Live Arts is provided by: Bloomberg Philanthropies; The Brownstone Foundation; The Robert Sterling Clark Foundation; Con Edison; The Joseph and Joan Cullman Foundation for the Arts; Doris Duke Charitable Foundation; The Ford Foundation; The Fan Fox and Leslie R. Samuels Foundation; Florence Gould Foundation; Japan Foundation; Jerome Foundation; Lambent Foundation; MAP Fund, a program of Creative Capital; The Andrew W. Mellon Foundation; Mertz Gilmore Foundation; Mid-Atlantic Arts Foundation; New England Foundation for the Arts; The New York Community Trust; Robert Rauschenberg Foundation; The Rockefeller Foundation NYC Cultural Innovation Fund; The Jerome Robbins Foundation; The Scherman Foundation; The Shubert Foundation; and the Trust for Mutual Understanding. New York Live Arts is supported by public funds administered by the New York City Department of Cultural Affairs, the New York State Council on the Arts and the National Endowment for the Arts.