If you mised our Sold Out NY performances, see us at Jersey Moves! at NJPAC‏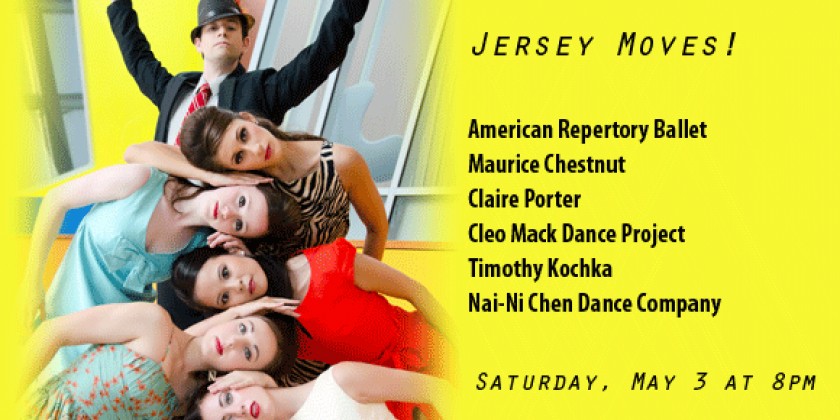 Company:
Nai-ni Chen Dance Company
For those who missed our NY Season this weekend or those who would like to see us again, please join us for the Jersey Moves! Festival of Dance at NJPAC on Saturday!

Jersey Moves! Festival of Dance  - Saturday, May 3 at 8pm
The best of the Garden State's diverse dance companies gather for the second installment of a two-part showcase featuring excerpts from works that span the globe and dance genres.
This year's Jersey Moves! Festival of Dance concludes with performances by American Repertory Ballet, Nai-Ni Chen Dance Company, Cleo Mack Dance Project, tap dancer Maurice Chestnut, dancer Timothy Kochka and dance artist Claire Porter.
American Repertory Ballet
Rite of Spring
Due to its themes of pagan ritual and sacrifice, the original Rite of Spring ballet (Vaslav Nijinsky, choreography, Igor Stravinsky, music), first performed in Paris in 1913, ignited strong controversy. Choreographer Douglas Martin's version is set in an advertising agency in 1961, complete with pencil skirts and avocado-colored chairs.
Maurice Chestnut
The piece chosen for Jersey Moves! is an expression of music through the art form of tap dance - a rollercoaster ride of rhythm.
Claire Porter
A choreographer and 2013 Guggenheim Fellow, Claire Porter is known for her comedic text/movement work and teaching expertise. Her commissions and honors include the National Endowment for the Arts and the Live Music for Dance Commissioning Project.
Cleo Mack Dance Project
Bathtub Trio for Three Women
This captivating work (Cleo Mack, choreography, Beethoven, music) has been seen at Dance Theater Workshop's Fresh Tracks and PS 1 Contemporary Art Center, both in New York.
Timothy Kochka
This two-time winner of the World Irish Dance Championships and former cast member of Riverdance will perform two solos: the soft shoe form with precise leaps and jumps and the hard shoe form, which emphasizes percussion, taps and quick rhythms.
Nai-Ni Chen Dance Company
Whirlwind I
Whirlwind I, set to music by Glen Velez, was inspired by choreographer Nai-Ni Chen's personal journey along the Silk Road. Delving into the ancient mysteries of Asiatic cultures, the dance transports audiences from the clamor of modern life to the simplicity and spiritual richness of another place and time.
Single-performance tickets are available online at njpac.org, via phone at 1-888-GO-NJPAC (1-888-466-5722) or at the NJPAC Box Office, One Center St., Newark. For groups of 10 or more, call the NJPAC sales desk at 1-888-MY-NJPAC (1-888-696-5722). All tickets purchased online and via phone are subject to a per-ticket handling charge.
The NJPAC Box Office is open Tuesday-Saturday from noon to 6pm and Sunday from noon-5pm. The Box Office is closed on Mondays. Phone calls to 1-888-GO-NJPAC (466-5722) for single-performance ticket orders are answered seven days a week, from 9am to 9pm. Phone calls to 1-888-MY-NJPAC (696-5722) for groups of 10 or more are answered Monday-Friday from 9am-5pm. Artists, dates, times, venues, programs and prices are subject to change.
Questions or comments? Please e-mail ticketservices@njpac.org.