KYLE ABRAHAM DEBUTS COUNTERCULTURE MUSIC EVENT AT HARLEM STAGE MAY 23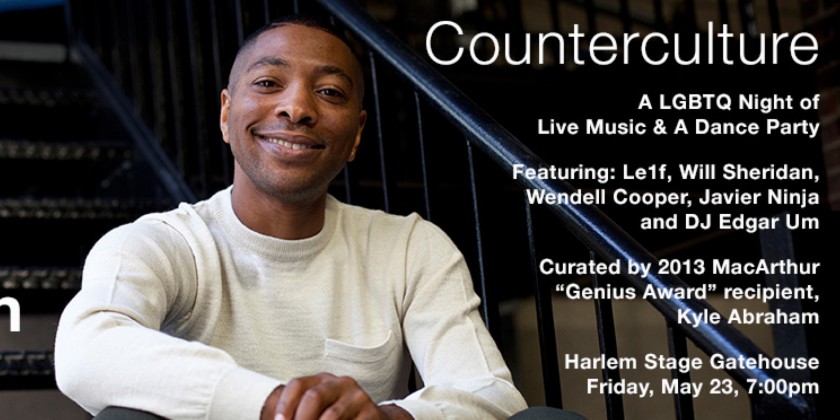 Company:
Kyle Abraham Dance
KYLE ABRAHAM DEBUTS COUNTERCULTURE MUSIC EVENT AT HARLEM STAGE MAY 23
Acclaimed choreographer brings a night of street, club and LGBTQ culture to Harlem Stage's "Uptown Nights" series.
WHAT:           Kyle Abraham, choreographer, dancer and recipient of the MacArthur Foundation's "Genius Grant" Fellowship award, presents Counterculture, a night of music and dancing that is a celebration of street, club and LGBTQ cultures. Counterculture is part of Harlem Stage's "Uptown Nights" series that recalls the time when Harlem served as the location for adventurous music and arts lovers to see and hear cutting-edge artists. That same spirit of daring programming brings younger audiences to the Harlem Stage Gatehouse.
To curate this night of music, Abraham is channeling the various subcultures that have inspired him throughout his life as a black, gay, hip-hop-loving male who grew up working in record stores and spent much of his nightlife in dance clubs. Abraham has called upon music and dance artists whose creative endeavors explore similar themes.
Abraham has a longstanding relationship with Harlem Stage, which encouraged him to explore a different avenue of artistic expression with Counterculture. The evening underscores Harlem Stage's commitment to conscious, diverse, and captivating programs by artists of color.
The night begins with musical performances, continues on to a dance battle and then opens up the dancing to the audience. Performers include:
·         DJ Edgar Um – a Pittsburgh, PA-based DJ, multi-media artist, event producer and improvising musician
·         Le1f – this New York-based, openly gay rapper has worked with musical artists Das Racist, Azealia Banks, Spank Rock, and others; his latest album Hey was released in March
·         Will Sheridan – a rapper and former college basketball player who came out as gay publicly in an interview on ESPN.com; released the acclaimed albums G.I.A.N.T. (2012) and Ngoma (2010)
·         Wendell Cooper – a Brooklyn, NY.-based dancer, choreographer and audio/video designer whose multimedia performances, installations and videos explore the dynamic nature of identity
·         Javier Ninja – the rising, accomplished vogue dance artist who is part of the New York-based dance group House of Ninja
WHEN/           Friday, May 23, 2014, 7 p.m.
WHERE:        Harlem Stage Gatehouse
150 Convent Avenue (at W. 135th Street), New York City
TICKETS/      $20, available at www.harlemstage.org, 212-281-9240, x 19 or 20, and in person
INFO:             The performance is standing room only.