Town Hall: American Dance Recon 2014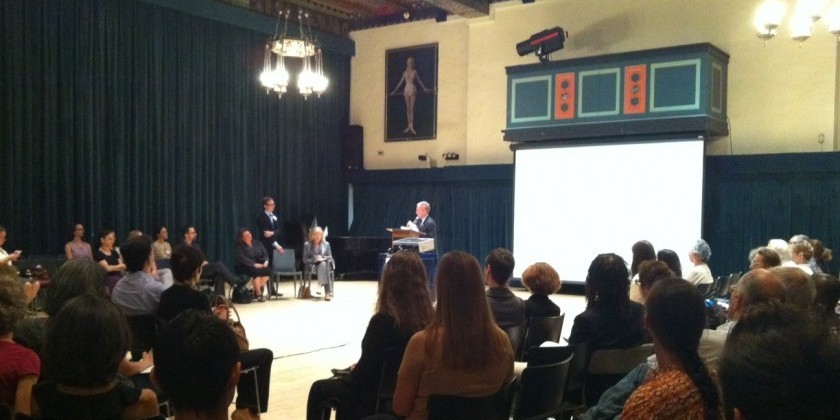 Company:
Dance/NYC
Sunday, November 9, 2014
3:00pm - 4:30 pm
Coffee and cookies will be served before the panel begins. Join us at 2:30 pm.
Mark Morris Dance Center,
3 Lafayette Ave,
Brooklyn, NY 11217
Join Dance/NYC and American Dance Abroad for a town hall discussion with 10 international dance presenters and producers participating in the third edition of American Dance Recon/New York. Made possible with lead support from the Mertz Gilmore Foundation, American Dance Recon is a unique symposium for international presenters to reconnect with American dance and to use it as reconnaissance to better appreciate the diversity of American dance. In this town hall, New York City dance makers can learn about participants' work and curatorial styles, and trends in dance abroad.  
American Dance Abroad launched in July 2011 as a program to expand opportunities for equitable cultural engagement between American dance artists/companies and their international counterparts. American Dance Abroad's mission is to expand international visibility for American dance by creating opportunities upon which longer-term, mutually beneficial relationships can be built. Major support for American Dance Abroad's projects is provided by the Robert Sterling Clark Foundation and the Doris Duke Charitable Foundation's Fund for National Projects.
Read Dance/NYC Executive Director's thoughts on Touring NY Arts and Culture in the Huffington Post.
Featured Recon Speakers:

Balázs Arató - Art Manager/International Relations, National Dance Theatre/Budapest Dance Festival, Budapest, Hungary
Anna CY Chan - Head, Artistic Development (Dance), West Kowloon Cultural District Authority, Hong Kong, China
Shoghakat Galstyan - Chief Coordinator, HIGH FEST International Performing Arts Festival, Yerevan, Armenia
Tisa Ho - Executive Director, Hong Kong Arts Festival, Hong Kong, China
Harri Kuorelahti - Artistic Director, Zodiak - Center for New Dance, Helsinki, Finland
Marc Olivé López – Theatre Programmer, Mercat de les Flors, Barcelona, Spain
Jarmo Penttila - Advisor for Programming, Théâtre National de Chaillot, Paris, France
Hanna Styrmisdóttir - Artistic Director, Reykjavik Arts Festival, Reykjavik, Iceland
Georgina Thomson - Executive Director, Dance Umbrella, Dance Forum, Johannesburg, South Africa
Austin Mang-Chao Wang - Director, Taipei Performing Arts Center, Taipei, Taiwan
 
Accessibility Features:

The theater has flexible seating in the front row that can allow for multiple wheelchair locations. All floors of the Dance Center are served by an elevator with accessible water fountains and restrooms. If you require reasonable accommodation please contact Rachel Berman at rberman@dancenyc.org at least two weeks prior to this event.
Facebook Event:

https://www.facebook.com/events/652492678182854/?ref=22