Save the Dates! Harkness Dance Festival in February and March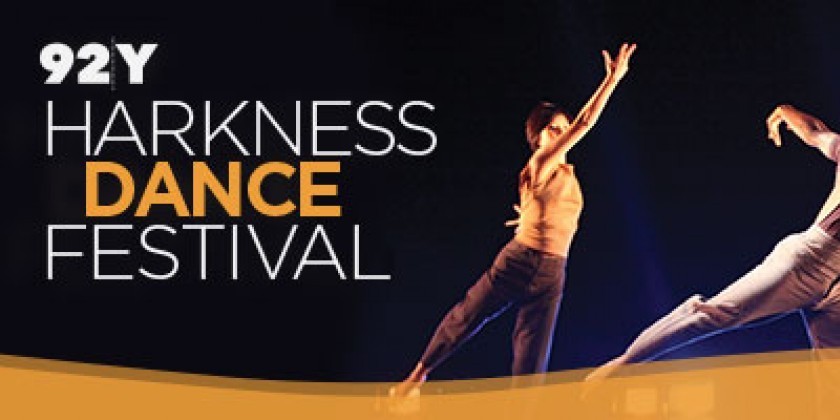 Company:
92ND STREET Y HARKNESS DANCE FESTIVAL
SAVE THE DATES: Friday, February 20 – Sunday, March 22
92ND STREET Y HARKNESS DANCE FESTIVAL: STRIPPED/DRESSED
Curated by Doug Varone and Featuring Adam Barruch, The Bang Group, Vicky Shick, Martha Graham Dance Company, and Sally Silvers
Tickets from $25; www.92Y.org/harknessfestival  or 212.415.5500
NEW YORK, NY: December 19—The 92nd Street Y Harkness Dance Festival: Stripped/Dressed presents five artists over five weeks, from February 20 through March 22, 2015. For the fourth year in a row, Doug Varone, whose company is in residence at 92nd Street Y's Harkness Dance Center, has curated the Festival, choosing artists and companies at different stages of their development. Each choreographer spends the first half of the evening taking apart a dance – talking about it, showing how it was built and giving the audience a direct experience of dance-making without lights or costumes. After intermission, the work is presented fully "dressed."
The "Stripped/Dressed" format gives choreographers a chance to demystify, each in his or her own way, the dance-making process. In the beautiful, intimate space of 92Y's Buttenwieser Hall, audiences are close to the raw material of art during the "stripped" portion of the evening, and have an enhanced view of the fully performed "dressed" works.
92Y Harkness Dance Festival, WEEK ONE
ADAM BARRUCH: BELLADONNA
Fri, Feb 20 and Sat, Feb 21 at 8 pm; Sun, Feb 22 at 3 pm, from $25
Festival curator Doug Varone says up-and-coming choreographer Barruch "uses movement in a beautiful, lyrical way to tell stories, and that's a real rarity with people of his generation right now." Belladonna is an evening-length duet from longtime collaborators Adam Barruch and Chelsea Bonosky, loosely based on Nathaniel Hawthorne's short story "Rappaccini's Daughter."
92Y Harkness Dance Festival, WEEK TWO
THE BANG GROUP: TAP LAB
Fri, Feb 27 and Sat, Mar Feb 28 at 8 pm; Sun, Mar 1 at 3 pm, from $25
In David Parker's new initiative, Tap Lab, contemporary dancers with roots in tap, join forces with The Bang Group to create up-to-the-minute rhythm dance. Parker is using a range of scores that emphasize rhythm and body percussion – sometimes, as Varone says, "the body is the instrumentation." Watch what happens when Parker works with dancers to reflect choreographically the ideas of the scores.
92Y Harkness Dance Festival, WEEK THREE
VICKY SHICK DANCE: PATHÉTIQUE, MINIATURES IN DETAILS
Fri, Mar 6 and Sat, Mar 7 at 8 pm; Sun, Mar 8 at 3 pm, from $25
Shick's work highlights the intimacies among dancers who inhabit the slightly wacky and spare worlds that she creates. "She builds vivid landscapes that are very detail-oriented. There's an incredible amount of nuance and almost a sense of etching in her work," says Varone. Pathétique, Miniatures in Detail offers a very deliberate weaving together of sound, costume and choreography. The whimsical costumes by Barbara Kilpatrick are designed to produce sound when in motion and the multilayered sound composition by Elise Kermani is mixed and performed live. Shick builds on a series of solos and duets maintaining her devotion to detail and gently mysterious behavior.
92Y Harkness Dance Festival, WEEK FOUR
MARTHA GRAHAM DANCE COMPANY
Fri, Mar 13 and Sat, Mar 14 at 8 pm; Sun, Mar 15 at 3 pm, from $25  
This is a sort of "beautiful homecoming," says Varone, referring to Martha Graham's early teaching and performances at 92Y. The evening begins with an exploration of Graham's famed "vocabulary," her codified classroom technique that evolved with each new dance she created.  The movement motifs that Graham invented for her own role of Medea and the other classic characters in her masterwork Cave of the Heart are featured. In the "Dressed" portion of the evening, the work is performed in its entirety, with the famous sets designed by sculptor Isamu Noguchi.  
92Y Harkness Dance Festival, WEEK FIVE
SALLY SILVERS: ACTUAL SIZE
Fri, Mar 20 and Sat, Mar 21 at 8 pm; Sun, Mar 22 at 3 pm, from $25
In ACTUAL SIZE, Sally Silvers' award-winning choreography comes out to play to pay homage to the films and motifs of Alfred Hitchcock.  Silvers teases romance with fear, jump cutting many of his classic looks & obsessions. With a knock-out 'N by NW' duet with star former Merce Cunningham dancers, Melissa Toogood and Dylan Crossman, the juicy, beguiling cast also includes Alicia Ohs, Carolyn Hall and Luke Miller. Silvers presents her idea of "live choreography" (making work on dancers in front of the audience from scratch). Varone says of Silvers, "It's almost as if she places into movement all the things we think about but would never say." This performance will include many surprises — guests, mysterious encounters, and secrets revealed.
This year's Festival is dedicated to the late Theodore S. Bartwink, long-time executive director of the Harkness Foundation for Dance.
WHAT:            92nd Street Y Harkness Dance Festival
WHEN:            Fri, Feb 20 – Sun, Mar 22
WHERE:         92nd Street Y, 1395 Lexington Ave, New York, NY 10128
TICKETS:       $25 at http://www.92y.org/harknessfestival or 212.415.5500