NEW YORK LIVE ARTS presents Molly Poerstel's Studio Series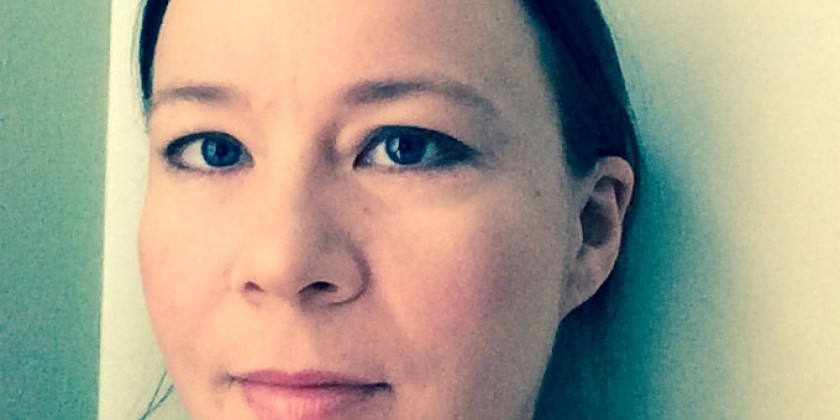 Company:
NEW YORK LIVE ARTS
NEW YORK LIVE ARTS
presents
Studio Series: Molly Poerstel
April 3 & 4 at 6:00pm
New York, NY, March 17, 2015 – New York Live Arts continues the 2015 Studio Series showings with Molly Poerstel on Friday, April 3 and Saturday, April 4 at 6:00pm in the Third Floor Studios.  
For Studio Series, Poerstel will present an in progress showing of her latest work. Attracted to blank spaces and interested in building dances with a force and power that frightens, Poerstel's work looks to the matriarch, a figure who evolves and breeds with innate animal intelligence. Taking influence from her background in somatic practices, her technically precise work challenges performers with polyrhythmic choreography set within strict structures. Drawn to exposing the finite point of transformation, Poerstel's work presents the female body distilled to its essential, animalistic self.
Studio Series is supported, in part, by the National Endowment for the Arts, the New York City Department of Cultural Affairs and the Foundation for Contemporary Arts.
Studio Series work-in-process showings will take place in New York Live Arts' studios. Tickets are $5. There will be free in-process talks after each showing. Tickets are available online at newyorklivearts.org/tickets, by phone at 212-924-0077 and in person at the box office. Box office hours are Monday to Friday from 1 to 9pm, and Saturday and Sunday from 10am to 9pm. New York Live Arts is located at 219 West 19th Street between 7th and 8th Avenues. There will be no late seating.
*** Studio Series work-in-process showings are not open for review. ***
Listing info:
Molly Poerstel
Fri, April 3 at 6:00pm (in-process talk moderated by Levi Gonzales)
Sat, April 4 at 6:00pm (in-process talk moderated by Marissa Perel)
New York Live Arts Theater
Tickets: $5
T: 212-924-0077 | www.newyorklivearts.org
219 W 19th Street, New York, NY10011
Box Office hours:
Monday-Friday 1 - 9pm | Saturday-Sunday 10am to 9pm
About the Artist:
Molly Poerstel is a dance artist who has been active in the New York City dance community for the past fourteen years. Within this time, she has worked as a collaborator and dancer for Mark Jarecke, David Dorfman Dance Company (05-09) Susan Rethorst, Alex Escalante, Hilary Clark, Larissa Valez-Jackson, Roseanne Spradlin and Ivy Baldwin Dance, all of whom she feels inspired by. Her longest collaboration has been with Jeanine Durning, with whom she has worked for the past fourteen years. Poerstel has studied anatomy with Irene Dowd, Body Mind Centering and the Grotovsky Method, all of which influence her choreography. She has taught dance technique at the Mason Gross School of the Arts, SUNY Purchase Dance Conservatory, the Dalton School and Nanyang Fine Arts Academy in Singapore. Her work has been shown through Movement Research at the Judson Church, The Movement Research Spring Festival, AUNTS, AUNTS at the P.S. 122 Launch, Live Arts' Fresh Tracks Residency 2012/2013, Catch 57, the 92nd Street YMCA Fridays at Noon Series, Nanyang Fine Arts Academy, BAX Upstart Festival, Food for Thought at Dancespace Project and Rove at the Roger Smith Hotel.
About the Studio Series:
Created in 2005 by Dance Theater Workshop and continued by New York Live Arts, the Studio Series residency program uses a strong focus on creative process to encourage artist's examinations of movement-based art. Each Studio Series artist receives a commission, 100 hours of creative residency time and is invited to conduct two informal showings. These in-process showings create a framework for the artist to share ideas with an audience in the intimate working space of the studio. Each year, a select number of mid-career artists are given a Studio Series residency as part of a one- to two-year program of support, leading up to a commission and season presentation.
ABOUT NEW YORK LIVE ARTS
New York Live Arts is an internationally recognized destination for innovative movement-based artistry offering audiences access to art and artists notable for their conceptual rigor, formal experimentation and active engagement with the social, political and cultural currents of our times. At the center of this identity is Bill T. Jones, Artistic Director, a world-renowned choreographer, dancer, theater director and writer.
We commission, produce and present performances in our 20,000 square foot home, which includes a 184-seat theater and two 1,200 square foot studios that can be combined into one large studio. New York Live Arts serves as home base for the Bill T. Jones/Arnie Zane Dance Company, provides an extensive range of participatory programs for adults and young people and supports the continuing professional development of artists.
Funding Support
Major support for New York Live Arts is provided by: The Brownstone Foundation; Con Edison; The Joseph and Joan Cullman Foundation for the Arts; Cultural Services of the French Embassy; Doris Duke Charitable Foundation; The Ford Foundation; The Fan Fox and Leslie R. Samuels Foundation; French American Cultural Exchange (FACE); The Howard Gilman Foundation; The Grand Marnier Foundation; Jerome Foundation; Lambent Foundation; MAP Fund, a program of Creative Capital; The Andrew W. Mellon Foundation; Mertz Gilmore Foundation; Mid-Atlantic Arts Foundation; New England Foundation for the Arts; The Jerome Robbins Foundation; The Scherman Foundation; The Shubert Foundation. New York Live Arts is supported by public funds administered by the New York City Department of Cultural Affairs, the New York State Council on the Arts and the National Endowment for the Arts.