Free Senior Programs with Dances For A Variable Population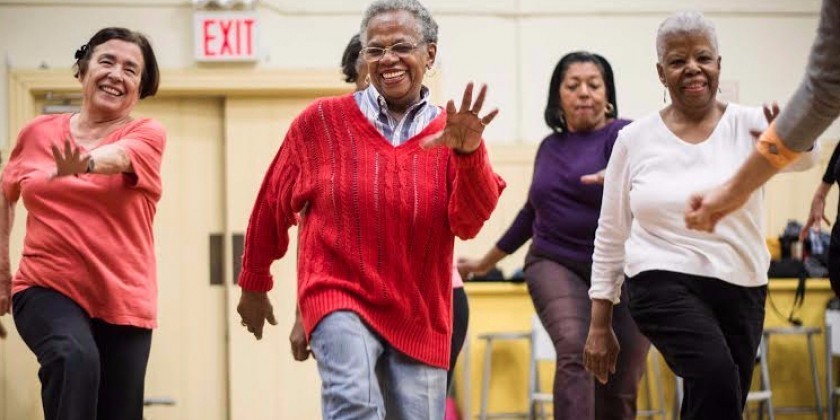 Company:
Dances For A Variable Population
Focused on inspiring strong and creative movement among seniors of all abilities, our free programs are the heart of Dances For A Variable Population's work.  Based on the core values of enjoying one's own body and moving with other people, the programs promote greater mobility, self-confidence, physical awareness, social interaction, expressiveness in movement, and a greater sense of meaning.  We start by acknowledging each individual's history and take each participant forward from that place.
See our Winter Spring 2015 Free Senior Program/Movement Speaks® Schedule: Central Harlem, West Harlem, Chinatown, Upper West Side.
Since 2008, DVP has worked with over 35 senior centers and senior oriented institutions. Each year, we typically visit 11-14 centers with our Dances For Seniors programs and run our signature Movement Speaks programs at 5-10 additional sites citywide.
MOVEMENT SPEAKS®
MOVEMENT SPEAKS® offers seniors in low-income communities free sequential dance instruction followed by a public performance of their original work. Ranging in length from 10 to 36 weeks, each 75-minute session typically includes warm-up and dance exercises for seated and standing participants; individual and group dance improvisation; memorization of basic movement phrases; and cool-down. Throughout the program, students will create movement in preparation for culminating performances, which take place at the workshop site or in the surrounding community. The program operates in libraries and senior centers citywide.
DANCES FOR SENIORS
DANCES FOR SENIORS offers free interactive modern dance performances and participatory workshops to low-income seniors at New York City senior centers. Each program includes 30-minute performances by DVP's multigenerational company, which encourage audience participation and feature artist-led introductions to explain the work. Following the performance, participatory dance workshops use creative movement, improvisation and personal gesture to introduce modern dance to participants.
Winter Spring 2015 Program Schedule

MOVEMENT SPEAKS® workshop classes – FREE SENIOR PROGRAMMING
George Bruce Library, 518 West 125th Street (btw Broadway & Amsterdam) – Fridays 10:30 AM -12; Jan 9, 16, 23, 30, 27  March 6, 13, 20, 27  April 3, 10, 20, 27  May 1, 8, 15, 22, 29  June 5, 12,19

Location change February 6, 13, & 20: Due to renovations at the library, sessions will take place from 10:30-11:45am at Jackie Robinson Senior Center, 1301 Amsterdam Avenue on February 6, 13 & 20 ONLY
Central Harlem Senior Center, 34 West 134th Street – Tuesdays 1:30 to 3:00 PM;  Jan 6, 13, 20, 27  Feb 3, 10, 17, 24  March 3,10,17, 24, 31  April 7, 14, 21, 28  May 5, 12, 19, 26  June 2, 9, 16
Goddard Riverside Senior Center, 593 Columbus Ave (at 88th Street) – Wednesdays 1:30 to 3:00 PM;  Jan 14, 21, 28  Feb 4, 11, 18, 25  March 4,11,18, 25  April 1, 8, 15, 22, 29 culminating celebration May 6
Mott Street Senior Center, 180 Mott Street – Thursdays 9:00 – 10:30 AM;  Jan 8, 15, 22, 29 Feb 5, 12, 19, 26 March 5,12,19, 26 April 2, 9, 16, 23, 30 May 7, 14 Final Presentation May 21
Photo credit: Chalef Photo