Ray of Light: An Art Critical Cabaret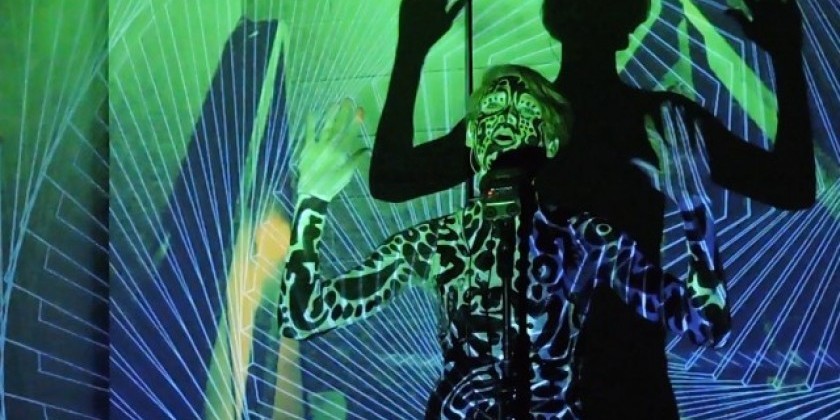 Company:
Daniel Larkin, Seth Braley, and Matt Romein
About this Show
Drag queen art critic Mona Chromatic (Daniel Larkin) wants you to capture all the rays of light art has to offer. She illuminates several masterpieces from art history. Her beloved queer creature (Seth Braley) serenades with auo-tuned "diva" songs to further explore each painting or sculpture. Petroglyphic body painting by Ryan Ostrowski and hypnotic video environments by Matt Romein adorn this mystical creature. A tasting flight of herbal teas compliment and heighten the audience's receptivity to each artwork. Let Mona Chromatic and her singing creature inspire you to see, hear, taste, touch, and smell more radiance in art history.
About the Artists
Mona Chromatic was born in hell, after Michelangelo dared Diana Vreeland to seduce Oscar Wilde. Concerned this spawn might take over hell, the Devil banished Mona Chromatic to earth. Her  alter-ego, Daniel Larkin, dreams on Sugar Hill in Harlem and writes about visual art and performance art for Hyperallergic.
Seth Braley is a Brooklyn based performance artist. He has worked with Elevator Repair Service, Half Straddle, and Radiohole and has performed at Merrie Cherry's Dragnet as well as Chris Tyler's TRL: Total Rejects Live!"
Matt Romein, a brooklyn based interactive programming artist, works primarily in the performance/video spectrum, building digital tools and video art environments. He has designed video performance components for the Kitchen, New York Live Arts, PS 122, the Chocolate Factory, and the Catch series.