World premiere of Daniil Simkin's INTENSIO at Jacob's Pillow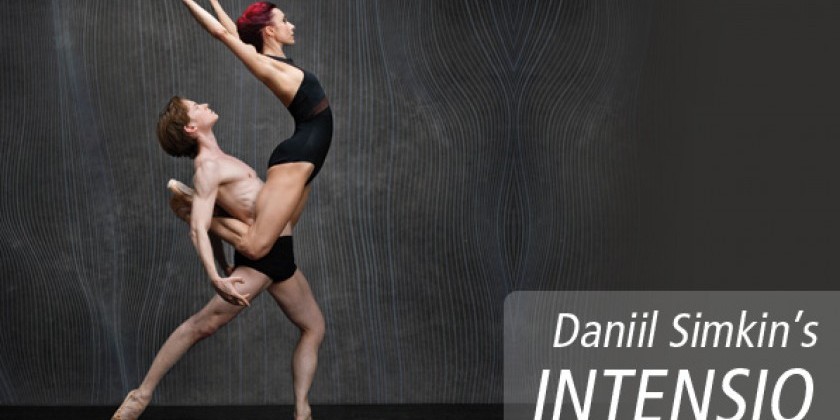 Company:
Daniil Simkin
JACOB'S PILLOW PRESENTS THE WORLD PREMIERE OF DANIIL SIMKIN'S INTENSIO;
BALLET STANDOUTS PERFORM FOUR NEW CONTEMPORARY DANCE WORKS
AT JACOB'S PILLOW DANCE FESTIVAL, JULY 22-26
July 16, 2015 — (Becket, Mass) Jacob's Pillow Dance Festival presents the highly-anticipated world premiere of Daniil Simkin's INTENSIO, featuring the remarkable talent of eight American Ballet Theatre (ABT) stars and guest artist Céline Cassone of Les Ballet Jazz de Montréal in the intimate Ted Shawn Theatre, July 22-26. INTENSIO, co-produced, directed by, and starring ABT principal dancer Daniil Simkin, features four world premiere contemporary dance works by top-notch international choreographers including Alexander Ekman of Sweden, American dancemaker Gregory Dolbashian, resident Boston Ballet choreographer Jorma Elo of Finland, and Colombo-Belgian artist Annabelle Lopez Ochoa, currently based in Amsterdam.
"This is one of the most creative projects we've undertaken to date," states Jacob's Pillow Executive and Artistic Director Ella Baff. "Four world premieres by international choreographers that a major ballet star has been eager to work with. And Daniil has put together a cast of spectacular dancer colleagues from ABT who will make these new works shine."
Called "a mash-up of high-art with new possibilities" by Simkin, INTENSIO integrates contemporary movement and media with a ballet culture steeped in tradition. The program draws upon the strong classical roots of the ensemble, capitalizing on their technical prowess while exploring contemporary movement in adventurous multimedia contexts. Simkin, "known for his silken technique, arrow-like leaps, and a palpable desire to please the audience" (Marina Harss, The Boston Globe), leads the ensemble in these four world premieres.

The star-studded cast of INTENSIO includes ABT principal dancer Isabella Boylston, whose "ultrafine musicality" and "sparkling turns" were standouts noted by Alastair Macaulay of The New York Times. Other ABT principal dancers include Hee Seo whose "dancing and fluid line exude an unhurried purity" (Gia Kourlas, The New York Times), and the "lean, energetic, tall and confident" James B. Whiteside (Alastair Macaulay, The New York Times). A longtime muse of choreographer Annabelle Lopez Ochoa, Céline Cassone of Les Ballets Jazz de Montréal serves as a guest artist in the engagement, lauded for her "liquid grace" and "fierce articulation" by Laura Cappelle of Dance Magazine. ABT soloists Alexandre Hammoudi, Cassandra Trenary, and corps de ballet members Blaine Hoven and Calvin Royal III (an alumnus of The School at Jacob's Pillow) will also perform in the ensemble.
Opening the program, Simkin will premiere Simkin and the Stage, a solo work by innovative Swedish choreographer Alexander Ekman. Set to a recorded interview between Simkin and Ekman as well as a monologue by dance scholar Jennifer Homans, author of Apollo's Angels: A History of Ballet, the work promises to be both deeply artistic and personal. Alexander Ekman's work is widely known for its relatable wit and reimagined classical tone, and has been commissioned by companies across the globe including Cedar Lake Contemporary Ballet (U.S.), Ballet de L'òpera du Rhin (France), Bern Ballet (Switzerland), IT-Dansa (Spain), Iceland Dance Company (Iceland), and Stockholm 59° North (Sweden), among others. Ekman is currently an Associate Choreographer for Nederlands Dans Theater, and has received international acclaim for his consistently ground-breaking works.
Royal, Seo, Trenary, Hoven, and Cassone will premiere Welcome a Stranger by young American choreographer Gregory Dolbashian, set to a score by ambient music innovator Brian Eno and American-Chilean musician Nicholas Jaar. Dolbashian is the founder and Artistic Director of The DASH Ensemble which has presented works at the Skirball Center and The Joyce Theater. His work has received the audience award at NYC's DanceNOW challenge at Joe's Pub and his co-founded choreographic initiative, The Playground, was recognized by Dance Magazine's "Top 25 to Watch" in 2013.
Simkin, Boylston, and Whiteside will continue the program with Nocturne/Etude/Prelude by acclaimed choreographer Jorma Elo, set to a Chopin and Bach medley including Chopin's "Nocturne in F Major, Op. 15, No. 1", performed live by pianist David Friend. One of the most sought-after choreographers in the world, Elo is the resident choreographer for Boston Ballet and has created works for the prestigious companies of American Ballet Theatre, San Francisco Ballet, New York City Ballet, among others. A Nederlands Dans Theater dancer turned international choreographer, his work has been described as "an exhilarating exercise in flat-out virtuosity" (John Rockwell, The New York Times).
Simkin and the full INTENSIO ensemble will close the program in Islands of Memories by renowned choreographer Annabelle Lopez Ochoa, set to a reimagining of Vivaldi's "Four Seasons" by prolific composer Max Richter. A collaboration of innovative artists, interactive video projections by Dmitrij Simkin (father of Daniil Simkin) will be utilized in real-time with unique costume design by internationally renowned fashion designer Norma Kamali. An international name in dance, Lopez Ochoa's work has been commissioned for companies domestically and abroad including Jacoby & Pronk, Pacific Northwest Ballet, Ballet du Grand Théâtre de Genève, the Finish National Ballet, and many others. Accolades for her work include "Best of 2012" and "Best of 2013" by Dance Magazine and a nomination for an Olivier Award for Best New Dance Production for A Streetcar Named Desire (2013).
Daniil Simkin's INTENSIO is a Joyce Theater and Sunny Artist Management Production, and is co-commissioned by Jacob's Pillow and The Joyce Theater.
ABOUT DANIIL SIMKIN
Born in Russia and raised in Germany, Daniil Simkin began his training privately with his mother Olga Aleksandrova (former principal with the Novosibirsk State Opera in Russia and former dancer with the Staatstheater Wiesbaden) and cultivated his performing skills in the international competition circuit. During this time, he acquired a plethora of awards including the Senior Gold Medal at the USA International Ballet Competition (Jackson, 2006), Grand Prix International Ballet Competition (Helsinki, 2005), and First Prize and Gold Medal at the 21st International Ballet Competition (Varna, 2004), among others.

In 2008, 21-year-old Simkin joined American Ballet Theatre as a soloist with little background in partnering or experience in a fast-paced company culture. His musicality, technical ability, natural athleticism, and determination allowed him to rise as a principal dancer with ABT in 2012. Simkin has been praised for his "dazzling prowess onstage" gathering respect in "recent bravura performances [which] led critics to compare him to Baryshnikov and Nureyev" (Gotham Magazine).

Deeply engaged in digital marketing and social media, Simkin's charisma and stage presence has fostered a considerable fan base in his self-promotion. His YouTube channel, which includes clips of impressive ABT performances along with the charming ballet spoof "Simkin in the City", has garnered well over three million views; his Facebook, Twitter, and Instagram accounts act as platforms for media distribution to his collective 100,000 followers.
Performance and ticket information
Daniil Simkin's INTENSIO
Ted Shawn Theatre
Wednesday, July 22 — Saturday, July 26, 8pm
Saturday, July 25 & Sunday, July 26, 2pm
Tickets $39 –$75.  A limited number of $19 Under 35 tickets are available for Friday, July 24Purchasers must be between the ages of 18 to 25 and show ID at will call; call the box office to purchase 413.243.0745.
·         Box Office hours: Sunday through Tuesday, 11am–5pm; Wednesday through Saturday 11am–8pm.
·         Now on sale online at jacobspillow.org, via phone at 413.243.0745, or in person at the Jacob's Pillow Box Office. Under 35 Fridays Tickets and Youth Tickets are available by phone and in person only.
·         Jacob's Pillow is located at 358 George Carter Road in Becket, MA, 01223 (10 minutes east on Route 20 from Mass Pike Exit 2). The Jacob's Pillow campus and theatres are handicapped-accessible.