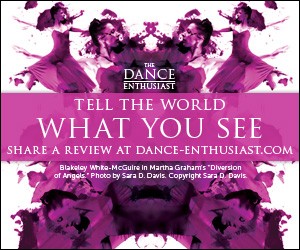 HEIDI LATSKY DANCE AND AXIS DANCE COMPANY presents "DANCE SPEAKS series"
Company:
HEIDI LATSKY DANCE AND AXIS DANCE COMPANY
HEIDI LATSKY DANCE AND AXIS DANCE COMPANY
DANCE SPEAKS Series                                                                                                             November 15, 2015
In honor of the 25th anniversary of the Americans with Disabilities Act, Heidi Latsky Dance and AXIS Dance Company will present a multimedia dance/art instillation by Heidi Latsky Dance, and three dance pieces: Somewhere (Latsky), Divide (AXIS), and to go again (AXIS).
Heidi Latsky Dance presents On Display, a deconstructed art gallery/fashion show, which comments on the experience of watching and being watched and society's obsession with the physical body. Accompanied by a film by Janet Wong, text by Jerron Herman, a score by Stan Harrison and Ximena Borges and outfits designed by Anna Kathleen Little, this exhibit will be "on display" in the Skirball lobby before the  main show.
Heidi Latsky Dance's Somewhere, (2015), set to an original score by Ximena Borges, highlights the luminous appeal of a diverse, unconventional cast. This new version of Somewhere is a poetic interweaving of solos and duets, embracing difference and the inherent isolation of being human with fierceness and frankness.
AXIS Dance Company will present two pieces: Divide (2014), an abstract work exploring the divide in human interaction in movement, space and time, choreographed by Marc Brew; and to go again (2015), a dance/ theater work that brings to light issues facing our nation's veterans and addresses their resilience following severe life changes, created by choreographer Joe Goode.
Heidi Latsky Dance (HLD) is a New York-based modern dance company dedicated to creating provocative, highly technical and physically adventurous dance under the artistic direction of Heidi Latsky, a longtime principal member of Bill T. Jones/Arnie Zane Dance Company. Since its inception, the company has received numerous awards, commissions and residencies. Heidi Latsky Dance premiered in 2001 with a Joyce Theater Residency and its first sold-out run of JUST WATCH!, presented by Danspace Project in NYC.  A variety of work followed, at venues around the world. Latsky's training in psychology and her desire to explore the human condition through movement have resulted in the company collaborating with various social service and humanitarian organizations. www.heidilatskydance.com
AXIS Dance Company, based in Oakland, California, exists to change the face of dance and disability. AXIS has become one of the world's most acclaimed and innovative ensembles of performers with and without disabilities. Founded in 1987, AXIS has paved the way for a powerful contemporary dance form called physically integrated dance. Under the artistic direction of Judith Smith since 1997, the company's performances have won numerous awards, toured extensively throughout the U.S. and abroad, and were seen on "So You Think You Can Dance?" Through various outreach programs, AXIS brings physically integrated dance nto schools, community centers, independent living centers, and to countless organizations seeking to learn more about dance, disability, and collaboration.www.axisdance.org
Dates/Times: November 15 at 7 pm
Tickets: $32 - $49
≈≈
NYU Skirball Center for the Performing Arts
2015-16 Dance, Opera and Contemporary Circus Performances
The 2015-16 season at NYU Skirball Center for the Performing Arts features a wide array of acclaimed dance companies and contemporary circus performances, showcasing and supporting diverse and eclectic talent from across the country around the world.
The season's dance programs include the launch of DANCE SPEAKS, a new annual series showcasing dance works that explore current issues that shape our lives and reflect our times.  The inaugural DANCE SPEAKS series will open with Spectrum Dance Theater's The Minstrel Show Revisited, a powerful dance/theater piece that takes a satirical look at the derogatory song and dance tradition of minstrelsy whole commenting on today's race-related events, and continues with a program celebrating the 25th Anniversary of the Americans with Disabilities Act, featuring performances by Heidi Latsky Dance and AXIS Dance Company.
This season, NYU Skirball welcomes the internationally acclaimed Pilobolus with the North American premiere of their groundbreaking multimedia event Shadowland, running for three weeks beginning November 20.
The season also includes three programs of contemporary circus. Following last season's sold-out festival, Circus Now: International Contemporary Circus Exposure 2016 will feature new critically-acclaimed international and American companies displaying their cutting edge circus artistry. Swedish duo Magmanus presents the N.Y. premiere of Attached, and the award-winning French performance company l'immédiat ends the circus season with a beautifully-orchestrated circus-theater work by the acclaimed performing artist Camille Boitel.
 
TICKETS
Tickets for the 2015-2016 season may be purchased online at www.nyuskirball.org or in person at the NYU Skirball Center Box Office: Tuesday-Saturday, 12:00–6:00 P.M. The NYU Skirball Center for the Performing Arts is located at 566 LaGuardia Place at Washington Square, New York, New York 10012.
 
ABOUT NYU SKIRBALL CENTER FOR THE PERFORMING ARTS
NYU Skirball Center for the Performing Arts is the premier venue for the presentation of cultural and performing arts events for New York University and lower Manhattan. Led by Executive Director Michael Harrington, the NYU Skirball mission is  to showcase and support diverse and eclectic talent from around the world, while cultivating audiences for live performance through deeper engagement opportunities. For more information visit:  www.nyuskirball.org.
Pictured: AXIS Dance Company. Photo by David DeSilva