Arts Administration Intern for Pentacle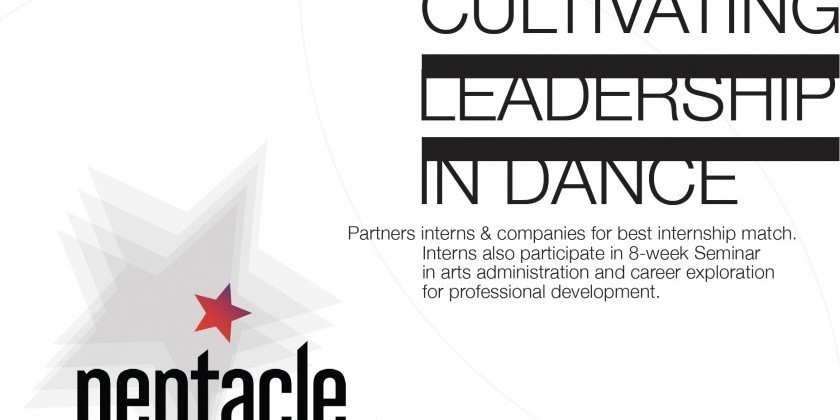 Company:
Pentacle
Pentacle is seeking part-time interns for Cultivating Leadership in Dance (CLD), our internship and professional development program, for the Fall 2017 Session (Sept. 18–Nov. 10).
CLD is a program that partners interns and companies for a high-quality internship match. It strives to find the best possible match based on similar goals and interests, while also providing interns with training seminars in arts administration.
Pentacle strategically pairs interns with affiliated dance artists and nonprofit organizations, and works with them to create an experience that is rewarding, practical, and insightful.
The intern will learn from and contribute to day-to-day administration of what it takes to sustain a profession in the arts as an individual dance artist, company, or non-profit organization. CLD participants also gain knowledge and experience of budgeting, marketing, and producing a fundraising event together by the end of the seminar.
Lastly, Pentacle provides mentorship to both interns and companies to guide the management of the internship throughout the program.
Pentacle is a not-for-profit management support organization for the performing arts established in 1976. Our Education and Outreach programs nurture early professional development through mentoring and partnerships to foster multiple pathways in the arts and stimulate the field.
TRAINING AND KNOWLEDGE OPPORTUNITIES:
On-the-job learning and liaising with various contacts
Weekly training seminars in arts administration
Peer-to-peer learning and discussion
Presentations by professionals in the field
Expanded professional network
Dedicated Pentacle mentor
Leadership development
Practice in Strategic Planning
Developing transferable skills
Work sample toward portfolio
QUALIFICATIONS:
Proactive individual with excellent verbal and written communication skills
Superb organizational skills and attention to detail
Diligent and self-motivated work ethic
Strong interest in arts and nonprofit administration required
Positive, open and engaged approach
The CLD program requires a commitment of 10 hr./week for the internship with assigned company and 3 hr./week for the seminar at Pentacle, over the 8 weeks of the program. Attendance to the seminar's fundraising event in approx. the 7th week is essential.
This is an unpaid internship. College credit may be arranged. Recent graduates may apply.
HOW TO APPLY
Please fill out and upload resume as a PDF to the application form here:
https://pentacle.formstack.com/forms/cld_intern
*** Extended deadline to submit is August 4.