Baruch Performing Arts Center presents IDACO nyc - Italian DAnce COnnection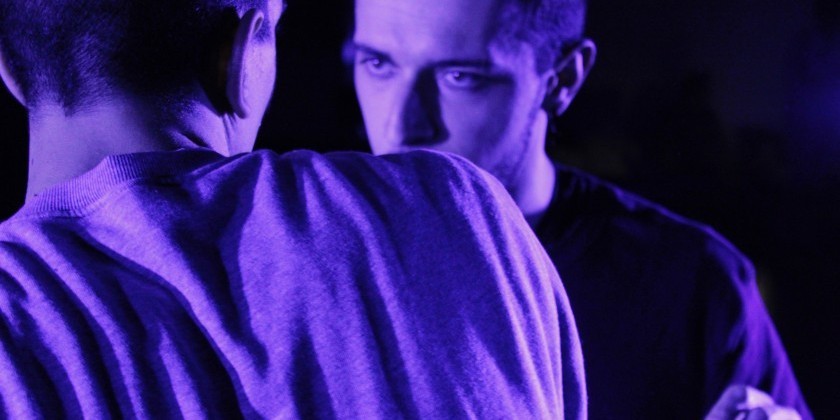 Company:
Italian DAnce COnnection, Flusso Dance Project & The Italian Cultural Institute

Baruch Performing Arts Center
presents
IDACO nyc - Italian DAnce COnnection
A Co-Presentation with Flusso Dance Project & The Italian Cultural Institute
May 24 - 27, 2018 at Baruch Performing Arts Center
 

Baruch Performing Arts Center presents IDACO nyc from May 24-27, 2018 at Baruch Performing Arts Center, 55 Lexington Ave, (enter 25th Street between 3rd & Lexington avenues) NYC. Tickets are $30 general admission and can be purchased at http://bit.ly/IDACO2018.
 
IDACO nyc is an international, collaborative dance and art event in its fourth year. A wide variety of performative experience with more than 24 dance companies, artists and filmmakers to participate. Presentations will include film screenings, intermission dance performances in theater-specific spaces, a photo exhibit and a free opening event on Wednesday, May 23rd at 6pm at the Italian Cultural Institute.
 
In 2018, IDACO nyc focuses on ideas of intersection and junction, with particular attention to dialogues between countries. As new barriers are built, IDACO nyc facilitates meeting, joining and traversing distances, creating a zone in between, a shared space for artists of diverse nations to come closer to one another.
 
Curated & produced by FLUSSO dance project in collaboration with Italian Cultural Institute, NY and Baruch Performing Arts Center.
 

OPENING EVENT - ITALIAN CULTURAL INSTITUTE Wednesday, May 23rd at 6pm
686 Park Ave, New York, NY 10021 Free and open to the public, will include a reception, program presentation, video screening and site specific performance.
IDACO Nyc PERFORMANCES & SCREENINGS
THE BARUCH PERFORMING ARTS CENTER 55 Lexington Ave, NY (Entrance on 25th st. between Lexington and 3rd Aves.), New York, NY 10010, 212-352-3101
 
Thursday, May 24th (7:30pm)
Anabella Lenzu/DanceDrama  
nancy allison nyc (film)
Ocram Dance Movement  
Garrett Parker
Rachel Erdos and dancers
 
Friday, May 25th (7:30pm)
Claudia Gesmundo & Vera Sticchi
FrameaSubstantia
Cie Twain physical dance theatre
Garrett Parker
EnzoCelli/Vivo Ballet
 
Saturday, May 26th (8:00 pm)
Lost Movement
Virginia Expertmental Film/ Balletto Teatro di Torino (film)
Daniel Gwirtzman Dance Company
Baobab Romeo + Iuvenis Danza (Film)
YY Dance Company
OPLAS /Luca Bruni
 
Sunday May 27th (6:00pm)
Parcon NYC
Gruppo e-Motion
Piccolo Balletto Sorano
meltin_pot exphhdancecompany
Eleina D. Dance Company
 
30-minutes prior to all performances, audiences can experience a photo exhibit by Gisella Sorrentino - Emerging Choreographers Series 2018, and a pre-performance film by Parcon NYC.
---
IDACO nyc SPECIAL EVENTS

SCREENING
Sunday May 27th (3:30pm)POPcult /ATERballetto, Virgilio Sieni, Virginia Experimental Film/Balletto Teatro di Torino
 
AUDIENCE ENGAGEMENT
Sunday May 27th (5:00pm)Parcon NYC
 
PHOTO EXHIBIT & SLIDE-SHOW
May 24th, 25th, 26th, 27thGisella Sorrentino, Emerging Choreographers Series 2018
 
TICKETS:
https://ci.ovationtix.com/1091/production/989305?performanceId=10264625
OVATION TIX Phone: 866-811-4111
General Admission - $30 
Baruch Alumni - $25
Baruch Faculty/Staff - $20
Students - $15 (ID required)
Film Screening - $10
 
Ticket packages are also available for purchase. A 4-event pass is $85 and can be purchased here: https://ci.ovationtix.com/1091/store/packages/96437. A 3-event pass is $75 and can be purchased here: https://ci.ovationtix.com/1091/store/packages/96436.
 
 
IDACO nyc is a platform for both Italian and New York artists who want to take part in a dialogue with Italian culture, exploring and sharing their unique paths through movement, choreography and visual arts.

IDACO nyc aims toward encouraging artistic research and network building, crossing cultural boundaries and cultivating a sense of shared identity.

IDACO nyc hopes to create space for new collaborations and to offer a supportive, inspiring and creative environment for artists interested in the "art of movement."In past editionsthe curators boldly aimed for connecting artists, cultures, and communities, while presenting exciting work to their audience, bringing inter-cultural dialogue to the forefront, and encouraging a global vision of ART.
 
Partners: Italian Cultural Institute - Baruch Performing Arts Center - FLUSSO dance project - INSCENA Festival - VIVO Ballet - Anabella Lenzu Dance Drama - Ticino in Danza - Valentina Celada - ECS Mare Nostrum Elements - Umanism Sponsor:
Arvero Limoncello
 
Baruch Performing Arts Center is an acclaimed performing arts presence. Located in the heart of Manhattan just east of Chelsea and the famed flatiron building, BPAC presents renowned classical music, opera, jazz, theater, dance, discussion, film, and innovative cross-genre programming. BPAC has presented over 1,000 cultural programs in its 5 spaces since 2003. Its curated season of 40 programs annually emphasizes new work experienced in intimate settings, the diversity of American culture as exemplified by Baruch students (who come from 130 different countries), and work that lives at the confluence of art and social justice.
 
Past presentations have included theatre companies such as the National Asian American Theatre Company, Folksbiene, and MCC. The world premiere of the opera The Echo Drift as part of the Prototype festival. Dance companies such as Heidi Latsky Dance, José Limón, and Urban Bush Women. BPAC is the New York home of the Alexander String Quartet and presents a rich chamber music season including ensembles such as the Israeli Chamber Project and pianists Sara Davis Buechner and 2018 Lincoln Center Emerging Artist, Michael Brown. BPAC offers a jazz series named for bassist Milt Hinton, which has featured artists such as Grammy-Award winner Vince Giordano and the Nighthawks. Discussion program have included writers Teju Cole, Colum McCann and Amitav Ghosh, actress Linda Lavin, and thought leaders such as Gloria Steinem and U.N. Secretary General Kofi Annan. Visit www.baruch.cuny.edu/bpac for complete and up-to-date information on the 2017-18 season.
 
PROGRAM DETAIL INFO
Thursday, May 24, 2018 at 7:30pm
 
Anabella Lenzu/DanceDrama(Argentina - USA)
Choreographer: Anabella Lenzu / Video Projection Design: Todd Carroll / Direction: Daniel Pettrow / Costumes: Jennifer Johanos / Dance Artist: Anabella Lenzu / Duration: 15 min
"No more beautiful dances" wrestles with the ideas ofexploration, introspection and reframing a woman after becoming amother, and being an immigrant.  Lenzu's dance theater piece usesdrawing, spoken word and video projections to tell a personal visionof femininity, and what it means to be a woman today.
 
Nancy Allison nyc(Film - USA/IT)
Choreographer: Laura Boato / Editing: Fiorenzo Zancan / Dance Artist: Nancy Allison / Music: Commissioned score composed and performed by Bottega Baltazar / Duration: 06:33
A site-specific performance project by American performer/filmmaker Nancy Allison and Venetian choreographer Laura Boato, this short film shot in a quarry in Serravezza, Tuscany explores the experience of grief and the transformative nature of mourning.
 
ODM - Ocram Dance Movement(IT)
Joined hands
Choreographer: Roberta Ferrara / Director of the company: Marco Laudani / Music: Verlatour "Extatique" - Nuages "Dreams" - Awir Leon "Fiddle" / Performers: Claudio Scalia, Giuseppe Giuffrida, Mario Guttà, Damiano Scavo / Duration:21.30 min
We walk through this path with joined hands.My steps tell what I am today, what I was, what I willbe.
I devote all of this to any man that no longer exists. As an erupting volcano, I try to shape me, to be alive. " I'll be waiting you down there"
 
Garrett Parker
Option Two
Choreographer & Performer: Garrett Parker/ Duration: 10-15 minutes
'Option Two' explores the idea of being pulled into two directions at once. Performed as a site specific improvisation, 'Option Two' seeks to physicalize and liberate the undetermined mind.
 
Rachel Erdos and dancers(England- Israel)
remiered in IntimaDance  June 2017 Tmuna Theater
Choreography and concept: Rachel Erdos / Music: Liverpool Express, Beach House, Giannis Parios, Erik Satie, Lia Ices / Dramaturge: Nava Zuckerman / Lighting design: Omer Sheizaf / Artistic advisors: Anat Katz, Erez Maayan / Performers: Matan David, Tomer Giat, Shay Haramaty, Ori Lenkinski / Duration: 45 min
In 1977, psychologist Arthur Aron, published the article "The Experimental Generation of Interpersonal Closeness." In his research, Aron assembled 36 questions designed for dialogue between two strangers, the questions gradually become more and more personal. According to the study, openness to another person and placing our selves in a position of vulnerability develops strong intimacy that will lead to immediate love. 4 dancers.... 36 questions.... A revealing of their personalities, lives and experiences in an intimate dance event.

Friday, May 25, 2018 at 7:30pm
 
Claudia Gesmundo and Vera Sticchi (IT)
ATMOS
Choreographers & Performers: Claudia Gesmundo, Vera Sticchi / Light designer: Michelangelo Volpe / Music: Fabio Gesmundo (original music) / Duration: 15 min
Everything is destined for melting in modern society. Everything becomes liquid and is transformed. Man becomes an 'unstable point' in a world where nothing has time to solidify. He tries to stay afloat but is continually transformed by liquid society. He progressively sinks, without being able to re-emerge.
 
FrameaSubstantia (IT)
MicroCosmi
In collaboration with Collettivo StatoLiquido e Ass. Arti SinespaZio3.0
Choreographer: Francesca Formisano / Music: Lino Strangis / Videomapping and sound: Lino Strangis Performers: Francesca Formisano, Margherita Dotta / Duration: 20 min
Microcosmi is a multimedia show that offers a metaphorical vision of the relationship between gestation and birth, private dimension and public dimension. Big balls become placenta, egg, planet, house in synergy with projections and sound system. The Universe understood as a complex of all space and what it contains.
 
Cie Twain physical dance theatre(IT)
Alle acque, uomini e dei
Choreographer: Loredana Parrella / Written by Loredana Parrella and Yoris Petrillo / Performers: Yoris Petrillo, Elisa Melis, Luca Zanni, Maeva Curco Llovera, Gianluca Formica / Production Twain Dance Production Centre 2017 / Co-Production QDA Quartieri dell'Arte Festival / Supported by MiBACT - Ministry of Cultural Heritage and Activities and Tourism, Regione Lazio - Department for Culture / In residence at Centro d'Arte e Cultura - City of Ladispoli, Claudio Tolfa Theatre - Tolfa, and Palazzo Sant'Agnese - Vitorchiano / Duration: 25 min
Water flowing, water splashing against the rocks, water crossing the space and outlining the geography of human existence. Water as a primordial element, water as the source of life. "Alle acque, uomini e dei" highlights a consideration: man is not above nature, but just a part of the whole.
 
Enzo Celli / Vivo Ballet (IT /USA)
Gabbatha
Choreographer: Enzo Celli / Music: / Performers: Vivo Ballet / Duration:30 min
Gabbatha indicates the usual place where Pilate had his judicial seat. Indicates the place where the "wash hands" took place. Gabbatha represents the place where humankind has decided to "not make a choice", has decided not to take a responsibility, where humanity has decided to turn its head.
 
Saturday, May 26, 2018 at 8pm

Lost Movement  (IT)
TABOO
Choreographer: Nicolò Abbattista / dramatist and music editor: Christian Consalvo / Performer: Samuele Arisci / Music: Christian Consalvo / Costume: Samuele Arisci / Duration: 10 min
"Taboo is the reflection of my clothes and attitudes, actually it is a game, because there's nothing you can't do in this place" [Leigh Bowery]. This piece narrates the awareness that a human being shows while identifying itself in a sexual gender, far from prejudices and conventions: the incessant source of its own identity.
 
Virginia Experimental Film / Balletto Teatro di Torino(Film USA/IT)
BODY HEAT
Thanks to: Fornace CARENA, GRAZIANO Serramenti, and to all danceWEB 2017 scholarship recipients for having inspired this film.
Direction: Matteo Marziano Graziano / Director 1st Assistant:Renata Sheppard / DoP: Paolo Bertino
Choreography: Matteo Marziano Graziano in collaboration with BTT dancers /Costumes: Matteo Marziano Graziano / Wardrobe: Alessandro Baro / Duration: 3 min
BODY HEAT is the thermographic portrait of a gang of night-goers. They play, they provoke, they rave, and they flirt. They let the attraction between their bodies happen, allowing movement and desire to melt into one collective ritual. The thermographic camera captures the physiological temperature of their dance and that of their emotionality, too.
 
Daniel Gwirtzman Dance Company (USA)
Affront
Choreographer: Daniel Gwirtzman / Music: Daniel Gwirtzman Dance Company / Performers: Derek Crescenti, Daniel Gwirtzman, Vanessa Martinez de Baños / Duration: 15 min
Affront explores the tipping point when intimacy crosses into violence, peeking into the darker side of relationships and the pressures, dangers and abuses that arise. Intricate partnering acts as a metaphor to portray the disconnect, conflict, and lack of empathy that exists between people and which characterizes present-day life.
 
Baobab Romeo+ Iuvenis Danza / Giovanna Venturini (IT)
Rubicon
Choreographer: Giovanna Venturini / Performers: Benedetta Cordioli, Silvia Girotti / Music and video editing: Baobab Romeo / Props by: Baobab Romeo + Iuvenis Danza / Duration: 4 min
The work is a collaboration between Iuvenis Danza and Baobab Romeo musical project. After a live performance the band decided to realize a clip with two dancers. In the film "Rubicon", the movement, lights and space merge together creating a dialogue between two dancers.
 
YY Dance Company (USA)
Too Soon To Tell
The creation was supported and premiered at Schrittmacher Festival 2018 Ludwig Forum
Choreographer: Yin Yue / Performers: Yin Yue, Grace Whitworth, Erika Choe, Lissa Smith, Kevin Pajarlaga / Music: GAS, Olafur Arnalds, Machinefabriek / Duration: 20 min
A special evening of the purest, most intimate dance art. Excerpt from an evening length production premiered at Ludwig Forum in Aachen, Germany as part of the Schrittmacher Festival 2018. Powerful, bouncy, beguiling, or softly flowing are all fitting descriptions of the fine, precise movements that characterize the choreographies of Shanghai-born Yin Yue and her New York YY Dance Company. The FoCo dance style developed by her - a blend of folk and contemporary - is a highly aesthetic mix of rhythm, sensuality and dynamics. In 2016, the company was celebrated as one of the great discoveries of recent years by the public and the press.
 
OPLAS / Luca Bruni (IT)
Didone ed Enea
Project in collaboration with Italian Cultural Institute of Tunis, MiBACT and Regione Umbria
Choreographer: Luca Bruni / Music: Marco Schiavoni Henry Purcell / Performers: Samuele Arisci, Mario Ferrari, Michele Umberto Fuso, Jessica Regni, Luana Rossetti / Duration: 20' min
Neither future nor love for those destined by fate to sacrifice themselves for something bigger: this is the tragic story of Dido and Enena. To accept or fight one's destiny: this is the real challenge.
 
Sunday, May 27, 2018 at 3:30pm
 
Popcult / Aterballetto (film) IT
FOUNDRY 39
Documentary Italy 2017
With the participation of Fondazione Nazionale della Danza Aterballetto
Director: Nico Guidetti / Produced by: MEDIAVISION/ in collaboration with: POPCULT / With the support of: FILM COMMISSION EMILIA-ROMAGNA / Subject: Jeris Foch Nico Guidetti / Scriptwriting: Nico Guidetti / Cinematography: Nico Guidetti - Sebastian Corradi - Nello Chiari / Editing : Nico Guidetti Giusi Santoro / Colour Correction: Andrea Dalpian / Sound design: Riccardo Nanni / Duration: 50 min
POPcult presents behind the scenes of ATERBalletto, one of the most important Italian contemporary dance company in that creative forge with the emblematic name of Foundry39, born from the valuable architectural recovery of a foundry, located on the edge of Reggio Emilia's historical city center in Italy. In the film this creative process is staged, the form, color and sound that underlies any work of art. In the case of dance, this work is made up of bodies, which from an initial state of disrupted chaos, unformed matter, come to organize themselves according to a precise order, elaborated by the choreographer and of which each dancer becomes a sign, a color, a line. The Aterballetto company is today an example of an international ensemble, made up of dancers from all over the world. This is also the vocation of the company, often engaged in transfers outside Italy.
 
Virginia Experimental Film / Balletto Teatro di Torino(Film USA/IT)
The Castle
Special thanks to il Castello e il Comune di Lagnasco.
Direction: Renata Sheppard / Director 1st Assistant: Matteo Marziano Graziano / DoP: Davis Alfanis / Choreography: Renata Sheppard in collaboration with Balletto Teatro di Torino / Costumes and editing: Renata Sheppard / Performers: Viola Scaglione, Wilma Puentes Linares, Lisa Mariani, Flavio Ferruzzi, Hillel Perlman, Emanuele Piras with guest Matteo Marziano Graziano / Duration: 7 min
A nomadic tribe inhabits an abandoned the castle, the bandits of a wild and icy countryside, they search for purpose, community and a sense of peace.
 
Virgilio Sieni /Palazzo Te / Zefirofilm (film IT)
La cittadinanza del corpo 2017
with Virgilio Sieni, Compagnia Virgilio Sieni and La cittadinanza del corpo 2017 participants
Choreography and concept: Virgilio Sieni / Director: Mario Piavoli / Performance Production: Centro Internazionale d'Arte e di Cultura di Palazzo Te (President Stefano Baia Curioni) / Film Production: Zefirofilm / Project assistants: Giulia Mureddu, Elisa Mucchi, Giovanna Venturini / Duration: 40 min
For several years now, the choreographer Virgilio Sieni, in parallel with producing dance works for his company, has created projects for local communities in Italy and abroad to address the territory, the cultural fabric of the city. These projects are open to all citizens, as they do not necessarily require previous dance experience. Through this work, the "citizens of the body" are guided through a path of awareness of gesture, movement, and relationships. At the end of the process, various actions are publicly demonstrated in a performative dimension. In 2018, the project's second edition was presented in the prestigious setting of Palazzo Te, in Mantova.
 
Sunday, May 27, 2018 at 5pm
 
Movement choir by Parcon NYC(USA)
Intersect
Choreographer: PARCON NYC collective: Cecilia Fontanesi, Funda Gul / Performed in collaboration with audience / Duration: 10 min,
This work offers a view of connectedness in space, through overlapping and interdependent domains of play and exploration, which constitute a collection of identities, simultaneously merging into a shared experience.
 
Sunday, May 27, 2018 at 6pm
 
Gruppo e-motion (IT)
Apriti ai nostri baci - Study on the wall concept
Choreographer: Francesca La Cava / Performers: Francesca La Cava / Music: Fabio Cifariello Ciardi / Playwright: Guido Barbieri / Video: Salvatore Insana / Light designer: Carlo Oriani Ambrosini / Photo: Paolo Porto / Props by: Chiara Defant / Duration: 15 min / Production: GRUPPO e-MOTION with the contribution of the Ministry of Cultural Heritage and Tourism, the Abruzzo Region and the City of L'Aquila / Co-production: Festival Oriente Occidente, CID Centro Internazionale della Danza di Rovereto (TN) and I Cantieri dell'Immaginario Festival / With support of ACS Abruzzo Circuito Spettacolo
One side of the wall is hard, compact, and scratch-resistant: this is the wall of the masses. The other side, however, contains the many anonymous lives who populate the history. This is the wall of contrary motions: the wall excludes, but at the same time protects; the wall defends borders but at the same time repels foreigners.
 
Elisabetta Minutoli / Piccolo Balletto Sorano  (IT)
Apropos of the wet snow
Choreographer: Elisabetta Minutoli / Performers: Elisabetta Minutoli and Jonathan Colafrancesco / Music: Tied Up (Julian Perretta), Magnificat (Arvo Pärt), Jeeg Robot L'Uomo D'Acciao (Claudio Santamaria) / Props by: Bride veil / Duration: 13 minutes
Free inspired by the second part of "Memories of the Subsoil" by Dostoevsky. On the scene is re- evokes the encounter between the protagonist and the prostitute Lisa. What seems like a cathartic encounter will unveil the raw nature of man who loses his unique possibility of elevation as a human being through pure love.
Photo: ODM - Ocram Dance Movement by Gregorio Fisichella.
Share Your Audience Review. Your Words Are Valuable to Dance.
Are you going to see this show, or have you seen it? Share "your" review here on The Dance Enthusiast. Your words are valuable. They help artists, educate audiences, and support the dance field in general. There is no need to be a professional critic. Just click through to our Audience Review Section and you will have the option to write free-form, or answer our helpful Enthusiast Review Questionnaire, or if you feel creative, even write a haiku review. So join the conversation.