Contemporary Dance at Bryant Park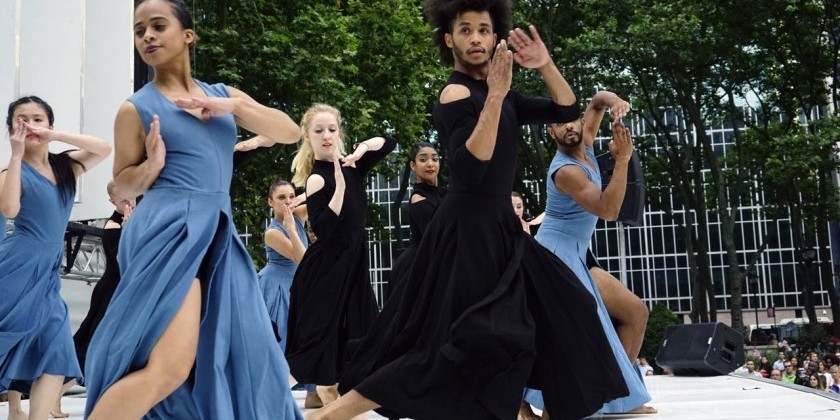 Company:
Jennifer Muller/The Works, Tiffany Mills Company, Monteleone Dance, and Steps on Broadway Summer Study
Founded in 1974, contemporary dance company Jennifer Muller/The Works now celebrates 43 years of performing for world audiences, educating youth and serving the community with vital outreach. JMTW applies a multi-disciplinary technique, weaving dance, media, theater and visual arts to create exhilarating dances that illuminate the human spirit.
Tiffany Mills is "making a name for herself as a young modern-dance innovator" (The New York Times). Her work favors a boldly physical vocabulary, where vivid partnering plays a prime role in detailing human relations. In her crafted world of gesture, touch, and fluid form, Mills' dancers partner in three-dimensional explosions, syncopating space. The Tiffany Mills Company strikes a nerve -- triggered by instinct -- driven out of raw physicality. The roots of this dynamic Company began when Mills moved to New York City in 1995. Under her direction, the Company investigates improvisational structures and partnering to create "violently visceral movement" (Village Voice) performed with a "fearless sense of freedom and exhilaration" (The Washington Post). Intertwining complementary layers to her multi-dimensional work, Mills collaborates with contemporary theater directors, composers, designers, and filmmakers.
Monteleone Dance is a research-based dance company led by Joe Monteleone that presents highly cerebral multimedia dance works, as well as nationally and internationally. The company is committed to the innovation of intricate movement vocabulary, developing new multivalent movement methodologies, as well as synthesizing the two. The work confronts the human experience, analyzing and probing the human psyche in the context of today's technological zeitgeist and cultural fabric.
The School at Steps cultivates young dancers, ages 18 mos. - 18 yrs., from their first step in a dance studio through their pre-professional training. Students discover their individual artistic voices in a creative environment with the guidance of an internationally recognized faculty. The personal attention the school provides encourages students to mature as dancers, grow as individuals, and enrich their passion for the art form. School at Steps graduates go on to dance with professional companies, study at top college dance programs, and perform on Broadway.