LUMBERYARD Contemporary Performing Arts's summer 2018 season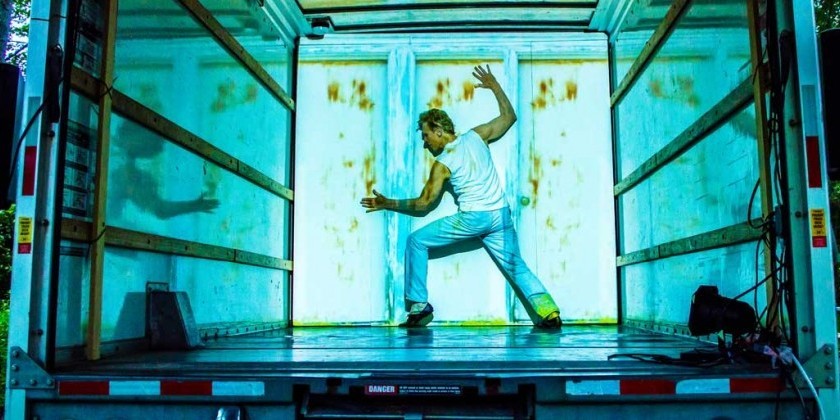 Company:
LUMBERYARD Contemporary Performing Arts
LUMBERYARD CONTEMPORARY PERFORMING ARTS UNDER CONSTRUCTION SUMMER FESTIVAL OPENS JUNE 29 WITH WORLD PREMIERE OF SCAT!, A DANCE-DRIVEN MUSICAL FROM URBAN BUSH WOMEN SET IN HUDSON, NY'S CLUB HELSINKI   
Stellar lineup for the inaugural summer season will run from June 29—Sep 2 and fill multiple venues surrounding the $7.2M state-of-the-art facility, in advance of its Fall 2018 opening  
Under Construction features premieres, developed with support from LUMBERYARD, by Urban Bush Women, d. Sabela grimes, and John Jasperse, as well as acclaimed works by STREB Extreme Action Company, Bridgman|Packer Dance, Jodi Melnick; Ishmael Houston-Jones; and Savion Glover with Marcus Gilmore
New York, NY — LUMBERYARD Contemporary Performing Arts opens its inaugural summer 2018 season, which will fill venues surrounding the organization's highly anticipated new facility in Catskill, New York, with Scat!,a dance-driven musical from Urban Bush Women set in Hudson, NY's Club Helsinki (June 29—July 1). The season,which runs from June 29 – September 2, represents the fullest realization to date of LUMBERYARD's unique dual promise: to make transformative contributions both to the cultural landscape and economic health of Upstate New York and to the field of contemporary performance in New York City and the U.S. by bringing renowned and emerging artists across the performing arts landscape to Catskill for out-of-town premieres, often incubated through LUMBERYARD's signature technical residencies.
Adrienne Willis, Executive and Artistic Director of LUMBERYARD Contemporary Performing Arts, said, "We are thrilled to begin presenting performances in Catskill and Hudson as we enter the final stages of construction on our new home. We didn't want to wait for the new facility to be finished before starting to welcome various Hudson Valley communities to our work. The summer season—spanning a diversity of artists and a wide range of artistic practices—offers a sneak peek at a number of new productions, before their New York or national premieres, as well as the chance to experience, close to home, performances that have won considerable acclaim in other cities."
The season will open with Scat!, a premiere from the vital company Urban Bush Women, which has "interpreted the black experience with passion and focus for thirty years" (The Village Voice). Created by Urban Bush Women's founder and choreographer, Jawole Willa Jo Zollar, with dramaturg Talvin Wilks and composer, bandleader and musician Craig Harris and set in a fictional jazz club with a five-piece band and two vocalists, Scat! tells the story of the Zollar family during the Great Migration. LUMBERYARD presents the work—its third collaboration with Urban Bush Women—from June 29-July 1 at the Hudson, New York, Club Helsinki.
LUMBERYARD will also provide residency support and a premiere to d. Sabela grimes, a Los Angeles-based interdisciplinary artist that The Los Angeles Times calls "one of a mere handful of artists who make up the vanguard of hip-hop fusion." Performances will take place from July 27-29 at Bridge Street Theatre in Catskill. A third premiere, supported with a LUMBERYARD residency, is Hinterland, from veteran New York choreographer John Jasperse, from August 17-19 at Hudson Hall at the historic Hudson Opera House.
MacArthur "Genius" Award-winner Elizabeth Streb and her company STREB Extreme Action—whose internationally acclaimed productions combinedance, athletics, and death-defying stunt work, and are feats of pure daring and strict precision—will present a site-specific iteration of their work SEA (Signature Extreme Actions) from July 6-8 at LUMBERYARD'S under-construction site in Catskill.
Also at the under-construction LUMBERYARD campus, Bridgman|Packer Dance, led by Guggenheim Fellows Art Bridgman and Myrna Packer, will perform Truck inside a 17-foot U-Haul truck, July 13-14.
Choreographer, dancer and frequent LUMBERYARD collaborator Jodi Melnick brings her "laudable power to take ordinary gestures and give them opulence," (New York Times) to two distinct but equally acclaimed works at Hudson Hall from August 3-5: her lauded 2012 solo One of Sixty-Five Thousand Gestures, choreographed with the legendary Trisha Brown; and NEW BODIES, which Melnick created with Sara Mearns and her fellow acclaimed New York City Ballet (NYCB) dancers Jared Angle and Gretchen Smith.
The summer season continues with Ishmael Houston-Jones's Variations on Themes from Lost and Found: Scenes from a Life and Other Works by John Bernd, co-directed by Miguel Gutierrez. from August 24-26 at Hudson Hall. Conceived by for Danspace Project's series Platform 2016: Lost and Found, Variations is an examination of the impact AIDS has had on artists of multiple generations—including Bernd, who died in 1988. Houston-Jones developed Variations with Gutierrez, a beloved downtown artist of a younger generation, andin collaboration with Nick Hallett and Jenifer Monson. The New York Times called the work"fresh, funny and profoundly poignant."
The season concludes with a performance (September 1 & 2 at LUMBERYARD) that pairs Savion Glover, whom The New Yorker has deemed "the greatest tap virtuoso of our time, perhaps of all time," with Marcus Gilmore, one of the most in-demand drummers in jazz, for an exploration of rhythm, the foundation of both artists' work.
As the summer season unfolds, construction will continue on LUMBERYARD's state-of-the-art, multi-building facility, opening for residencies and public performances in 2018. The campus will include a column-free, 5,500-square-foot theater that can be reconfigured to realize the visions of America's most exciting performing artists, and to replicate a variety of New York City stages, as well as a lobby, artist housing and a 5,000-square-foot studio and event space. It will be the first facility in the U.S. dedicated to providing the space, time and other resources that professional contemporary dance and performing artists need to make their work premiere-ready.
"LUMBERYARD has already proven itself as a great partner to our community through initiatives like the LUMBERYARD Young Performers after-school program, and I join their organization today in celebrating another step on this journey," said Vincent Seeley, president of the Village of Catskill. "The LUMBERYARD represents a tremendous investment in our community and region, and will bring new excitement, visitors and opportunity to Catskill."
This fall brings further evidence of LUMBERYARD's value to artists in the field of contemporary performance, and to the institutions that present them. Through a collaboration with BAM, LUMBERYARD is providing production residencies for three artists to develop works premiering in the 2018 Next Wave Festival. The artists will each receive a development fee, dramaturgical support, full LUMBERYARD technical crew, design support, production materials and equipment, housing, meals, local transportation and professional documentation.
LUMBERYARD CONTEMPORARY PERFORMING ARTS — SUMMER 2018 SEASON PROGRAMMING
Urban Bush Women
SCAT! (Premiere)
June 29-July 1, 2018
Helsinki (405 Columbia Street, Hudson, NY 12534)
Tickets start at $25
Set in a fictional jazz club, Scat! is a dance-driven musical that tells— through song, dance and storytelling—a love story of two people making their way during the Great Migration. It is a powerful tale of one family and what happens when dreams encounter the realities of American life in the 1940s and 50s. Scat! features an original jazz score by Craig Harris, performed live by a five-piece band including him and two vocalists; dramaturgy by Talvin Wilks; and choreography by Urban Bush Women's founder, Jawole Willa Jo Zollar. She says of the work, "Scat! is my story. It is my family's story. It is a personal and collective story of a family and a people, moving from the Jim Crow south during the Great Migration."  
Founded in 1984 by choreographer Jawole Willa Jo Zollar, Urban Bush Women (UBW) seeks to bring the untold and under-told histories and stories of disenfranchised people to light through dance. The company does this from a woman-centered perspective and as members of the African Diaspora community in order to create a more equitable balance of power in the dance world and beyond. The New York Times has said of them, "Urban Bush Women are committed, triple-threat performers who dance, sing and act with a sometimes searing sense of truthfulness."
STREB Extreme Action Company
SEA (Singular Extreme Actions)
July 6-8, 2018
LUMBERYARD Contemporary Performing Arts (62 Water Street, Catskill, NY 12414)
Tickets start at $25
SEA is a wild kaleidoscope of action and music, with human bodies careening through, around, and above invented hardware accompanied by local guest DJs and STREB's resident DJ and emcee. "In her loud, unflinching explorations of physics, [artistic director Elizabeth Streb] has, over decades, devised what looks like her own Olympic sport," says The New York Times. SEA combines new work from the company with reimagined signature pieces, instilling them with new life and energy. Elizabeth Streb, founding artistic director of the company, says, "In the past few years, it occurred to me that instruments in an orchestra don't just compose one symphony. A guitar doesn't just invent one riff or a single melody. Our 'action machines' have more than one dance in them."
Elizabeth Streb, a MacArthur "Genius" Award-winner, has dived through glass, allowed a ton of dirt to fall on her head, walked down (the outside of) London's City Hall and set herself on fire, among other feats of extreme action. Her popular book, STREB: How to Become an Extreme Action Hero, was made into a hit documentary, Born to Fly, directed by Catherine Gund (Aubin Pictures), which premiered at SXSW and received an extended run at The Film Forum in New York City in 2014. Streb founded the STREB Extreme Action Company in 1985. In 2003, she established SLAM, the STREB Lab for Action Mechanics, in Williamsburg, Brooklyn. SLAM's garage doors are always open: anyone and everyone can come in, watch rehearsals, take classes, and learn to fly.
The members of STREB Extreme Action combine virtuosity and technical skill with openhearted popular appeal. Founded in New York City in 1985, the company has traveled, artistically as well as geographically, from the heights of the experimental dance world to the cutting-edge of popular entertainment.
Bridgman|Packer Dance
Truck
July 13-14, 2018
LUMBERYARD Contemporary Performing Arts (62 Water Street, Catskill, NY 12414)
Tickets start at $25
Truck is an innovative performance that takes place inside a 17-foot U-Haul truck. Through Bridgman|Packer's signature integration of live performance and video technology, the ordinary box truck evolves from the utilitarian into a reimagined space, a micro-world of visions and transformation. Exploring how context changes perception, the work ranges from evocative to humorous to sensuous.
Art Bridgman and Myrna Packer, Artistic Directors of Bridgman|Packer Dance, are Guggenheim Fellows in Choreography, acclaimed for their innovative integration of choreography and video technology that explodes the partnering form into a magically populated stage where image and reality collide. They have collaborated as performers and choreographers since 1978. Their groundbreaking work developing "Video Partnering"—the integration of live performance and video technology—has been acclaimed for its highly visual and visceral alchemy of the live and the virtual. They are recipients of a 2017 Bessie Award for Outstanding Production, for Voyeur at The Sheen Center.
d. Sabela grimes
New Work [Title TBA] (Premiere)
July 27-29, 2018
Bridge Street Theatre (44 West Bridge St, Catskill, NY 12414)
Tickets start at $25
LUMBERYARD presents an evening-length transmedia dance theater experience from d. Sabela grimes, described by The Los Angeles Times as "the Los Angeles dance world's best-kept secret" and "one of a mere handful of artists who make up the vanguard of hip-hop fusion."
d. Sabela grimes, a 2014 United States Artists Rockefeller Fellow, is a choreographer, writer, composer and educator whose interdisciplinary performance work and pedagogical approach reveal a deep interest in the physical and meta-physical efficacies of Afro-Diasporic cultural practices. Grimes' AfroFuturistic dance theater projects—including World War WhatEver, 40 Acres & A Microchip, BulletProof Deli and ELECTROGYNOUS—consider histories that have been made invisible, and grapple with constructed notions of masculinity and manhood while conceiving a "womynist consciousness." Grimes created, and continues to cultivate, a movement system called Funkamentals that focuses on the methodical dance training and community-building elements evident in black vernacular and street-dance forms. Previously, grimes co-authored and performed as a principal dancer in Rennie Harris Puremovement's award-winning Rome & Jewels. Grimes received a BA in English and MFA in dance and choreography from UCLA.
Jodi Melnick
One of Sixty-Five Thousand Gestures/NEW BODIES
August 3-5, 2018
Hudson Hall (327 Warren St, Hudson, NY 12534)
Tickets start at $25
Jodi Melnick brings two works to Hudson Hall for LUMBERYARD's summer 2018 season. The solo One of Sixty-Five Thousand Gestures is a deep exploration of movement, slipping from casual to formal and back again, and uses costume as a sculptural moving object in the dance. The work is the result of Melnick's unique relationship, in and out of the studio, with Trisha Brown, an experience Melnick considers one of her most profound and transformative collaborations. New York Live Arts presented the world premiere in 2012.
NEW BODIES (2016) is Melnick's celebrated collaboration with New York City Ballet dancers Sara Mearns, Jared Angle and Gretchen Smith. Melnick transmits her creative process and performative instincts onto these extraordinary ballet dancers. The work pushes the space the performers occupy and then pushes the body itself, using the full range of their unique personalities and skills, playing with the juxtaposition of music and silence. NEW BODIES weaves dance, spoken text and live music for harpsichord by composer György Ligeti, violin by composer Heinrich Biber, and newly commissioned music by Robert Boston. The world premiere was presented at Works & Process on November 13-14, 2016.
Jodi Melnick is a New York City-based choreographer, dancer and teacher. She graduated from SUNY Purchase with a BFA in Dance. Melnick is part of the first group of Doris Duke Impact Award recipients, a 2012 Guggenheim Fellow, and the recipient of the Jerome Robbins New Essential Works Grant (2010-2011) and the Foundation for Contemporary Arts Grant (2011). She has garnered two Bessie Awards for sustained achievement in dance (2001 and 2008).
John Jasperse
Hinterland (Premiere)
August 17-19, 2018
Hudson Hall (327 Warren St, Hudson, NY 12534)
Tickets start at $25
John Jasperse founded John Jasperse Company, later renamed John Jasperse Projects, in 1989 and has since created 17 evening-length works through this non-profit, as well as numerous commissions for other companies including Baryshnikov's White Oak Dance Project, Batsheva Dance Company and Lyon Opera Ballet. John Jasperse Projects has performed in 25 U.S. cities and 29 countries. Jasperse is co-founder of CPR—Center for Performance Research in Brooklyn, NY. He recently became director of dance at his alma mater, Sarah Lawrence College.
Ishmael Houston-Jones
Variations on Themes from Lost and Found: Scenes from a Life and Other Works by John Bernd
Co-Directed by Miguel Gutierrez and Ishmael Houston-Jones
In Collaboration with Nick Hallett and Jenifer Monson
August 24-26, 2018
Hudson Hall (327 Warren St, Hudson, NY 12534)
Tickets start at $25
In 1988, choreographer/dancer John Bernd died at age 35 of complications of AIDS. Bernd was a pivotal figure of the New York downtown dance scene of the early 1980s, and was one of the first people from the community to contract HIV (though the virus had yet to be identified). He created several solos, semi-autobiographical pieces, a duet—Live Boys, made in collaboration with his then-partner, Tim Miller—and three versions of an ensemble dance, Lost and Found: scenes from a life. Bernd's final piece was a duet, Two on the Loose, made and performed with choreographer Jennifer Monson just months before Bernd died on August 28, 1988.
Ishmael Houston-Jones originally created Variations on Themes from Lost and Found: Scenes from a Life and Other Works by John Bernd as part of Danspace Project's Platform 2016: Lost & Found, curated by Houston-Jones and informed by his memories of Bernd's work and the work of other New York dance makers who died during the first 15 years of the AIDS crisis. Houston-Jones and his collaborators use archives of Bernd's performances to produce a collage of work he made during the last years of his life, interrogating what the effects of that loss have had on work being made today. Variations is directed by Ishmael Houston-Jones in collaboration with Miguel Gutierrez, Jennifer Monson, and Nick Hallett, with performers Tony Carlson, Talya Epstein, Alvaro Gonzalez, Charles Gowin, Madison Krekel, Johnnie Cruise Mercer, and Alex Rodabaugh.
Choreographer and improviser Ishmael Houston-Jones, whose dance and text work has been performed throughout the world, is also an author, curator, and teacher whose practices have had significant impact on dance makers of multiple generations. Drawn to collaborations as a way to move beyond boundaries and the known, Houston-Jones celebrates the political aspect of cooperation. Almost never setting his choreography, he sees the dichotomy between improvisation and choreography as a false binary. An activist artist who makes provocative work that has examined and memorialized the impact of AIDS on numerous communities, he also supports—through curation and teaching—the production of challenging art created by queer artists and/or artists of color. 
Savion Glover Featuring Marcus Gilmore
September 1 & 2, 2018
LUMBERYARD Contemporary Performing Arts (62 Water Street, Catskill, NY 12414)
Tickets start at $25
This inspired duet is a supreme meeting of rhythm masters. The Tony Award–winning Savion Glover, an artist called "the greatest tap virtuoso of our time, perhaps of all time" (The New Yorker), joins forces with drummer Marcus Gilmore, the grandson of iconic drummer Roy Haynes and a dynamic musician known widely for his work with Vijay Iyer, Chick Corea, Steve Coleman, Nicholas Payton, Gonzalo Rubalcaba, and Ravi Coltrane. Gilmore's ongoing work as part of Iyer's incisive and award-laden trio, which blends slippery rhythmic sophistication with virtuoso contrasts in dynamics and texture, is the ultimate preparation to work with Glover, where rhythm and melody converge.
Beginning as a prodigious student of the great Honi Coles and the late Gregory Hines, who called him "possibly the best tap dancer that ever lived," Savion Glover has been boldly breaking new ground for 25 years. Only 12 when he appeared on Broadway in The Tap Dance Kid, Glover made his film debut alongside Hines and Sammy Davis Jr. in 1989's Tap. He received a 1992 Drama Desk nomination for his appearance in Jelly's Last Jam on Broadway, and became a cultural phenomenon in 1996 when George C. Wolfe showcased his dazzling rhythmic dexterity in Bring in 'Da Noise/Bring in 'Da Funk (which earned Glover a Tony Award for Best Choreography). There are precious few artists who embody, redefine, and radically expand their art form, but Glover stands tall as an elemental creative force who has returned tap to its roots while opening up vast expanses for fresh exploration.
Bridgman|Packer Dance. Photo by Caleb Carr.
Share Your Audience Review. Your Words Are Valuable to Dance.
Are you going to see this show, or have you seen it? Share "your" review here on The Dance Enthusiast. Your words are valuable. They help artists, educate audiences, and support the dance field in general. There is no need to be a professional critic. Just click through to our Audience Review Section and you will have the option to write free-form, or answer our helpful Enthusiast Review Questionnaire, or if you feel creative, even write a haiku review. So join the conversation.