BALASOLE DANCE COMPANY PRESENTS "MEZCLA"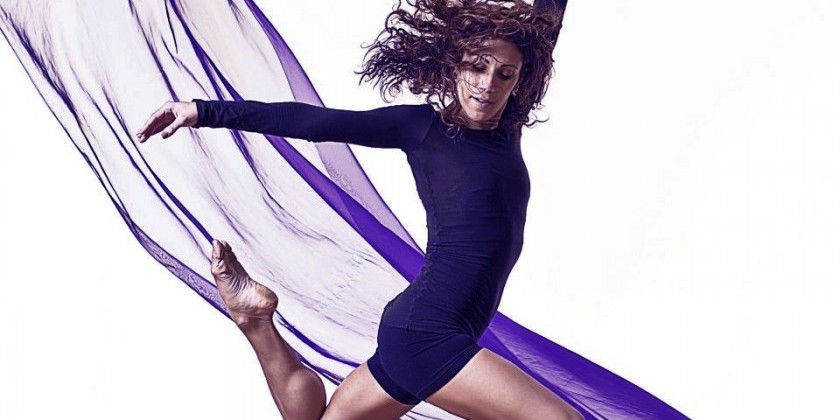 Company:
BALASOLE DANCE COMPANY

"Electrifying showcase of solos." - Jodi Savitz, NBC News, 2016
"Roberto Villanueva's BalaSole, A Kaleidoscope of Human Shapes." - Siobhan Burke, The New York Times, 2015
 
"Most of the solos presented were self-choreographed and demonstrated each dancer's strength and signature style." – Jessica Abejar, BroadwayWorld.com, 2014
 
 "BalaSole's emphasis on the creative process is extremely refreshing." – Stephanie Deere, BroadwayWorld.com, 2013
"Where it succeeds is in the presentation of skilled artists who can command the stage in their self-made solos." – Tim Martin, Dance Europe Magazine, 2011
 
"This is why we go to see dance." – Roberta Pikser, www.theaterscene.net, 2011
 
"A unique venture in the contemporary New York dance scene." – Philip Gardner, Oberon's Grove, 2011
 
ROBERTO VILLANUEVA, Founder/Artistic Director of BalaSole Dance Company, presents the 19th NYC Season Concert of BalaSole in "MEZCLA," a new program of solos in a broad range of dance styles, music choices and artistic voices, on August 17 & 18, 8PM, at Ailey Citigroup Theater, 405 West 55 Street. This concert includes a solo performance by guest artist Nicole Corea, member of the world-renowned Lar Lubovitch Dance Company.

Past BalaSole participants include artists from other prominent companies such as the Limón Dance Company, Metropolitan Opera Ballet, Dance Theatre of Harlem, Martha Graham Dance Company, Parsons Dance, Lucinda Childs Dance, Sokolow Theatre/Dance Ensemble, Philadanco, The Isadora Duncan Dance Company, and Gus Giordano Jazz Dance Chicago.

At the August concert, BalaSole will feature the following soloists:
 
KAYLA AFFRUNTI
LAURA ASSANTE
NICOLE COREA (Guest Soloist)
DONTERREO CULP
NOËLLE DAVÉ
AURORA HASTINGS
MISAKI HAYAMA
MIKAEL JAWORSKI
BENJI MARTIN JR.
ASHLEY ROSSI
LAUREN SETTEMBRINO
 
 
Roberto Villanueva explains:  "I created BalaSole because I believed it was time for a multi-ethnic organization that would open its doors to dance artists of all genres, styles, artistic expressions, shapes, sizes, ages, and background."  BalaSole, described by Tim Martin (Dance Europe Magazine) as a "hybrid creature"--"part dance company and part showcase," is the only dance company of its kind in the U.S. with a mission to address the gaps in the field of concert dance.  The company's artists are provided artistic freedom and mentored to find and hone their own voices.  Diversity and individuality are the keywords of the organization, which has mentored and given performance opportunities to over 160 dancer/choreographers since 2010.  The Company has presented seasons at Baryshnikov Arts Center's Jerome Robbins Theater, Ailey Citigroup Theater, New York Live Arts, BAM, and Tribeca Performing Arts Center.  BalaSole is the resident company of Mount Saint Vincent College in Riverdale, NY.
 
 
MORE ABOUT THE PERFORMERS/COMPANY:
 
KAYLA AFFRUNTI
PIECE INSPIRATION: Reaching in and out of personal kinesphere limitations.
BIO: Kayla is a recent graduate of Montclair State University where she obtained her BFA in Dance. While at MSU she has had the pleasure to perform works by Maxine Steinman, Christian von Howard, Frederick Earl Mosley, and Kathleen Kelley. Kayla has danced with comedian Hannibal Burress on tour, and with social justice organization Woke Empowerment. Along with concert work, she has been in films Proteo by Kathleen Kelley, Des tic et Des Tocs directed by Jonathan Coutette and creates her own dance films. While currently on staff at the School of Creative and Performing Arts in NYC as a summer teaching assistant, Kayla guest teaches and choreographs at various studios around NY/NJ. 
 
LAURA ASSANTE
PIECE INSPIRATION: Positive experience stored as hope but later blossoms and emerges.
BIO:  Laura was born and raised in NYC.  She has studied, taught and performed ballet, Lindy, Charleston, and social dance throughout NYC and the U.S. Laura trained at American Ballet Theatre and the Joffrey Ballet School, and graduated with a BFA in Dance from Marymount Manhattan College. After graduation, Laura formed and directed Kindling Arts Troupe, a company comprised of freelance artists and people of wide ranging professions and backgrounds, devoted to performing and creating joyful, original and collaborative work for senior centers throughout NYC. Laura has performed for Covenant Ballet Theatre's Nisei Project Hawaiian Island Tour, Neville Dance Theatre, Hope Dance NYC, DanceSport, Fleur Seule with the Wounded Warrior Project on the Intrepid, Kilowatt Dance Theatre at Jacob's Pillow and Vanaver Caravan on the Hudson. Laura is a returning BalaSole soloist.
 
NICOLE COREA (Guest Soloist)
PIECE INSPIRATION:  Personal discovery.
BIO:  Nicole, from Palmyra, NY, received her early dance training from Sandy Stramonine and Lynne Kareken, and her BFA in Dance from the Juilliard School. Her performing credits include Ballet Hispanico of NY, Elisa Monte Dance, Ballet Memphis, Lar Lubovitch Dance Company, and Metropolitan Opera Ballet. Her choreography credits include Thang Dao Contemporary Dance Festival, Latin Choreographers Festival, MMAC and Greenspace Brooklyn, and Ballet Memphis main company and junior company. Most recently she collaborated on a work for the students at MindLeaps in Rwanda for the Ubumuntu Arts Festival. As a teaching artist and repetiteur she has taught master classes for all affiliated companies and has also staged the work of Elisa Monte and Lar Lubovitch. Nicole has served as the ballet mistress for Damagedance and rehearsal director for Steps Repertory Ensemble. She is a teaching ambassador for Rwandan street children with the non-profit organization Mind Leaps and an annual guest teaching artist for the Jikei Group of Colleges in Japan. Her other company credits include Nilas Martins Dance, Pier Group, Thomas/Ortiz, Roger C. Jeffrey Subtle Changes, Mark Stuart Dance, Morales Dance as well as numerous independent choreographers throughout NYC and the East Coast.
 
DONTERREO CULP
PIECE INSPIRATION:  Isolation, Hyperspeed and content.
BIO:  Donterreo began his training at I-Live Center of the Arts in Saint Mary's, Georgia. He is currently enrolled at East Carolina University where he trains in ballet, modern, jazz and tap. Donterreo will graduate from ECU next May with a BFA in Dance Performance and Choreography. Donterreo has completed summer training at the Trinity Laban Conservatoire of Music and Dance where he studied dance science and dance technique. He has worked with and performed works by choreographers David Ingram, Danielle Sheather, Tommi Galaska, Teal Darkenwald, John Dixon, Joe Cotler and Richard Smith.
 
NOËLLE DAVÉ
PIECE INSPIRATION:  Concept of Patience.
BIO:  Noëlle began her training in Sumter, South Carolina under Jennifer Reimer. She is a recent graduate of East Carolina University where she received her degree in Dance Performance and Choreography. During her time at ECU, she worked with choreographers David Ingram, Danielle Sheather, Michel Kouakou, Tommi Galaska, Teal Darkenwald, John Dixon, Micah Geyer, and Joe Cotler. She also performed in repertory pieces including Standing in Tears from Koresh Dance Company. Noëlle has performed professionally at the Williamsburg Art Nexus in Brooklyn, New York. She has choreographed numerous works, and one was selected to perform at the regional American College Dance Association. Noëlle is currently a member of Atlanta Dance Collective in Atlanta, GA.
 
AURORA HASTINGS
PIECE INSPIRATION:  Continuous search in a dynamic journey. 
BIO:  Aurora hails from Buffalo, NY, and is a current Junior in the Honors College at the University at Buffalo. She is working towards obtaining her BFA degree in Dance. She has been a soloist and featured dancer in the department's company, Zodiaque Dance Company and was selected to represent the school at the American College Dance Association's Northeastern Conference. She has had the opportunity to be part of dance films as well. Aurora also trained at Entity Contemporary Dance Summer Intensive in Los Angeles, California and GoldeArts for Aerial Silks Dance. Jazz, Hip-Hop, Tap, and Modern all contribute to her unique Contemporary style of movement. Additionally, she teaches for LIV Travel Dance Team and American Academy of Ballet in Buffalo, NY.
 
MISAKI HAYAMA
PIECE INSPIRATION: A mother's celebration of a child turning 7 years of age.
BIO:  Misaki was born and raised in Tokyo, Japan. She graduated from Saitama Prefectures High School of Arts and attended Japan University for dance. She trained in modern dance, ballet, jazz, hip hop, Japanese traditional dance, tap and singing. She won many dance competitions of modern dance, as well as first place in a hip hop dance competition in the Philippines. At 18 years old she worked as an ensemble dancer in the Lion King and A Chorus Line at Tokyo, Sapporo and Osaka in Japan for four years. Also, she worked as a show dancer in Tokyo. Thereafter, Misaki moved to New York and started training at the Alvin Ailey School as a scholarship student. She has performed at the Apollo Theater, and has worked with George William Faison in a gospel festival as a guest dancer at Prudential Center.
 
MIKAEL JAWORSKI
PIECE INSPIRATION:  Inner conflict of depression and substance abuse.
BIO: A recent graduate of Manhattanville College with a B.A. in Music Technology and a Minor in Dance, Mikael also studied at the Orange School of the Performing Arts, where he danced with the junior company and competed in Hip-Hop across the Eastern Seaboard.  His teachers include Cyrus "Glitch" Spence, Matt Steffanina, Voltaire Wade-Greene, Earl Mosley, subsequently becoming part of the Earl Mosley Institute of the Arts.  At the Ailey School, Mikael studied hip-hop, modern, contemporary and ballet techniques.
 
BENJI MARTIN JR.
PIECE INSPIRATION: Life lessons that pave the way for enlightenment and awareness.
BIO:  Benji is originally from Charlotte, NC. He began his dance training at the age of 15, taking classes in modern, hip hop, and ballet at Center Stage School of Performing Arts and at Garner High School. He continued his training at East Carolina University, receiving his BFA in Dance Performance and Choreography. Benji has studied under, performed, and assisted in works choreographed by John Dixon, Tommi Galaska, Teal Darkenwald, David Ingram, and Patricia Weeks. He has danced in works invited to perform in Chapel Hill, New York, Chicago, and Maryland. His professional credits include The Lost Colony outdoor drama.
 
ASHLEY ROSSI
PIECE INSPIRATION: The struggle of finding one's place in this world.
BIO:  Ashley began her dance training at Center Stage Dance Studio in Buffalo, NY. She attended NYSSSA School of Modern Dance in 2012 and 2013 under the direction of Carolyn Adams. Ashley graduated with a BFA in Dance from the University at Buffalo this past May. Ashley has worked with many choreographers such as Robert Battle, Thomas Ralabate, Former Rockette Jill Wollins, and Carolyn Adams. Ashley is currently teaching and choreographing at Center Stage Dance Studio.
 
LAUREN SETTEMBRINO
PIECE INSPIRATION:  A study in effort.
BIO:  Lauren began her dance training in central New Jersey under the direction of George Warren, Mickey Defranco, and Benjamin Briones. Her additional training includes summers at Central Pennsylvania Youth Ballet and in Quebec City with Victor Quijada and RUBBERBANDance Group. Lauren holds a BFA in Dance from NYU's Tisch School of the Arts, where she graduated cum laude and was named a University Honors Scholar. She has performed works by Stefanie Batten Bland, Ori Flomin, Elizabeth Coker, and Giada Ferrone, and is a company member with Neville Dance Theatre. Lauren has also performed in Crystal Pite's Polaris at New York City Center and at BAM as a featured emerging artist with BalaSole Dance Company in 2017. She is returning to BalaSole this summer as a soloist.
 
ROBERTO VILLANUEVA (Executive & Artistic Director)
BIO:  Roberto, born in the Philippines, is the Executive & Artistic Director and Founder of BalaSole Dance Company. He trained at The Ailey School, SUNY Purchase Conservatory of Dance and University at Buffalo where he received his BA in Dance Performance. Acclaimed nationally and internationally for his abilities as a dance artist, Roberto has been hailed "for the deftness and technical control of his dancing" (The New York Times).  He has been described as a "small powerhouse" (The Village Voice), "breathtaking" (Swiss Newspaper La Liberté), "an extraordinarily gifted dancer" (Attitude Magazine), and "memorable" (Art Times). Roberto has performed, judged dance competitions, and taught master classes in U.S., Europe, and Asia. He has worked with renowned choreographers such as Dwight Rhoden, Kevin Wynn, Milton Myers, and Eleo Pomare. He has performed with dance companies such as Complexions Contemporary Ballet, Alpha Omega Theatrical Dance Company, Steeledance, Marie-Christine Giordano Dance, Pick of the Crop Dance, and Buffalo City Ballet. Roberto has worked with artists from renowned companies such as the Limón Dance Company, Martha Graham Dance Company, Elisa Monte Dance, Lucinda Childs Dance, Parsons Dance, Metropolitan Opera Ballet, Alvin Ailey American Dance Theater, Philadanco, Joffrey Ballet, Donald Byrd/The Group, Ballet Frankfurt, Paul Taylor Dance Company, and Twyla Tharp Dance. He has been commissioned to teach/choreograph for various institutions including the Alpha Omega Theatrical Dance Company, University at Buffalo, East Carolina University, Glendale Community College, University of the Philippines and Ballet Philippines. He has performed his works at prominent NYC venues including the Carnegie Hall, Lincoln Center, Baryshnikov Arts Center's Jerome Robbins Theater, The Alvin Ailey Citigroup Theater, and Dance Theater Workshop. He received the title of "Mr. Dance of America 1993" from Dance Masters of America, where he also served on the faculty of its Teachers Training School. Roberto is a recipient of the 2011-2012 Harlem Stage Fund for New Work Award for the creation and development of his one-man show titled "Pieces of Me: An inside look at a dance artist's journey." Also, he served as the Arts Education & Outreach Administrator for the world-renowned Dance Theatre of Harlem. He is currently the Director of Dance at the College of Mount Saint Vincent. He was nominated for The Outstanding Filipino American (TOFA) 2012 Award under the Arts & Culture category. In November 2013, Roberto received a "Distinguished Alumni Award" from the University at Buffalo's Department of Theatre & Dance for his contribution to the field of dance.  He also served as a grant panelist for the Lower Manhattan Cultural Council.
 

 
Photo of Nicole Corea by Steven Rose/Lois Greenfield
 
Share Your Audience Review. Your Words Are Valuable to Dance.
Are you going to see this show, or have you seen it? Share "your" review here on The Dance Enthusiast. Your words are valuable. They help artists, educate audiences, and support the dance field in general. There is no need to be a professional critic. Just click through to our Audience Review Section and you will have the option to write free-form, or answer our helpful Enthusiast Review Questionnaire, or if you feel creative, even write a haiku review. So join the conversation.