SOKOLOFF ARTS CREATIVE FELLOWSHIP 2019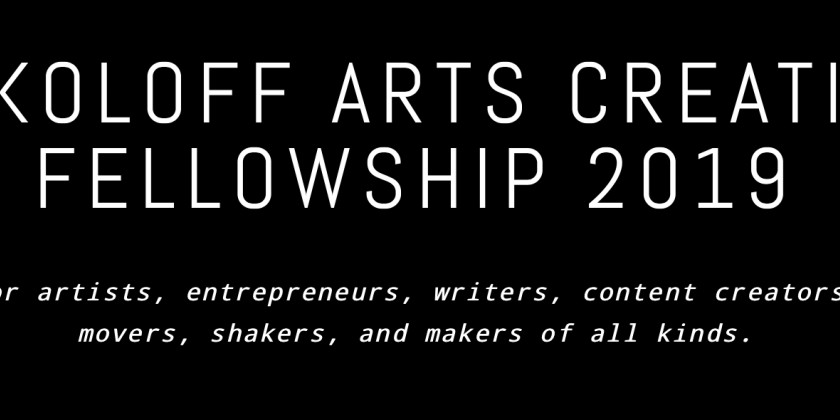 Company:
Sokoloff Arts and Town Stages
Town Stages announces the Sokoloff Arts Creative Fellowship 2019. Applications for Creative Fellowships are accepted on a rolling basis and a new class of Fellows is announced for each new calendar year. To be eligible for the 2019 Creative Fellowship, please apply by October 15, 2018. The application is available at https://www.sokoloffarts.org/fellowship.
 
For artists, entrepreneurs, writers, content creators, movers, shakers, and makers of all kinds.
 
Since 2012, Sokoloff Arts has been dedicated to telling artists' stories and sharing their passions.
In collaboration with Town Stages, TriBeCa's premier cultural arts space and event venue, Sokoloff Arts is excited to offer artists a home for the life cycle of their projects, a platform for their next phases of development, and an ultimate pipeline to success.
 
A female-driven cultural arts institution, Town Stages is a state-of-the-art, flexible performance and event space with a stunning 10,000 square foot storefront facility. With a Main Hall, a Cocktail Lounge and Bar, a Gallery, and many multi-use rooms with a total capacity of 299, Town Stages offers much needed space and production resources for businesses, arts organizations, producers, and families. Creative Fellowship recipients are encouraged to immerse themselves in the bustling energy of Town by working in shared spaces when the venue is partially booked, take advantage of underutilized space between large bookings, and enjoy generous space subsidies for all kinds of projects!
 
"The Sokoloff Arts Creative Fellowship is dedicated to providing space, perspective, and opportunity. We foster a community where all are welcome and everyone's biases are challenged," said Robin Sokoloff, executive director of Town Stages. "We encourage those who feel silenced, marginalized, and otherwise 'othered' to share their experiences, and remain dedicated to conversation and community. In our inaugural year, we were thrilled to support more than two dozen artists in a wide range of endeavors and disciplines!"
 
Part residency, part incubator, and part home base, a Creative Fellowship with Sokoloff Arts offers the ultimate creative freedom to grow within the walls of Town Stages, and beyond.
 
HERE'S WHAT ARTISTS GET:

Shared Spaces
Join us during the day, or when we are partially booked, for "Open Work Hours".
Host your meetings, collaborate with your team, or just enjoy a quiet place to write.
This resource is FREE to all our Fellows.
Basically, mi casa, su casa.
 
Exclusive hourly rental Portal
Exclusive for Fellows!
Rent space by the hour for internal work (anything not open to the general public).
Rehearse a new dance number, practice your pitch, or transform Town into the perfect spot for a photo or film shoot.
 
Book ANY ROOM for $15/hour within 2 weeks of any given date during regular business hours.
And yes, we have a piano.
 
FREE last minute and emergency work space
Use the PORTAL to book ANY ROOM within 48 Hours for FREE.
Sudden free morning to work? Need a sudden self tape spot? Try to step through a pitch before a big meeting?

That's right. FREE.
 
Super subsidized space for Public Events
Courtesy of Sokoloff Arts, receive a HUGE subsidy on space to present your work to the public.
Book ANY ROOM for $50/hour - $100/hour for one night cabarets, presentations, or events*.
Book a theatrical run or multi-night event for $600/night - $1200/night*.

Use a whole day for $3000 - $5000*!

You keep 100% of your box office and merch sales!
*Subsidy rates available on select dates as specified by Town Stages Staff*
 
Audio Visual and Furniture Package
Integrated sound/lighting/projection equipment, plus tables, chairs, stage, music stands, electric candles, and more!

Learn on state of the art tech and use it in your projects.

Never haul 9 music stands by yourself all the way from Brooklyn on the L train in the snow ever again.
All available, all the time. Just share well with others.
 
On-site amenities
Breakroom! Put your lunch in the fridge. Make a cup of coffee in a branded Town Stages mug. Use our paper plates.

Lockers! Leave props for your show, a change of clothes for tomorrow, or your yoga mat.
All FREE for Fellows.
 
Social Network
Get connected with our online resources for your Fellowship Cohort.

Join a cohort of like minded humans, share success stories, and combine resources and tactics for your projects!

Get access to exclusive Town events, roundtables, open dress rehearsals, festivals, conversations, and screenings.

You're always invited!
 
Town Stages Community and Team
Gain access to a positive sounding board.

FREE consulting meetings with the Town Stages Team to further your project and goals.
Your first drink at the Bar (Wine/Beer only) is always on us.

Be a part of the family!
 
ARE YOU EXCITED? WE'RE EXCITED!

Apply at https://www.sokoloffarts.org/fellowship. To apply, please submit the google form and email any supplemental materials relevant to the application. Before applying, please review the FAQ page.
 
Although applications for Creative Fellowships are accepted on a rolling basis, a new class of Fellows is announced for each new calendar year. To be eligible for the 2019 Creative Fellowship, please apply by October 15, 2018. The full term of the Fellowship, along with the total number of allocated space hours, will be determined by the selection team.  Download a PDF version of the application