BAX 2019/20 Artist In Residence Application | Interviews on May 8-10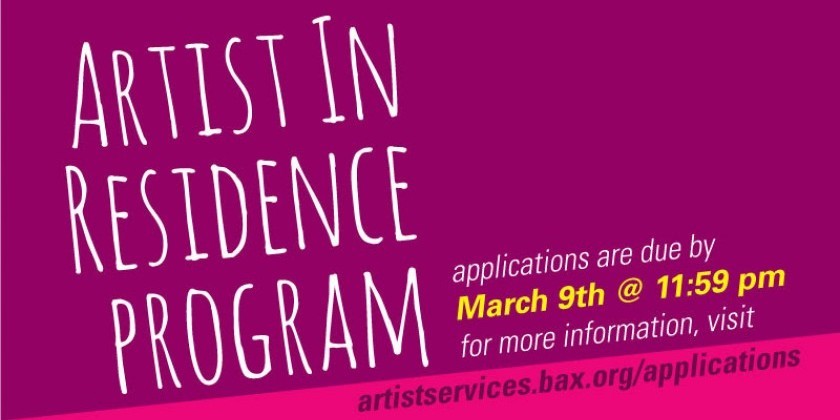 Company:
BAX | BROOKLYN ARTS EXCHANGE
THE RESIDENCY:
The residency best suits an artist in the process of discovery, transition and/or is in a transformative stage of development. It is essential that the AIR be self-directed and be willing to engage in a dialogue with BAX.  While there are many services BAX is able to provide, no residency can meet all the needs of an artist. Hence, BAX will do its best to direct and advise artists in the search for additional support and services throughout this residency. Artists are chosen through an application, work sample, and an interview.
BAX has a proud history of and a commitment to developing cohorts that are reflective of all origins, ages, sexual orientations, genders, race, and nationalities. In our curation and residencies, we take into account our field's history of racism and discrimination and make active steps to undo the effects of that history. We believe that this commitment enriches the AIR experience for all members and audiences.
We support dance, theater and performance makers.
The residency supports research and conception, readings, showings and workshops, rehearsals and production. There are six participating artists each season who receive up to two years of uninterrupted artistic, technical and administrative support as well as 300 hours of rehearsal space.
They are also provided with a $3,500 yearly stipend and the use of BAX as a fiscal conduit for fundraising purposes. Artists may apply for additional funding using this designation.
PLEASE NOTE: BAX does not provide producing services (i.e. playwrights must seek their own directors, actors etc.)
The residency year runs from September 1, 2019 – June 30, 2020, with some rehearsal space available in July/August 2019 upon request. In November and February artists participate in Open Studio showings to friends, colleagues and the public and include post showing conversations. Artists In Residence are required to attend each other's Open Studio showings. AIR's present in their own full weekend in spring 2020. These performances are fully produced which means they are of no cost to the artists who are provided with a fee, lighting/sound designers and board operators, both front and back of house staff, all publicity and marketing/outreach support to develop new audiences.  AIRs meet approximately every six weeks throughout the year for three-hour meetings. They share their success and challenges. BAX is a place for artists to engage in "real talk" as opposed to "getting the gig," to speak honestly about their individual and collective struggles and by doing so develop a deeper understanding of the context they create in and their own artistic maturity. BAX often assists resident artists to seek a broader audience and to establish relationships with other producers and funders.
BAX has provided an artistic home for new theatrical ideas and experimental artists whose themes or ways of working might not have found an alternative home base.
Some of the individuals and groups who have benefited from residencies at BAX include Faye Driscoll, Aurin Squire, Paloma McGregor, Ni'Ja Whitson, Mariana Valencia, Erin Markey, Anna Sperber, Aya Ogawa, Kristine Haruna Lee, and Katy Pyle. To become more familiar with our programming you can also visit us at artistservices.bax.org.
"My residency was a distinct turning point in my art-making and allowed me to re-discover my process on my own terms without the pressure of 'producing' but with the permission to explore. The connection to other stellar artists working across disciplines was truly invaluable and nurturing to my work."
– Tanisha Christie AIR (2016-18)
Selected artists will have the opportunity to establish an artistic home.
This home includes:
Building a dynamic relationship with the Artistic Director at BAX, Artistic Advisors and other key staff members that includes work/livelihood issues, goal setting, accessing resources, to name a few.
Being a participatory member of a cohort that provides the possibilities for developing long-lasting relationships
Technical support for presenting and long-range planning for your projects at BAX and beyond.
The residency includes 300 hours of free rehearsal space in any of our four studios (note, there is limited availability of rehearsal space in July/August. AIRs receive priority booking of space, September—June, with some rehearsal space available in July/August upon request)
REQUIRED:
Open Studio showings in November 2019 and February 2020.
A production of residency work in our AIR Festival between April – June 2020 (usually 2 evenings)
An opportunity to apply for a second year of residency
An opportunity to curate in year two.
A stipend of $3500
Please note that due to audience development considerations we request that the work you develop not be presented elsewhere in the NYC area for two months before or after your BAX performances. Exceptions to this can only be made in consultation with the Artistic Director.
Artist cannot apply if they currently have (or will have concurrently) other residencies in NYC. Work developed may not have a commitment to premiering in another venue during the residency period.
To view a list of artists whose work has been developed in recent seasons, visit artistservices.bax.org/residencies/history.
Questions? Email artistservices@bax.org (subject line: AIR APPLICATION)
ELIGIBILITY
Eligible:
Dance, Experimental Theater/Performance creators residing in all five NYC boroughs
Former BAX Space Grant, Upstart Program, and Needing It participants.
Former BAX Artists In Residence who have completed their residencies in the 2012-13 season or earlier are eligible to apply. Please contact Executive Director Marya Warshaw prior to submitting your application, as there will be additional information required.
Not Eligible:
Non-residents of New York City
Students
Applicants to the 2019-20 Fall, Summer, or Parent Artist Space Grant Program.
Please choose the program that best suits your work and your needs and proceed accordingly.
The BAX Artist In Residence application has 3 parts:

PART ONE – LETTER OF INTENT SUBMISSION FORM
Due March 9th, 2019 at 11:59 pm – no exceptions
Applicants are asked questions relating to basic biographical information and intent
Applicants will be notified by Tuesday, April 2, 2019, if they are invited to submit Part Two.
PART TWO – FULL APPLICATION
selected applicants are asked to provide work samples (via YouTube or Vimeo)
applicants have the opportunity to edit previous answers
Part Two will be due on Monday, April 15, 2019
(Note that this is a quick turn around, please be prepared to submit your materials)
Finalists will be notified by Friday, May 3, 2019, if they are moving forward into Part Three of the interview process.
PART THREE – INTERVIEW
Finalists will be asked to schedule in-person Interviews between Wednesday, May 8th and Friday, May 10, 2019.
Please plan on being available to come to BAX in person for the interview.
A final decision will be made on or before Monday, May 13, 2019.