COREY JOHN SNIDE || THE PLAYGROUND NYC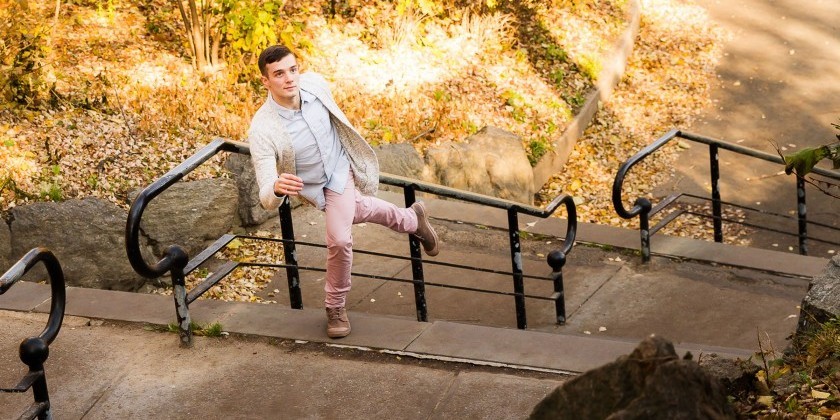 Company:
THE PLAYGROUND NYC
COREY JOHN SNIDE
THURSDAY || 3/28
12:00 - 2:00PM
$5
Gibney Dance: Agnes Varis Performing Arts Center, 280 Broadway NYC
Entrance 53A Chambers
The Playground NYC allows dancers to experience various choreographic styles and ideas, engage with a new community of dancers, and gather resourceful information and inspiration from the array of choreographers involved. In turn, established choreographers are paid for their creative investigations, are given free space to explore new movement with professional dancers, and are provided with the opportunity to establish relationships with new dancers and fellow choreographers.  
BIO:
Corey John Snide began his dance training in Albany, NY. At the age of 3 where he fell in love with all styles of dance. He spent his younger years traveling and competing at the national and international level where he received two gold medals for Team USA in tap and show dance. He graduated from the Juilliard School, class of 2015 with a BFA in Dance.
At the age of 13, he started his professional career portraying the role of Billy Elliot in Billy Elliot The Musical at the Victoria Palace Theatre in London. After having trained and performed the role for several months, he was brought down to Australia to help open the show there. After a year and a half abroad, he came home to NYC to work appearing as Evan, the lead in Jason Robert Brown's 13 The Musical on Broadway at the Bernard B. Jacobs Theatre.  
He then began an interest in transitioning from stage to film. He was honored to start this exploration by appearing in ABC's One Life to Live as a dancer in their annual musical episodes, and other guest roles on ABC, NBC and more. Some of these credits include appearing as a guest star on Amateur Night at the Apollo, a co-star in the pilot episode of Cupid, and playing the role of Wally in the film Sweet Lorraine co-starring with Tatum O'Neal. Most recently, he appeared in the 2017 telefilm version of Dirty Dancing as a dancer.
After working in New York City for some time, he decided to take a break and continue his training at the Juilliard School as an aspiring dancer, performer, choreographer, and teacher. While there, he has had the opportunity to perform the works of José Limon, Murray Louis, Elliot Feld, Monica Bill Barnes, Larry Keigwin and more. The summer of 2014, he traveled to Montreal to participate in Springboard Danse Montreal where he had the pleasure of working with artists Peter Chu and Madboots Dance Company.
Corey is a recipient of the Fred and Adele Astaire Award through the New York City Dance Alliance Foundation, as well as being a two-time recipient of the Gene Kelly Legacy Award through the Dizzy Feet Foundation. Upon graduation, he began freelancing and performing around the country including dancing Al Blackstone's  Not For Me for the Fire Island Dance Festival. Corey was a member of the ensemble for the Paper Mill Playhouse's new production of the Pandstand under the direction and choreography of Andy Blankenbuehler. Then he transitioned to the broadway stage as the dance captain of the Cats revival while also playing the role of Coricopat while covering the magical Mister Mistofelees and all 9 male tracks in the show. Immediately upon leaving Cats, he was offered the position of dance captain for the revival of Carousel under the direction of Jack O'Brien and choreography by Justin Peck.
He has been exploring his choreographic interests since very young but has really developed his voice since being at school choreographing on his fellow classmates and friends. He is humbled to have had several of his works featured in choreographic honors at the Juilliard School at the Peter Jay Sharp Theatre, festivals for Dancers Responding to Aids, and more. He hopes to continue his choreographic explorations with the fusion of contemporary and tap dance, and eventually the broadway stage.
As a teacher, he has had the pleasure of joining the incredible line of faculty at the New York City Dance Alliance, where he travels and teaches master classes in tap, musical theatre, and contemporary to dancers ranging from 7-19 years in age. He is also proud to be a part of the teaching faculty of emerging artists with Fresh Dance Intensive Inc. In Canada, as well. Most recently, he joined the faculty of the Broadway Dreams Foundation.     
Corey is a passionate and determined artist who wishes to share his love for dance and the performing arts with whomever he can.
Photo Credit : Smith Davis Photography