The DASH Summer Study at Triskelion Arts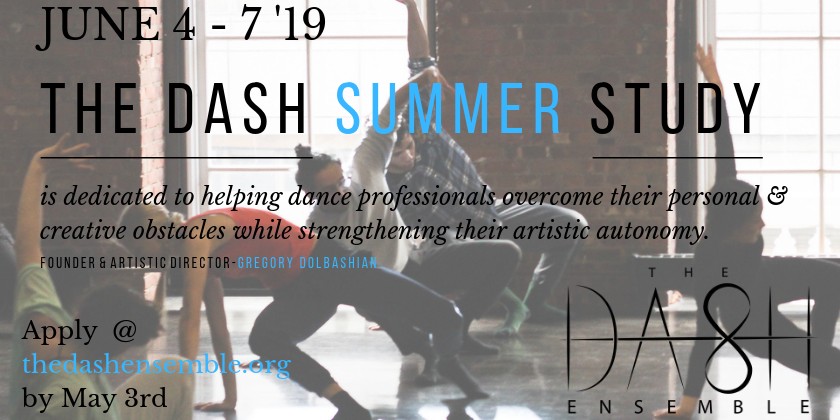 Company:
The DASH Ensemble
Join The DASH Ensemble for its third-annual Summer Study in New York City this June! Spend 4 days researching athletic and dynamic contemporary movement in an immersive dance setting under artistic director Gregory Dolbashian. This intensive aims to help dancers overcome their personal and creative obstacles as well as strengthen their artistry. Each day participants will take morning class led by Dolbashian and other guest teachers, which will be comprised of contemporary technique, floorwork, improvisation, and partnering exercises. Students will spend the rest of the day in composition workshops in order to delve into their own choreographic voice, learning DASH Ensemble repertory as well as choreography, from other prominent dance makers in NYC. Throughout the intensive, Dolbashian will help hone and develop the clairy, intent, and physical complexity that characterize The DASH'S work, all with the intention of offering advanced dancers the creative and physical tools necessary to thrive in the professional dance world.
Morning class will be open for drop-ins from 10am-11:30am every morning.
Instructor:
Born and raised in New York City, Gregory Dolbashian received his dance training at the Alvin Ailey School, then graduated cum laude from SUNY Purchase dance conservatory. He offers a unique, nurturing, and evocative approach to contemporary dance through both teaching and choreography. He is the founder of the nationally acclaimed company The DASH Ensemble and has received numerous awards and highlights including The Hubbard Street 2 International Choreographic Competition. In addition to his choreography, Dolbashian, alongside fellow choreographer Loni Landon, is the co-founder of The Playground in New York City, a choreographic initiative that was voted 25 to Watch in 2013 by Dance Magazine. Gregory's vision for the art of dance and compassion for education  has and continues to lead to commissions from institutions across the country. Dolbashian facilitates growth in every artist by building his classes on improvisational exercises that encourages young professionals to develop their own artistic voice while diving deeper in exploration of the art of dance.