Contribute
Your support helps us cover dance in New York City and beyond! Donate now.
Beyond Silver (1985-2012)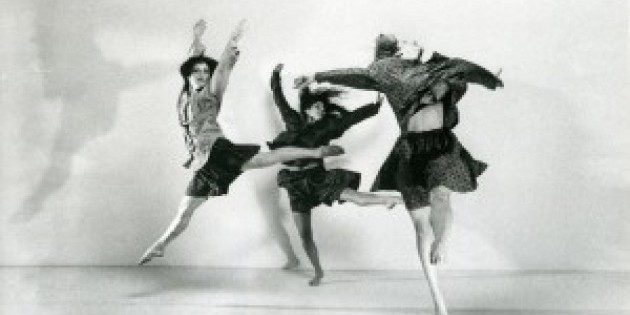 Company:
Eva Dean Dance
Eva Dean Dance (EDD) is celebrating its 26th Anniversary by presenting Beyond Silver (1985 – 2012) March 30 and 31, 2012 @ 8pm a retrospective evening-length production featuring Eva Dean's choreography. The dances in this production are WELCOME BACK (1991), CIVRY (1993), ELIZABETH'S SOLO (1995), PUMPED (1999), WAVE (2002) from EDD's original BOUNCE production, and SUMMER (2010-2011) a trilogy of selected critically acclaimed UBA BOUNCE dances. Performers are Eva Dean, Timothy Edwards, George Hirsch, Sarah Sadie Newett and Zoë Schieber with Guest Artists: Laura Colon, Holly Heidt, Rachel Russell and Manuela Sanchez.
0 General Admission, 5 Students & Seniors (with valid ID) Tickets: www.evadeandance.org
Photo: Bill Irwin – Eva Dean Dance's CIVRY (1993)
Original Cast (left to right): Eva Dean, Linden Holt and Kelly McCormick