Legends and Visionaries: Program A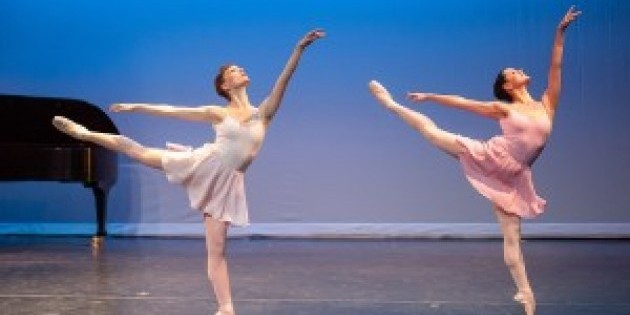 Company:
New York Theatre Ballet
New York Theatre Ballet presents the second installment of Legends and Visionaries: Program A on April 19-20 at 7pm at Florence Gould Hall, 55 East 59th Street, NYC. The evening features works by Richard Alston, Jerome Robbins, Antony Tudor, and a new piece by Pam Tanowitz that premiered in the February program, commissioned by New York Theatre Ballet. Tickets are 0 and are available for purchase at www.ticketmaster.com or by calling 800-982-2787.
New York Theatre Ballet's repertory pairs the ballets of legendary creators with those of contemporary visionaries, bringing a new understanding and appreciation of dance. This season features new works and beloved favorites from choreographers including Richard Alston, Jerome Robbins, José Limón, and Antony Tudor. In a nod to the 50th Anniversary of the Judson Dance Theater movement, NYTB presents two pieces by James Waring.
The program includes:
Light Flooding Into Darkened Rooms by Richard Alston is inspired by Vermeer's paintings. The ballet, a pas de deux, conveys a delicacy of feeling masking the formal facade of propriety and gracious behavior. Jo Kondo's Ars Breview, music inspired by Denis Gaultier's 17th century lute pieces, adds a more overt picture of the undercurrents swirling beneath a demeanor of dignity.
Rondo by Jerome Robbins was choreographed in 1980 for New York City Ballet and is set to Rondo In A Minor by Wolfgang Amadeus Mozart. Original cast member, Kyra Nichols, is staging this production for NYTB. It has not been seen in New York City since 1982.
Dark Elegies was considered by Antony Tudor to be his greatest work. The ballet is set to Gustav Mahler's Kindertotenlieder and depicts a community in mourning. The nature of the disaster that has struck remains unspecified, but the grief is palpable.
Pam Tanowitz's Short Memory is set to music by Henry Cowell and Lou Harrison, to be played live. Movement motifs are mined from classical ballet and filtered through a contemporary lens.
Other performances this season include Dance on a Shoestring - studio performances featuring works-in-progress - and Keith Michael's Goose!, a fun filled ballet for kids and families. For full season information visit www.nytb.org.