MADCO performs MILLS/works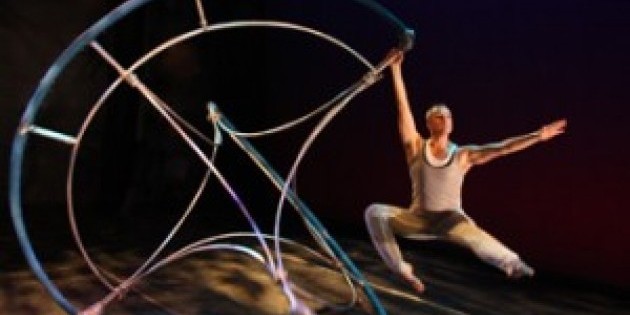 Company:
Modern American Dance Company
NEW YORK -- From
July 11 to 13
at New York Live Arts, Modern American Dance Company (MADCO) from St. Louis, MO will perform "MADCO performs MILLS/works," an evening of dances choreographed by former company member Joseph Mills. Mills performed with MADCO from 1981-1987. Subsequently, he was a member of MOMIX and The Erick Hawkins Dance Company and has performed and choreographed independently since 1990. Since 2000, he has frequently returned to St. Louis to create works for MADCO. In this program, MADCO will offer three of his works, one being a world premiere, and an audience favorite danced by Mr. Mills that was choreographed by Alan Boeding.
The four-part evening is a major step for Mr. Mills in New York. Though he has years of significant performance experience, most his choreography presented in New York has been limited to small group, duet and solo works, in small venues with less theatrical capability than is often possible outside NYC. This performance will be the largest presentation of his work since he relocated to New York in 2008. It will include movement, text, music and visual design. The end result will be a unique combination of abstract movement and evocative, thought provoking imagery.
"Selkie's Song" (working title), the world premiere, is derived from selkie myths of Celtic lore. Dancers play with gravity, create illusions of weightlessness and weave a narrative that ranges from self-indulgence to melancholic longing to playful, joyful celebration. The design by Joseph Mills includes shimmering curtains reflecting light, reminiscent of light gleaming on the surface of water. Costumes are by Tim Kent. The piece is performed to Celtic music performed by cellist Barry Phillips and by the Celtic fusion group Flook. It showcases MADCO's versatility as both theatrical storytellers and dancer/athletes of the highest level.
"Reflections in the Well of Solace," created by Mills in 2001, is a meditation on grief and transformation that was, in part, a response to the tragedies of 9/11. Mills was scheduled to create a new work for the company at a time when the entire country was riveted by the horrifying WTC attacks. This work emerged as a healing act with the dancers, reconstructing movements of unspeakable grief and transforming them into movements of healing, even joy. The set includes two pools of water, designed in 2001 by Mr. Mills, which predated by many years the design of the WTC memorial in lower Manhattan. Its music, by St. Louis composer Michael Hunt, is a lush and theatrical orchestral score for chamber orchestra.
"Getting Lucky: Secret Moments in the Natural World" (2012) is a musing on the world of animal documentaries. It imagines a zany menagerie of exotic creatures and their sexual proclivities. The stage design, based on giant leaves, is by Joseph Mills. There is a sound score comprised of a text written and performed by Alan Wade that is underscored by a wide variety of music, creating the effect of a PBS nature documentary.
"Circle Walker," danced by Mills, was an audience favorite in early MOMIX shows. Choreographed by Alan Boeding, is features Mills as sort of human gyroscope inside an eleven-foot moving sculpture by Boeding. It shows Mills "encased inside a revolving sculpture, hanging on, leaning forward, and swinging about with the greatest of ease" (Jack Anderson, NY Theatre Wire).