Opening Performance/Premier of Plump Reverie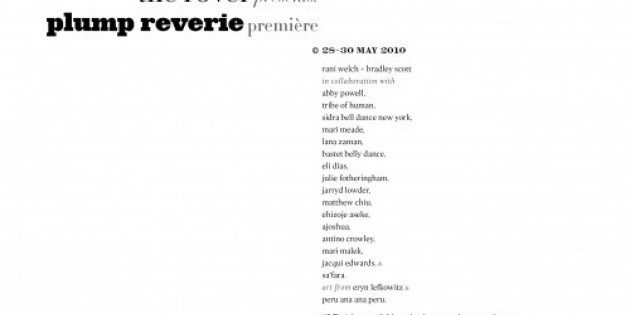 Company:
Tribe of Human at The Rover
FOR IMMEDIATE RELEASE
Contact: Rani Welch + Bradley Scott
Tel: +1212.343.1321
Mobile: +1646.619.7421
Email: info@theroversoho.com
Web: www.theroversoho.com
PROGRESSIVE, EXPERIMENTAL AND INNOVATIVE
ARTISTS, DANCERS AND PERFORMERS HAVE A NEW HOME IN SOHO
New York, New York. 03 May 2010 – Rani Welch, founder and art director, along with Bradley Scott, co-art director, open The Rover, a multi-functional art space focused on the expansion of creative expression. The Rover is wandering, searching, on a journey for original thought and unrestrained creation.
The debut performance at The Rover will be Plump Reverie, running 28-30 May. A surrealistic journey through the dreams and nightmares of the main character, Abby Powell, a beautifully curvaceous opera singer lounging on stage. The talented guerrilla cinematographers, Peru Ana Ana Peru, will augment the show with a custom-made film art. The reverie will progress with highly stylized characters, dance, performance art, and live music. Resident company, Tribe of Human, along with Sidra Bell Dance New York are the headlining dance companies performing in this piece. Other talented performers include Julie Fotheringham, Jarryd Lowder, Matthew Chiu, & Ehizoje Aseke. Dance movement will undulate from modern, ballet, voguing, African, and Hindi and will be combined with live opera, electric guitar, ongoing performance art from nightlife personality Ajoshua and model Mari Malek and coordinating works of art hanging on the walls by Eryn Lefkowitz and Aehee Kang Asano. This wide range of creative expression will be combined into one large-scale piece of installation performance art.
The Rover will present various dance performances, art exhibits and film screenings in hopes of being a catalyst in not only the progression of art but also in the progression of societal perceptions on a whole.
We boldly and confidently assert that the city is thirsty as a result of an artistic drought and thus we break the proverbial dam and happily allow the creative waters to rush forth.
###
For more information on The Rover, please visit our website: theroversoho.com. To schedule an interview with Rani Welch and Bradley Scott, please email press@theroversoho.com.
The Rover 41 Wooster St. New York City 10013