Trisha Brown Dance Company Summer Intensive -Registration Form Included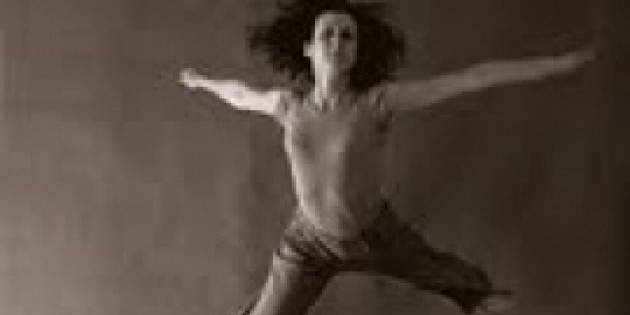 a newly designed format exploring the process and forms inherent in Trisha Brownas body of work.
Trisha Brown Dance Company
SUMMER INTENSIVE 2012
click
here for Registration Form
The 2012 Summer Intensive is a newly designed format exploring the process and forms inherent in Trisha Brown's body of work. In addition to a focus on technique and repertory, classes will specifically engage with Brown's rich archive of multidisciplinary work to uncover new creative outlets and help students accomplish individual creative goals. Each week will offer students tools to deepen their knowledge of technical movement principles, compositional structure, improvisation and performance. This will be achieved through classes, video showings, written materials and a studio showing (at the end of Week 2).
Trisha Brown in Water Motor @ Lois Greenfield
---
JULY 9-13
Session I: 10:00am-1:00pm
Lunch Break: 1:30-2:00pm
Session II: 2:00-5:00pm
JULY 16-20
Session III: 10:00am-1:00pm
Lunch Break: 1:30-2:00pm
Session VI: 2:00-5:00pm
Technique & Repertory with Mariah Maloney
Lecture & Video showing with Neal Beasley* Composition with Vicky Shick
Technique & Repertory with Samuel Wentz Lecture & Video showing with Neal Beasley* Mapping Complexity with Cori Olinghouse July 20 Showing at 5pm
Location: NY City Center, 130 West 56th Street, New York, NY 10001 * All registered students are welcome to attend the Lunch Break Lecture & Video Showing with Neal Beasley
__________________________________________________________________________________________________________________________________
WEEK I
SESION I TECHNIQUE & REPERTORY with MARIAH MALONEY
This workshop aims to provide a safe environment for participants to cultivate and deepen a daily practice that focuses on learning from the body. A variety of somatic techniques will be used to explore fundamental concepts in the Trisha Brown Dance Company movement style – specifically the range and detail of the seminal work Set and Reset. Participants will develop an active awareness of weight, alignment, internal and external space, movement initiations, as well as physical ease and stability. The rigor of daily practice will facilitate participants in reaching their fullest potential for kinetic expression, continually building upon the previous day's discoveries. Concepts and material studied in the technique/repertory portion of the day will extend into the afternoon's composition and improvisation workshop with Vicky Shick.
Mariah Maloney was a member of the Trisha Brown Dance Company from 1995 to 2002. She is the Artistic Director of Mariah Maloney Dance (NY) since 2003 and the Graduate Program Director The College at Brockport (NY) since 2011. From 1995-2002 she performed, lectured and taught as a featured soloist and ensemble dancer with TBDC, creating original roles in Brown's Music cycle including works: Twelve Ton Rose, L'Orfeo, Canto Pianto, etc. as well performing the legendary works: Set and Reset, Newark, Astral Converted and For M.G.: The Movie, among others. Today she continues her relationship with TBDC by serving as an international guest artist and directing restaging projects. Recently The Columbia College Chicago Dance Center premiered Mariah's re-staging of Set and Reset/Reset. She presents work in the United States, South America, Canada, Europe and Asia. In New York she is produced at Green Space; La MaMa; The Kitchen; Dance New Amsterdam; Judson Church; Danspace Project; Brooklyn Museum of Art. Recent international engagements include Theatre Academie Helsinki, Helsinki Finland; Danza Teatro, Santiago, Chile; DanceHouse Dance Ireland, Dublin, Ireland.
Lunch Break
LECTURE & VIDEO SHOWING with NEAL BEASLEY These casual lunchtime talks will offer workshop participants a unique opportunity to view and discuss a broad sampling of the work of Trisha Brown. Looking at the scope and trajectory of Brown's choreographic interests and tactics – through brief histories, screenings, and discussions – we will seek to pinpoint and enlarge an understanding of a distinctively "Brownian" approach to creative practice that playfully stretches the boundaries of form and convention. Particular attention will be paid to how Brown's visionary work can serve as inspiration for future generations of art-makers across disciplines.
Neal Beasley was a member of the Trisha Brown Dance Company from 2003-2007 and from 2010-2011, receiving a 2004 Princess Grace Fellowship for his work with the company. He is currently working as the company's Archival Assistant and Special Projects coordinator. Neal was also a member of Ballet Preljocaj from 2007-2009, and worked with John Jasperse Company from 2009-2010. His own work has been shown at Dixon Place, The Kitchen (Dance and Process), DNA's Late Night series, and the Movement Research Festival (2004 – "Improvisation is Hard," & 2012 – "Push It. Real. Good.")
SESSION II COMPOSITION & IMPROVISATION with VICKY SHICK
In this portion of the Summer Intensive, we will be exploring some of the creative, analytical and experiential strategies used by Trisha Brown and her company to develop and manipulate movement material. We will focus on the basic structural tenets and movement from Line-Up and Set and Reset. (Thus, there will be a strong relationship between our work and the learned repertory in Mariah Maloney's class.) The goal of our activities will be to use ease, efficiency and physical clarity as we immerse ourselves in a spirit of discovery and playfulness, using some of Brown's ideas and instructions. We will be collaboratively building small vignettes, creating and memorizing our improvisations, working with each other's timing and imagination, while honoring the style and challenges of Trisha Brown's work-world.
Vicky Shick has been involved with the New York City dance community for the past three decades. During her six years with the Trisha Brown Company she received a "Bessie" Award for performance. Shick has also performed and collaborated with many wonderful colleagues. Vicky Shick has shown her own work for the last twenty years and in 2003, received a second "Bessie" for choreographic achievement for her collaborations with visual artist Barbara Kilpatrick. Shick teaches at Hunter College and for the TBDC, at Movement Research, and regularly abroad, including in her hometown, Budapest. She recently completed her second Set and Reset/Reset with students at Princeton University.
WEEK II
SESION III TECHNIQUE & REPERTORY with SAMUEL WENTZ
In this session, we will be learning movement from Locus (1975) and Water Motor (1978). At a glance, these two solo forms seem startlingly different. From the gestural, sometimes mischievous, and seemingly "static" vocabulary of Locus, to the rambunctious, multi-directional movement found in Water Motor, we will acknowledge and clarify the similarities and differences of these two early works. The technique portion of class will provide a foundation for our investigations into these cornerstones of Brown's choreography by working with energy modulation, accuracy and the support of line and volume.
Samuel Wentz grew up on a modest horse ranch on the Great Plains of North Dakota. Leaving the livestock behind, he departed for California to study at the Idyllwild Arts Academy. He received his BFA from NYU Tisch School of the Arts in May of 2009 and joined the Company in June. Sam has also studied and danced with Gerald Casel and Christopher Williams.
Lunch Break
LECTURE & VIDEO SHOWING with NEAL BEASLEY
Please read description on above.
SESSION VI MAPPING COMPLEXITY with CORI OLINGHOUSE: The second session draws influence from Cori's experience as the company's archivist, principles from the Alexander Technique, and Emergent Improvisation to explore a creative engagement with Trisha Brown's work. Cori will lead students through a process to conjure some of Brown's impulses and strategies from over the years as a resource for their own creative development. Looking at Water Motor and Locus, we will investigate this spectrum of chaos and order, utilizing original footage from the Trisha Brown archive, along with readings and scores collected by members of the company's history. We will look at the slippery, spacious, multi-directional, dynamically diverse movement of Water Motor as a core embodiment of Brown's mind in movement. We will examine the concept of a motor through drawings, dances, and writings. With Locus, we will play with ways to map movement. Using the "27 points located on an imaginary cube" as a rubric for understanding complexity, we uncover central organizing ideas for each person's own movement sensibility.
Cori Olinghouse is an AmSAT certified Alexander Technique teacher, choreographer, and archivist whose work explores the transformational capacities of the body in relationship to creativity, health, and culture. Since dancing for the company, Cori has continued her relationship to Trisha Brown's work as the company's Archivist, leading a cataloguing and preservation initiative. Paralleling this journey has been her continued teaching on behalf of the company and her creative practice research, Body Literate Initiative with partner, Kai Kleinbard. Cori has taught Alexander Technique classes to the Trisha Brown Dance Company, Movement Research, and A.O. Movement Collective, as well as movement classes at the London Contemporary Dance School, Tseh Moscow Summer Dance School, New York University, Eugene Lang College, Rutgers University, Hunter College, Fordham University, Bennington College, Ohio State University, and Trisha Brown Studios, among others. Please visit coriolinghouse.com for more information on Cori's teaching.
REGISTRATION FORM
Registration is first-come, first-served. Early registration is recommended. You may mail your registration to the address below or email it to DorotheIe AleImany
d.alemany@trishabrowncompany.org
Name: Street: City: Country: Phone: Email:
State: Zip:
Please write a brief description of your dance training and experience:
Please indicate your class selection.
___Technique & Repertory with Mariah Maloney, 10:00am-1:00pm, 80 ___ Composition with Vicky Shick, 2:00-5:00pm, 80 ___ Technique & Repertory with Samuel Wentz, 10:00am-1:00pm, 80 ___ Building Forms with Cori Olinghouse, 2:00-5:00pm, 80
Total tuition due ______
Please Note that the Lecture during lunch break is open to all of our students.
Your full tuition is due upon registration. Cash, checks, and credit cards are accepted with a service charge for all credit card transactions. Please make checks payable to Trisha Brown Company, Inc. and mail to 465 Greenwich Street, New York, NY 10013. Include your current address and phone number on the check face. Please do not mail cash.
Credit Card Information
Credit Card Type__________________ Card Number_____________________ Expiration Date___________________ Name on Card____________________ Security Code____________________ Billing Address if different from above_________________________________________________________________
Refunds
Request to withdraw your registration must be received by June 29, 2012 in order to receive a full refund. Refunds or credits will not be given after the first day of classes. No Exceptions.
Your payment will be returned if your selected class is full.