DNA PRESENTS STAGES NEW YORK PREMIERE BY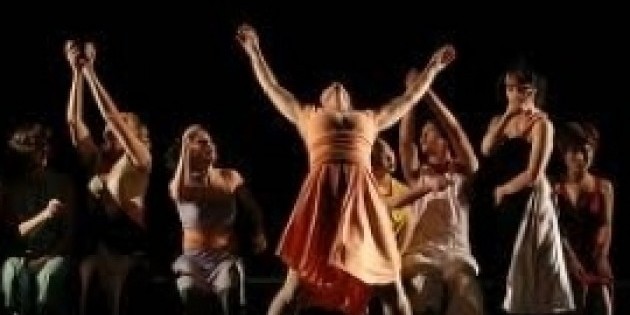 KOREAN CHOREOGRAPHER SUNHWA CHUNG
DNA

PRESENTS

STAGES NEW YORK PREMIERE BY

KOREAN CHOREOGRAPHER
SUNHWA CHUNG
Ko-Ryo Dance Theater Celebrates Ten Years With Performance Featuring Live Music,
Including Traditional Korean Drumming


NEW YORK,

September 5, 2012

—

Showcasing its dedication to presenting and supporting the work of international artists,

Dance New Amsterdam

(DNA) invitesSunhwa Chung/Ko-Ryo Dance Theater

to join the DNA

PRESENTS

family,

October 17-20.

Arirang – We Go Beyond the Crossroad, choreographed and directed by Sunhwa Chung, blends traditional Korean dance with contemporary Western forms. The program features live music, composed and performed by Korean Traditional Drummer Vonggu Pak, with accompaniment by violinist Sarang West.

The 90-minute performances begin at 7:30 p.m. each night with an additional matinee on October 20 at 3:00 p.m.

Celebrating ten years, Ko-Ryo Dance Theater performs the New York premiere of the autobiographical work

Arirang – We Go Beyond the Crossroad.

The multi-disciplinary piece explores Chung's attempt to remain close to her roots as she grew beyond her culture, embracing the customs and ideas of another. Chung created the eight-part piece in reflection of her departure from native Korea and her assimilation to the United States.

Arirang, the title of the work, refers to arguably the most popular of all Korean folk songs. Guest violinist and collaborator Sarang West and drummer Vonggu Pak will perform the piece's score live at each performance. The eclectic soundtrack also features music by 18 diverse artists, including Pauline Viardot, Hwang Byung-Ki, Danny Elfman, Hwang Sang Jin, Kodo and Stephen Warbeck. Costumes were designed by Meg Kinney and lighting by Miriam Crowe.

"DNA has long included international artists in both our educational and performance programming, some of whom are now Bessie Award-winners and nominees, and performing at BAM, the Joyce, Lincoln Center, etc" says

Artistic and Executive Director Catherine Peila. "Inviting artists to New York and supporting them through our residencies and robust International Student Visa Program reflects our connection to the global development of dance. Sunhwa's work taps into the American immigrant's process of self expression—offering both artists and audience members the opportunity to initiate deeper conversations regarding belonging, cultural integration and innovations."

Choreographer

Sunhwa Chung

was born in Pusan, Korea and moved to the United States in 1994. She has performed throughout Korea, Japan and the United States, including the Kennedy Center, American University Experimental Theater, Asian American Arts Center and the Korean Embassy. She performed in televised productions during the Asian Games of 1986 and the Seoul Olympics in 1988. Chung has also danced with Foreign Connection Cultural Ensemble and HANULSORI, a Korean music and dance ensemble, in a style known as Samulnori. She has taught Korean traditional dance at St. Andrew Korean School; the Kennedy Center; The University of Maryland, Baltimore County; and various high schools. She earned a BA in dance at Pusan Women's University in Korea and an MA in dance from American University.

Chung formed

Sunhwa Chung/Ko-Ryo Dance Theater, in 2001. Ko-Ryo Dance Theater works explore themes of separation and unity and cultural interplay with a faithful emphasis on human emotion and expression. A member of Korean traditional percussion group Da-de-rae-gi, Chung often incorporates traditional music into her choreography to celebrate her heritage and cultivate cultural awareness.

PERFORMANCES
Wednesday, October 17 - Saturday, October 20 at 7:30 p.m. and Saturday, October 20 at 3:00 p.m.

An opening night reception will be open and free to the public one hour before curtain on October 17. Audience members are invited to stay for a post show discussion immediately following the performance on October 19.

TICKETS
Tickets may be purchased online at

www.dnadance.org, by calling

212.227.9856

or on site two hours before curtain. Cost is 7 for general audiences, 4 for students and seniors, 2 for DNA members and advanced sales. Discounted tickets are available by phone for groups of six or more. All sales are final.

VENUE INFORMATION
DNA is located at 280 Broadway (entrance at 53 Chambers Street), New York, NY 10007, near the R/W to City Hall, 4/5/6 at Brooklyn Bridge, J/M/Z, A/C/E or 1/2/3 at Chambers Street, and 2/3 at Park Place.


ABOUT DANCE NEW AMSTERDAM
Founded in 1984, DNA provides a community hub for the highest quality dance training, choreographic exploration and innovative performance, developing new audiences and bridging communities. It provides valuable opportunities for the aspiring, emerging and established artist, including daily classes, certification courses, commissions and artistic residencies, along with studio and administrative office subsidies. DNA encourages professionalism, entrepreneurial cross-disciplinary initiatives, community engagement and diverse artistic expression. It was the first nonprofit arts organization to move to Lower Manhattan after 9/11, serving as a renewing force in NYC's cultural landscape. To learn more about DNA and supporting its programs through charitable donations, visitwww.dnadance.org

The 2012-2013 DNA PRESENTS Season is supported, in part, by public funds from the New York City Department of Cultural Affairs in partnership with the City Council and the New York State Council on the Arts.

DNA is a 501(c)(3) nonprofit organization and its 2012-2013 programming is made possible through the generosity of its supporters. As of July 2012, public funding provided by: New York City Department of Cultural Affairs in partnership with the City Council; and New York State Council on the Arts with the support of Governor Andrew Cuomo and the New York State Legislature. Private funding provided by: Bloomberg Philanthropies, with support from the Kennedy Center/DeVos Institute; The MAP Fund, a program of Creative Capital supported by the Doris Duke Charitable Foundation and the Rockefeller Foundation; Mertz Gilmore Foundation; Jerome Robbins Foundation; Doris Duke Charitable Foundation; and FJC, a Foundation of Philanthropic Funds. In-kind support from: Arts & Business Council, Fox Rothschild LLP, Pillsbury Winthrop Shaw Pittman LLP, Volunteer Lawyers for the Arts, and Materials for the Arts. Additional support provided by our Advisors, Programming Partners, Neighborhood Partners, International Partners, and DNA's community of individual donors. Dance New Amsterdam is part of The Lower Manhattan Arts League and its downtown festivals, made possible by generous support from The New York Community Trust – LuEsther T. Mertz Advised Fund. For a full list of DNA's partnerships, visit

www.dnadance.org.