Dancespace Project Presents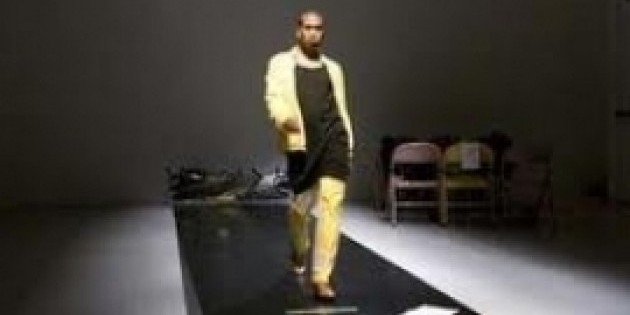 Trajal Harrell
Danspace Project Presents
TRAJAL HARRELL
Judson Church is Ringing in Harlem (Made-to-Measure)/
Twenty Looks or Paris is Burning at the Judson Church (M2M)
October 11-13, 2012 [Thu-Sat] 8PM
Admission:
8 (2 Danspace members)
Part of PLATFORM 2012: Judson Now
As part of PLATFORM 2012: Judson Now
, Danspace Project presents the premiere of choreographer Trajal Harrell
's latest work Judson Church is Ringing in Harlem (Made-to-Measure)/Twenty Looks or Paris is Burning at The Judson Church (M2M),
and nicknamed (M2M).
For the past seven years, Harrell has been creating works as part of his acclaimed Twenty Looks or Paris is Burning at The Judson Church
project, which asks the question "What would have happened in 1963 if someone from the voguing ball scene in Harlem had come downtown to perform alongside the early postmoderns at Judson Church?" In a recent conversation with choreographer Emmanuelle Huynh, featured in the forthcoming PLATFORM 2012: Judson Now
catalogue, Harrell explained: "I started [Twenty Looks
] because I wanted in some ways to encapsulate the influence of Judson Dance Theater on my work but also to push beyond it and to rethink the kind of myth around Judson."
With (Made-to-Measure)
Harrell takes a new critical position on postmodern dance aesthetics originating from the Judson era. In this new evening-length work for three dancers, Harrell inverts his original proposition to imagine a new crossroads: "What would have happened if one of the early postmoderns from Judson Church had gone uptown to perform in the voguing ballroom scene?" Along with an alternating cast of performers including Robert Fordeyn
, Trajal Harrell
, Thibault Lac
, and Ondrej Vidlar
, Harrell re-examines post-Judson aesthetics. "...many of us have been pushing along toward something else yet firmly aware of history..." he writes. "It's not that we need this label but I think the kind of criticality in the field needs something signifying to examine a repositioning of thought and aesthetics today that is different than how Judson aesthetics were incorporated in the '90s for example...I am not coming back the same as I was when I departed Harlem for Judson with (S)mall
, and this is what I want to show in the work."
Costumes by Complexgeometries

Sound Design by Trajal Harrell
.
TRAJAL HARRELL is a New York City-based artist. His work has been presented In New York and the U.S. at many venues including The Kitchen, The American Realness Festival, Institute of Contemporary Arts- Boston, Danspace Project, FIAF's Crossing the Line Festival, Dance Theater Workshop, P.S. 122, and Dance Mission (San Francisco, CA), among others. Internationally, his work has toured in France, Austria, the Netherlands, Belgium, Germany, Poland, Croatia, Portugal, Switzerland, Japan, and Mexico, and has been presented in international festivals such as Rencontres Chorégraphiques (Paris), Festival d'Avignon, Impulstanz-Vienna, TanzimAugust (Berlin), and Panorama Festival- Rio de Janeiro, Brazil, among others.
A graduate of Yale University, he has been an artist-in-residence at Dansens Hus- Stockholm, CDC Toulouse, Summer Stages Concord Academy/The Institute of Contemporary Arts (Boston), PACT Zollverein, Workspace Brussels, The White Oak Residency and Dance Center, Snug Harbor Cultural Center, Movement Research, Bennington College, Wp Zimmer (Antwerp, Belgium), Impulstanz Vienna International Dance Festival, Workspace Brussels, Tanzhaus Dusseldorf, TanzWerkstatt-Berlin, Skite 2010 (Caen, France), CCN Montpellier, CCN Belfort, and CNDC Angers.
He has also shown performance work in visual art contexts such as Center for Curatorial Studies/Hessel Museum of Art-Bard College, Fondation Cartier (Paris), The New Museum, The Margulies Art Warehouse (Miami), The Newhouse Center for Contemporary Art, The Bronx Museum of the Arts, and Art Basel-Miami Beach, where he collaborated with artist Assume Vivid Astro Focus. His ongoing projects, Tickle the Sleeping Giant and The Ambien Piece have been shown in galleries in New York and Berlin. Most recently, a collaboration with visual artist Sarah Sze premiered in November 2011 within the Dance/Draw exhibition at ICA Boston as part of the Summer Stages Concord Academy/ICA Boston Co-Lab Process and Performance Series.
Also in November 2011, Antigone Jr., the junior size-work in the Twenty Looks...series, had it's avant-premiere at NYC's Performa Biennial in New York at Third Streaming Gallery and premiered at Festival Les Inaccoutumés/Menagerie de Verre in Paris. Most recently, he premiered Antigone Sr., the (L)arge size work in the Twenty Looks...series. He is best known for this seminal series of works, Twenty Looks or Paris is Burning at The Judson Church, which looks at the relationship between the voguing dance tradition and early postmodern dance. The series comes in seven sizes- (XS), (S), (M), (jr.), (L) plus the (Made-to-Measure) to premiere in October 2012 at Danspace Project, and a final (XL) publication.
In total, he has created six full-evening works: Notes on Less than Zero, Showpony, Quartet for the End of Time, Twenty Looks or Paris is Burning at The Judson Church (S), (M)imosa aka Twenty Looks or Paris is Burning at The Judson Church (M), co-authored with Cecilia Bengolea, Francois Chaignaud, and Marlene Freitas, and Antigone Sr./Twenty Looks or Paris is Burning at The Judson Church (L). He has also created two half-evening works: Twenty Looks...(XS) and Antigone Jr., as well as a lecture-performance The Conspiracy of Performance with the actress Perle Palombe. His works Quartet for the End of Time, Twenty Looks or Paris is Burning at The Judson Church (S), along with (M)imosa were chosen by TimeOut-NY Magazine as one of the best dances of 2008, 2009, and 2011, respectively.
***
LOCATION: Unless otherwise noted, all performances and events take place at Danspace Project in St. Mark's Church in-the-Bowery, 131 East 10th Street, New York, NY 10003.
PLATFORM 2012: Judson Now
Fifty years after the first Concert of Dance at Judson Church in 1962, Judson's radical experiments are still influencing the way artists work today. Many artists who participated in the more than 200 experimental evenings from 1962-1966 are still making, performing, exhibiting, and touring their work. Their generative cross-disciplinary experiments gave rise to some of the most important movements of the 1960s and 1970s and still inspire younger generations in multiple disciplines to take artistic risks.
"Judson Now
is not a comprehensive survey but rather a snapshot of Judson's influence in the current moment. Judson Dance Theater's mythic reach is vast, its artists were many, its experiments were multidisciplinary, and the anarchic energy and vision spilled out of the Judson Church into lofts, theaters, churches, and even to other cities," writes Hussie-Taylor. "There is no one narrative to sum up Judson and this generative period in downtown New York."
Judson Now
takes place over 10 weeks. Public events include performances, discussions, panels, film showings, and artists' residencies. Danspace Project will publish a catalogue co-edited by Jenn Joy and Judy Hussie-Taylor featuring archival and contemporary images, interviews, and essays.
PLATFORM 2012: Judson Now has been organized by Hussie-Taylor with assistance from a research team comprised of Jenn Joy, Huffa Frobes-Cross, Lydia Bell, Judith Walker, and Adrienne Rooney. Wendy Perron has served as artistic advisor. Judson Now coincides with and complements other Judson 50th Anniversary events throughout New York City, including workshops and presentations presented by Movement Research.
FUNDING FOR PLATFORM 2012: Judson Now
Danspace Project's PLATFORM program is a series of guest artist-curated programs that are part of the Choreographic Center Without Walls (CW

²

). As a framework for Danspace's presentations and commissions, CW

²

aims to examine and discover ways of providing context, curatorial support, and space for choreographers and their works. The CW

²

and its PLATFORM series receives major support from The Andrew W. Mellon Foundation, the Doris Duke Charitable Foundation, and the National Endowment for the Arts. In addition, this fall's PLATFORM 2012: Judson Now
has received lead funding from the Robert Rauschenberg Foundation.
Special thanks to all our space and presentation partners: Abrons Arts Center, Barnard College, Gibney Dance Center, Institute for Curatorial Practice in Performance at Wesleyan University's Center for the Arts, Mount Tremper Arts, Movement Research, Museum of Modern Art (MoMA), New York Public Library for the Performing Arts, Performa, and The Poetry Project.
About Danspace Project
Danspace Project presents new work in dance, supports a diverse range of choreographers in developing their work, encourages experimentation, and connects artists to audiences.
Now in its fourth decade, Danspace Project has supported a vital community of contemporary dance artists in an environment unlike any other in the United States. Located in the historic St. Mark's Church in-the-Bowery, Danspace shares its facility with the Church, The Poetry Project, and The Incubator Arts Project. Danspace Project's Commissioning Initiative has commissioned over 430 new works since its inception in 1994.
Danspace Project's Choreographic Center Without Walls (CW

²

) provides context for audiences and increased support for artists. Danspace Project's presentation programs (including Platforms, FOOD FOR THOUGHT, Draftwork), Commissioning Initiative, residencies, guest artist curators, and contextualizing activities and materials are core components of CW

²

that offer a responsive framework for artists' works. Since 2010, we have commissioned 67 emerging and established artists, produced six guest-curated Platforms, published six print catalogues and four e-books, launched the Conversations Without Walls series, and explored models for public discourse and residencies.