A New Season at ABRONS ARTS CENTER
Premieres from New York City Players, in Association with Half Straddle and Abrons; Pig Iron; Big Art Group; Pavel Zutiak and Palissimo; Arturo Vidich; and more!
ABRONS ARTS CENTER ANNOUNCES SEASON FULL OF NEW WORKS



Premieres from New York City Players, in Association with Half Straddle and Abrons; Pig Iron; Big Art Group; Pavel Zuštiak and Palissimo; Arturo Vidich; and Others; plus Miguel Gutierrez, the 5th Anniversary of American Realness and a Workshop Presentation of
Mandy Patinkin & Taylor Mac's The Last Two People on Earth: An Apocalyptic Vaudeville



Since Jay Wegman became Abrons Arts Center's Director in 2006, he has done much more than maintain "one of the last standing locations for avant garde performance downtown" (The New York Times, 2009). He has, especially in recent seasons, created an arts venue that is unique on the city's cultural landscape, presenting an international mix of cutting-edge performing and visual artists, both established and emerging, from across the country and around the world, as well as from New York City. Abrons has drawn a diverse audience to its home at the Henry Street Settlement on the Lower East Side, and has garnered a wealth of critical acclaim in various disciplines.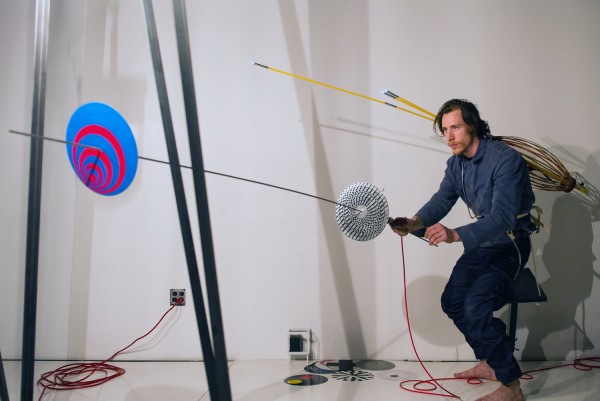 Arturo Vidich in 142241 [Photo by Ian Douglass]


Abrons Arts Center's 2013-14 season underscores the organization's increasing stature and its unique programmatic profile. The lineup, comprised almost entirely of premieres, includes:

• The World Premiere of Endangered Pieces, from Pavel Zuštiak and Palissimo (October 2-12), with live music by Christian Frederickson and Bobby McElver

• Miguel Gutierrez's myendlesslove (October 9-19)

• New York City Players' World Premiere production of Tina Satter's House of Dance, presented in association with Half Straddle and Abrons Arts Center, and featuring Jim Fletcher and Jess Barbagallo (October 23-November 9)

• Experiments in Opera's Chorus of All Souls, a semi-staged production of John Zorn's The Holy Visions (November 2)

• The U.S. Premiere of Dead Centre's Souvenir (November 13-17), based on Proust's Remembrance of Things Past

• The World Premiere of Arturo Vidich's 142241 (November 14-16), in which sound and light machines transform Abrons' Underground Theater into a cross between a benthic facility and prehistoric cave

• A new Moisty the Snowman show created by Bradford Scobie (December 5–22)

• A workshop presentation of Mandy Patinkin & Taylor Mac's The Last Two People on Earth: An Apocalyptic Vaudeville (December 14 – 31), with music ranging from Rodgers & Hammerstein and Stephen Sondheim to R.E.M. and Queen

• The 5th Anniversary American Realness Festival (January 9-19, 2014)

• The NYC Premiere of Twelfth Night, or What You Will (February 4-23, 2014), in which Pig Iron applies its highly physical performance style to the wicked Shakespeare comedy

• The U.S. Premiere of Your Majesties (February 21-22, 2014), in which Vienna-based dance artist Alex Deutinger recites President Obama's 2009 Nobel Lecture

• The U.S. Premiere of Julie Atlas Muz and Mat Fraser's Beauty and the Beast, directed by Phelim McDermott (March/April 2014)

• The NYC Premiere of Big Art Group's The People – L.E.S. (May 2014), an outdoor spectacle, based loosely on Aeschylus' Oresteia, that combines live theater with large-scale, real-time video projection.

Show-by-show descriptions are below. Abrons Arts Center is located at 466 Grand Street, on Manhattan's Lower East Side.Tickets can be purchased by calling 212.352.3101 or visiting www.abronsartscenter.org.

ABRONS ARTS CENTER 2013-14 PROGRAMMING [DANCE]

Pavel Zuštiak/Palissimo
Endangered Pieces (World Premiere)
October 2, 4-5, 10-12, 2013 | 8 pm
0
In the Playhouse

The New York Times has described the work of Palissimo—the company founded by choreographer Pavel Zuštiak, 2011 Guggenheim Fellow and a winner of the 2013 LMCC President's Award for Excellence in Artistic Practice—as "darkly atmospheric explorations of human nature." The company makes its Abrons Arts Center debut with Endangered Pieces, which instantiates Zuštiak's signature: assembling artists of various disciplines to create cutting-edge work through risk-taking and experimentation.

In Endangered Pieces, Palissimo also charts new territories, with performances by Zuštiak, Jaro Viarský, Mathew Rogers, musicians Christian Frederickson and Bobby McElver, and with lighting by longtime collaborator Joe Levasseur.

A man in an empty space: in a field, onstage, in combat. Is this his ultimate battle and can it be won? The performance unfolds in a series of dream-like scenes set amidst a looming calamity. Throughout, the visceral trumps the literal, leaving visual impressions, both alluring and unsettling, that linger and gestate in the subconscious.

Endangered Pieces follows Palissimo's The Painted Bird Trilogy, which is nominated for two awards in the upcoming Bessies: Outstanding Production and, for Jaro Viarský, Outstanding Performance. The Slovak-born, New York-based Zuštiak treats each aspect of Palissimo's productions—dance, movement, sound, light, set and video design—with equal priority and hopes to challenge and engage audiences with rich, innovative aesthetic and intellectual experiences. At the same time, the work is intended to be accessible, and not to require audiences to learn a new "language" to understand. An audience member may lose the literal thread of the work, but still grasp the intrinsic meaning of the piece.

Endangered Pieces was created in residencies and with support of Abrons Arts Center, Czech Center New York, Vermont Performance Lab, and Stanica Zilina. This piece was made possible with funding from The Jerome Foundation, The Mertz Gilmore Foundation, Trust for Mutual Understanding and New Music USA.


Miguel Gutierrez
myendlesslove (2006)
Wednesday, October 9 – Saturday, October 12
Wednesday, October 16 - Saturday, October 19
8pm
Notes: Wednesday, October 16 is a benefit performance. The work contains nudity.
0
Benefit Tickets: 50, 00 & 0
In the Underground Theater

"In 2006, after seeing my solo Retrospective Exhibitionist, Stephen Kent Jusick asked me if I would make a performance that incorporated video for the MIX Festival. I thought it was a weird and fascinating request, to make something where the formal elements were already known. I decided I would try to make a piece that was the energetic opposite to the previous solo. I had just gone through the hardest breakup of my life. I stayed up too late every night for a year. I hated the lack of space for queer grief in a world of profile pictures and stat reports. I made myendlesslove.

It was only ever performed twice, once at a residency, and once at MIX. My manager's been trying to get me to do it again for years. I finally relented.

There was no money or tech support then to make the piece look the way it really wanted to look. There isn't really any money now either, but let's try it again and see what happens." — Miguel Gutierrez

myendlesslove is not quite a solo performance about sex, desire and objectification that incorporates movement, video and music. The piece unravels as a search for the poetics of gay sex, exploiting time-honored clichés about sentimentality, longing, and how we look beyond ourselves for love.

myendlesslove is a performance about love, sex and desire cumming and going, going, gone.

Created by Miguel Gutierrez, myendlesslove is performed by Gutierrez and the Fantasy Man. It features lights by Natalie Robin and music by Gutierrez, Lionel Richie and Giorgio Moroder.

Miguel Gutierrez, a 2010 Guggenheim Fellow in choreography, is a performance-maker based in NYC. Dance Magazine has called him "one of our most provocative and necessary artistic voices." He makes solo and group pieces with a variety of artists under the moniker Miguel Gutierrez and the Powerful People. His work explores the wonder and banality of a moving and expressive body continually surprised to find itself in the world. Recent pieces include HEAVENS WHAT HAVE I DONE, Last Meadow, and And lose the name of action, which premiered in September 2012 at the Walker Art Center and was presented in the 30th Next Wave Festival at the Brooklyn Academy of Music. His work has toured internationally to venues such as Festival D'Automne in Paris, Festival Universitario in Bogota, and ImPulsTanz in Vienna. He has received fellowships from the Foundation for Contemporary Art, United States Artists, and the New York Foundation for the Arts. He has received three Bessie Awards. WHEN YOU RISE UP, his book of performance texts, is available from 53rd State Press. He choreographed the music videos for Le Tigre's "Deceptacon" and Holcombe Waller's "Hardliners," and he invented the absurdist workout DEEP AEROBICS for the radical in all of us.

myendlesslove was commissioned by MIX: The Experimental Lesbian and Gay Film and Video Festival.


Arturo Vidich
142241 (World Premiere)
November 14-16, 2013
8pm
5
In the Underground Theater

In 142241, Arturo Vidich uses sound and light machines to evoke an electro-acoustic seascape of noise and dancing shadows. The work will transform Abrons Art Center's Underground Theater into a cross between a benthic facility and prehistoric cave where animism and humanism twist, fold, and battle for control. To get a handle on it, Vidich extracts volunteer assistants from the audience using 'emotive telepathy,' and embroils them in a series of accidents that develop through improvisation and interference. Each performance will be captured on video, time-reversed, and exhibited as a separate artwork.

Since 2003, Arturo Vidich's performance work has been presented in New York City by The Chocolate Factory, New Museum, Museum of Arts and Design, New York Live Arts, The Invisible Dog Arts Center, Abrons Art Center, EXIT Art, Facade/Fasad, Reverse, NADA Art Fair, Independent Art Fair, Dorkbot NYC, Brucennial 2010: Miseducation, SITE Fest, Danspace Project at St. Mark's Church, Movement Research, Catch Series, Dixon Place, Chashama, and AUNTS; and in Los Angeles at AT1 Projects. He has been an artist-in-residence at NYLA, MAD, Movement Research, The Chocolate Factory, and Chashama. Vidich is a Creative Capital 2013 Performing Arts grant recipient. In 2007, Vidich was awarded the International Artist Residency at the Red Stables, Dublin, Ireland. In the same year, he co-founded Culture Push, a non-profit arts organization that brings together diverse professionals to share knowledge and resources (culturepush.org). Through Culture Push, he initiated a collaborative open-source residency, called Genesis Project, for artists who work or want to work with or through the body. Vidich has collaborated on performances with Yvonne Meier, Ishmael Houston-Jones, Aki Sasamoto, Deborah Hay, Daria Faïn, Allison Farrow, Lower Lights Collective, Christopher Williams, and Nami Yamamoto. In 2010, Vidich received a "Bessie" (New York Dance and Performance Award) for his collaboration on Yvonne Meier's Stolen. He has assisted visual artists Douglas Repetto and Jeffrey Schiff. His writing has been published twice in the Movement Research Performance Journal. Vidich has a degree in Dance from Wesleyan University, and has a graduate degree from the Interactive Telecommunications Program at NYU's Tisch School of The Arts. He also achieved a pilot's license.

American Realness Festival
January 9-19, 2014

The festival of contemporary performance that The New York Times calls "a stronghold of forward-thinking, category-defying performance" returns for its 5th anniversary.



Navaridas/Deutinger
Your Majesties (American Premiere)
February 21-22, 2014
8 pm
5
In the Experimental Theater

Austrian-based choreographers Marta Navaridas and Alex Deutinger started collaborating in the field of contemporary dance and performance in 2007. Since then they have created choreographic works gnag have been performed in Austria, Spain, Slovenia, The Netherlands, Germany, Switzerland, Croatia, Belgium, UK, Ireland, Greece and Mozambique.

In Your Majesties, Deutinger recreates and reimagines President Obama's 2009 Nobel Lecture. In doing so, he revives a piece of World History. But forget what you think you know about Obama, war, and world "peace."

This work won the Best OFF Styria Awards 2010 and has been selected to the Priority List of the Aerowaves Dance Network for 2013.

Deutinger studied at the Institute for Theoretical and Applied Translation Studies, Graz and at the Institute for Dance Arts (IDA) of Anton Bruckner University, Linz. Together they have received the DanceWEB-Europe Scholarship, the Tall Order Young Maker´s Award, the Premio ACT Bilbao and the BestOFF-Styria Theatre Awards. They are co-founders of the international performing artists' collectives Fingersix and The Loose Collective, a group based in Austria of international creators and performers.

Marta Navaridas studied Translation and Interpreting in Barcelona, Dance and Choreography at ArtEZ College of Art Arnhem and Physical Theatre at the Mime Department of the Amsterdam Theater School.