BEAT Festival Announces 2nd Year Celebrating Brooklyn's Emerging Artists
Announcements this Thursday-Jul 24... Festival from Sep 12-21
BEAT Festival Announces Second Year Celebrating Brooklyn's Emerging Artists in Theater, Dance and Voice
2013 Edition Focuses on Cutting Edge Site-Specific Performances In Non-Traditional Venues, Taking Audiences on aJourney
Performances Pop-Up Throughout Four Brooklyn Neighborhood Hubs September 12-21
WHO:
BEAT Festival organizers and artists and partners, including live performance from Storyboard P

WHEN:
Thursday, July 25, 2013 at 11 a.m.

WHERE:
La Defense Bakery & Bistro, 2 MetroTech Center in Downtown Brooklyn.

After a successful inaugural season, BEAT Festival organizers will announce its second annual lineup of innovative emerging Brooklyn artists in theater, dance and voice on Thursday, July 25th, 11 a.m. at La Defense Bakery & Bistro with a performance from street dance legend Storyboard P. The festival will be held from September 12-21, with a focus on site-specific, journey-based performances in non-traditional venues spanning four Brooklyn communities. Performances – including artist mashups, flex dancing, an Odyssey Works piece for one person and much more – will pop up throughout Downtown Brooklyn, Bedford-Stuyvesant, Park Slope and Prospect Heights, injecting culture into unusual spaces.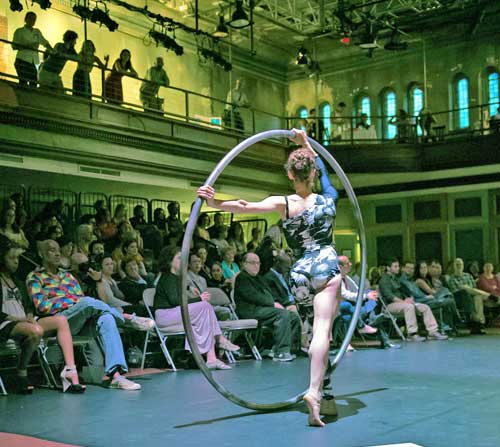 Multi-talented choreographer, dancer and acrobat Courtney Giannone
From The 2012 Beat Festival
Photo by Harry Pocuis Photography