Brooklyn Music School announces Toddler Yoga & Dance Class for 2s & 3s from Sep 5-Dec 18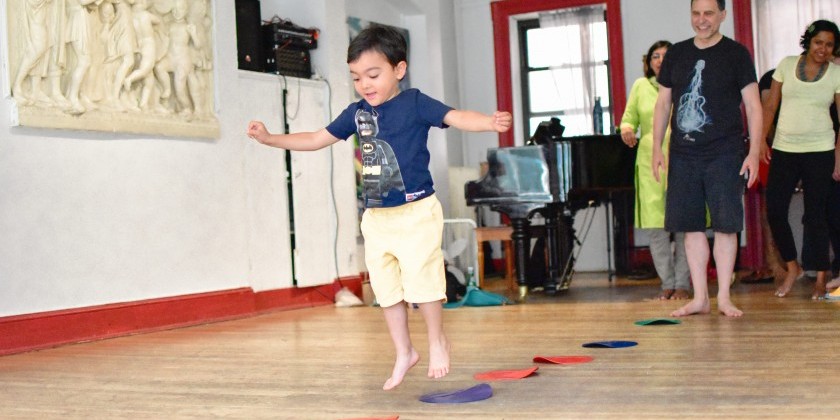 Company:
Brooklyn Music School
Brooklyn Music School (BMS) announces Toddler Yoga and Dance Class for 2s and 3s, running September through December. Classes run Monday - Friday, 10am-10:45am. Registration is $240/trimester. To register, call  (718) 638 5660 or visit https://bms.asapconnected.com/#CourseID=177286.
 
This unique program is being offered by BMS and MUSE Academy for parents who want their little ones to explore dance, yoga and music starting at an early age.
 
"During these amazing early years, toddlers undergo huge cognitive, social, and emotional changes that enable them to explore and understand their world.  The warm and nurturing environment of our 2s and 3s program provides an ideal first group classroom experience for children," said Deborah Bradley-Kramer, Head of School for MUSE Academy. "The focus is on creativity, sensory awareness, and social development so as to help prepare them for the world of Preschool."
 
Piruz Partow, Executive Director of Brooklyn Music School, commented: "BMS is dramatically expanding our range of music and dance programming targeted the earliest ages this year, given the huge impact this can have on cognitive development and social and emotional skills. Yoga for very young kids helps with the refinement of motor skills and energy regulation, whereas dance classes focus on toddlers' natural sense of rhythm, and encourage them to express a range of emotions and ideas through music and movement."
 
Moms, dads, and caregivers are invited to join our dynamic teachers in an eclectic class that will spark imaginations and develop curiosity in kids and adults alike!
 
Weekly activities will weave together ballet and folk dancing, storytelling, yoga, songs, improvisation, music games, and more to keep the little ones engaged, curious, and smiling. This class is taught by world-class faculty of MUSE Academy including Deborah Bradley-Kramer, Yun-Tzu Chang, and Amanda Deering.
 
MUSE Academy is an independent private school in Brooklyn. Opening in September 2018 for Pre-K3 through Grade 2, MUSE Academy fills a critical need for high quality, humanist education. We seek to develop the full potential of every child as lifelong learners, expressive artists, and active citizens in his or her community. Music, movement, and performance are central to the MUSE educational experience and profoundly contribute to cognitive and social development. Our unique Pre-K and Kindergarten programs nurture creativity and a passion for learning from an early age. Our approach engages all the modes through which children learn and communicate - including verbal, analytical, kinesthetic, spatial, social, and emotional - using an inquiry-based learning model. We plan to add additional grades each year as our students advance, eventually through Grade 12.
 
The Brooklyn Music School views music and performance as the birthright of all people, an essential way that human beings connect with others and explore their creativity. The study of music has been demonstrated to enhance academic learning and help develop discipline and confidence that will serve children well throughout their lives.As part of the vision of reinventing the community music school for the 21st Century, BMS is dedicated to:
Making high quality musical instruction approachable and affordable to a wide range of students.
Creating frequent opportunities for performance for our students and cultural enrichment for our community.
Representing a wide range of musical traditions, including European, African, Middle Eastern, and American to represent the diversity of Brooklyn's musical talent. 
Offering a warm and welcoming space for families and individuals to explore new talents and make lasting friendships.