Donald Baechler's CROWD (for Bill T. Jones)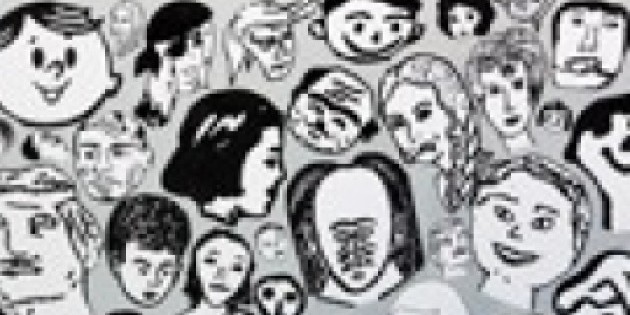 on view at New York Live Arts
NOW ON VIEW:
Donald Baechler
CROWD (for Bill T. Jones)
---
New York Live Arts'
Ford Foundation Live Gallery
New York, NY, September 13, 2012 –New York Live Arts' Ford Foundation Live Gallery is currently featuring CROWD (for Bill T. Jones), a commissioned, site-specific work by artist Donald Baechler. Before Live Arts visitors enter the theater and third floor studio space, they will encounter Baechler's monumental mural. A large-scale paper collage constructed directly on the wall, the work is on view now through January 2013.

Baechler's mural at New York Live Arts is a continuation of a series of works on paper in the CROWD series that he began creating in the late 1990s. For many years Baechler has been building a very personal image archive, incorporating his own drawings along with found imagery and images created specifically for him. An essential part of his compositional process has been to select precisely the right image out of the many thousands of possibilities he has on hand and incorporate this image into a larger pictorial field.
"The mural draws from my earlier series of CROWD paintings and prints, and incorporates many new drawings from my more current vocabulary of images," explained Baechler. "When I first saw the lobby space, my initial impulse for the New York Live Arts gallery wall was to supersize one of my CROWD compositions, and the challenge was how to proceed given the added complexities of working on location. I'm delighted with the results!"
Like wallpaper, the mural adheres directly to the surface of the wall, and covers the entire south-facing wall of the gallery. The artist designed this configuration of the mural specifically for the Ford Foundation Live Gallery. The width and height of the wall allowed Baechler to scale the mural to a colossal size—it measures more than 31 feet wide and over 10 feet high—the largest he has ever made. The effect is to transform the space and create an immersive environment.
"The field of dance has a rich history of visual artists engaging with movement-based artists. Our presentation of Baechler's CROWD is our acknowledgement that many choreographers and contemporary visual artists are part of a larger community of conceptual artists," said Jean Davidson, Executive Director & CEO of New York Live Arts. Baechler also has a long association with New York Live Arts Executive Artistic Director Bill T. Jones, whom he first met in the 1980s. Jones and Baechler began collaborating on stage sets in the 1990s.

Also on view in the New York Live Arts' Ford Foundation Live Gallery is Baechler's Flower from 2005. With this work, and others from his well-known flower series, Baechler explores texture, line, color, form, and balance. The result is a complex and engaging composition that beckons the viewer to look beyond a recognizable symbol and consider the process of art-making. Flower is one of a group of works by visual artists affiliated with the Bill T. Jones/Arnie Zane Dance Company which helped support the creation of New York Live Arts. The unique collection of works also includes works by Robert Longo, Alex Katz, Fred Wilson, Julian Schnabel and other major artists.
Exhibition Info:
Donald Baechler
CROWD (for Bill T. Jones), 2012
Paper collage and latex paint
31' 8" X 10' 3"
Commissioned by New York Live Arts, Courtesy of Donald Baechler and Cheim & Read.
Flower, 2005
Gouache, vinyl paint and collage on paper
3' 4" X 4' 4"
Courtesy of Donald Baechler and Cheim & Read
On View now through January 2013

Ford Foundation Live Gallery
New York Live Arts
219 W 19th Street, New York, NY 10011
FREE
Hours: Monday – Friday 1 - 9pm | Saturday-Sunday 12 - 8pm

ABOUT THE ARTIST
Donald Baechler was born in Hartford, Connecticut in 1956 and currently lives and works in New York City. Since the 1980s, Baechler's work has been widely exhibited throughout the United States and Europe. He is represented by Cheim and Read Gallery, New York and is in the public collections of the Museum of Modern Art, New York; the Whitney Museum of American Art, New York, the Guggenheim Museum, New York; the Museum of Contemporary Art, Los Angeles; Centre Georges Pompidou, Musee National d'Art Moderne, Paris; National Museum of Contemporary Art, Seoul, Korea; Museu de Arte Moderna do Rio de Janiero, Brazil, among others. Baechler is represented by Cheim & Read Gallery in New York.
ABOUT NEW YORK LIVE ARTS
New York Live Arts strives to create a robust framework in support of the nation's dance and movement-based artists through new approaches to producing, presenting and educating. In addition to our deep commitment to individual artists at all stages of their careers, we strive to create rich, meaningful experiences for our audiences by engaging them in ways that are intimate and thought-provoking. With our audience, we seek to become a place for dance that is vital to the fabric of social and cultural life in New York, the United States and beyond.
Formed in February 2011 by a merger of Dance Theater Workshop and the Bill T. Jones/Arnie Zane Dance Company, New York Live Arts is a re-imagining of the legacies of these two extraordinary organizations. New York Live Arts is located at 219 West 19th Street in New York City and is led by Bill T. Jones as Executive Artistic Director, Carla Peterson as Artistic Director, and Jean Davidson as Executive Director and CEO.
Funding Support
Major support for New York Live Arts is provided by: Bloomberg Philanthropies, The Robert Sterling Clark Foundation, Con Edison, The Joseph and Joan Cullman Foundation for the Arts, Doris Duke Charitable Foundation, The Ford Foundation, The Fan Fox and Leslie R. Samuels Foundation, Japan Foundation, Jerome Foundation, Lambent Foundation, MAP Fund, a program of Creative Capital, The Andrew W. Mellon Foundation, Mertz Gilmore Foundation, MetLife Foundation, The New York Community Trust, The Shubert Foundation, The Jerome Robbins Foundation, The Scherman Foundation and the Trust for Mutual Understanding. New York Live Arts is supported by public funds administered by the New York City Department of Cultural Affairs, the New York State Council on the Arts and the National Endowment for the Arts.
Upcoming Performances at New York Live Arts
Bill T. Jones/Arnie Zane Dance Company Upcoming Performances