Douglas Martins full-length "Romeo and Juliet"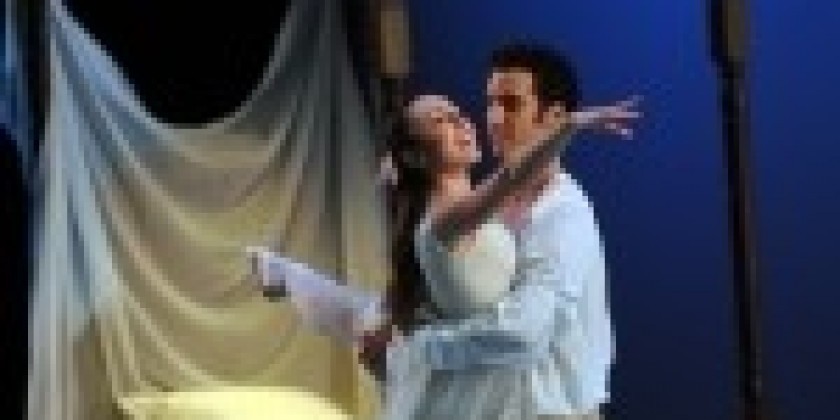 American Repertory Ballet

American Repertory Ballet Announces its October Premiere of Romeo and Juliet at State Theatre and Performance at the Career Transitions for Dancers Annual Jubilee at New York City Center
NEW BRUNSWICK, NJ - American Repertory Ballet will premiere Artistic Director Douglas Martin's full-length Romeo and Juliet, with Prokofiev's score played live by the Rutgers Symphony Orchestra under the direction of Maestro Kynan Johns, on October 11, 2013 at 8:00pm at the State Theatre in New Brunswick, NJ.

Based on Shakespeare's tragic story, Martin's version of the ballet features a company of 30 dancers, sets by scenic designer Kevin Lee Allen, and costumes designed by Michelle Ferranti. Scenic and costume design has been executed with careful attention to the aesthetic of what is now known as the early Renaissance era in Italy.
In her review of a spring 2012 preview performance, Marina Kennedy of Broadway World calls the production "an outstanding example of dance being perfectly adapted to dramatic interpretation, with the ARB dancers in full command of their art." The production's premiere at State Theatre is a special opportunity to see this dancing and drama enacted to live music.
"We are thrilled to premiere our full length production of Romeo and Juliet with a live orchestra," says Martin. "This extraordinary music and dance collaboration not only enhances the audience's experience of Prokofiev's extraordinary score, but also highlights the ephemeral interaction of dance and music. Dancers will be responding to and interpreting the music as the musicians play it, bonding the two art forms moment by moment in this dynamic performance."
NY-based dance critic Jerry Hochman of CriticalDance and Ballet-Dance Magazine characterizes Martin's masterwork as "an ambitious production...emotionally and artistically fulfilling...exuberant and exciting to watch...[and] invit[ing] comparisons to other well-known productions,…including…that of Sir Kenneth MacMillan."
"The duets between Juliet and Romeo – in particular, the critical balcony scene," Hochman continues, "are choreographed, and were executed, with the combination of rapture and conviction, that quality of being genuine, that is necessary to make the audience feel what the dancers feel, and to respond with the cathartic release that prompts appreciative, as opposed to obligatory, applause."
ARB will present excerpts from Martin's Romeo and Juliet balcony pas de deux on October 8, 2013 at New York City Center as part of the Career Transitions for Dancers Annual Jubilee. Career Transition for Dancers is a nonprofit organization that enables dancers to define their career possibilities and develop the skills necessary to excel in a variety of disciplines.
"Dancers develop so many transferable and marketable skills during their careers, but sometimes they need assistance and direction to figure out what to do when they retire from performing. That's why an organization like Career Transition For Dancers is so important. We are proud to be performing at their gala again, as we did in 2011, to support such a worthy cause," says Executive Director Christine Chen.

Tickets for Romeo and Juliet at State Theatre on October 11, 2013 at 8:00pm are now on sale through the State Theatre's box office:
American Repertory Ballet Presents: Douglas Martin's Romeo and Juliet
World Premiere
Set to Prokofiev's score, played LIVE by the Rutgers Symphony Orchestra under maestro Kynan Johns
October 11, 2013 at 8:00pm
State Theatre
15 Livingston Avenue, New Brunswick, NJ
Tickets: 7, 2, 2, 7, 7
Box Office:
Monday, Tuesday, and Thursday: 10am-6pm
Wednesday: 11am-7pm
Friday: 10am-5pm
Phone: (732)-246-7469
Click here to purchase tickets online

About American Repertory Ballet and Princeton Ballet School
American Repertory Ballet's mission is to bring the joy, beauty, artistry and discipline of classical and contemporary dance to New Jersey and nationwide audiences and to dance students through artistic and educational programs. The organization is comprised of: American Repertory Ballet, the preeminent contemporary ballet company in the state; Princeton Ballet School, one of the largest and most respected non-profit dance schools in the nation; and the Access and Enrichment initiatives, ranging from the long-running and acclaimed DANCE POWER program to the popular On Pointe series. The professional company is a classical and contemporary ballet company committed to presenting ballets from the 19th and 20th century alongside new and existing works by choreographers from today. Founded in 1963, the company is currently under the artistic leadership of Douglas Martin, former principal dancer with the Joffrey Ballet. The company's rich history of repertory includes established masterpieces by distinguished American choreographers such as George Balanchine, Gerald Arpino, Alvin Ailey, Paul Taylor and Twyla Tharp; cutting edge works by choreographers such as Val Caniparoli, Kirk Peterson, Dominique Dumais, Harrison McEldowney, Amy Seiwert, Susan Shields and Melissa Barak; and former Artistic Directors Dermot Burke, Marjorie Mussman, Septime Webre and Graham Lustig. ARB has been designated a "Major Arts Institution" by the New Jersey State Council on the Arts consistently for the past two decades, and has repeatedly been awarded a Citation of Excellence by the Council. ARB was voted People's Choice for Best Dance Company in 2008, 2011, and 2012.
Princeton Ballet School has gained a national reputation for its excellent dance training since its founding in 1954 by Audrée Estey. Princeton Ballet School currently enrolls approximately 1500 students annually from age three through adult and is directed by Mary Pat Robertson. Princeton Ballet School has studios in Cranbury, New Brunswick, and Princeton which are equipped with shock-absorbent floors, non- slip dance surfaces and pianos for live accompaniment. Many of Princeton Ballet School's faculty members have performed professionally; others have attained graduate degrees in dance education and have won awards for their teaching. Students from the school have gone on to dance in professional ballet and contemporary dance companies in the US and abroad. Graduates have danced with such diverse organizations as the American Ballet Theatre, New York City Ballet, Paul Taylor Dance Company, Miami City Ballet, STREB, Momix, Complexions, Mark Morris Dance Company, Twyla Tharp Dance, Hubbard Street Dance Chicago, Pittsburgh Ballet Theatre, New York Theatre Ballet, Oregon Ballet Theatre, Ballet Met Columbus, and American Repertory Ballet.