FREE Dance Returns to Central Park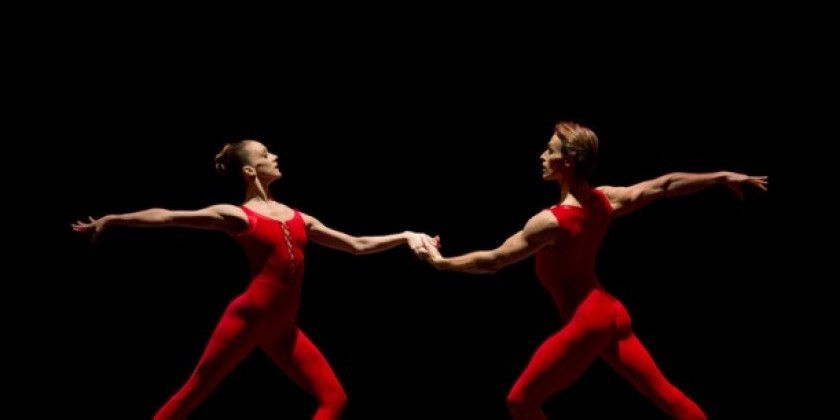 "Fall for Dance" Sept 16 & 17 at The Public Theater's Delacorte Theater
10th Anniversary Season of New York City Center's
FALL FOR DANCE FESTIVAL
Kicks Off with
FREE Dance in Central Park, September 16 & 17


New York, NY, August 19, 2013 – New York City Center will celebrate the 10th Anniversary of its Fall for Dance Festival with two FREE evenings of dance at the Delacorte Theater in Central Park, hosted by The Public Theater, on September 16 and 17 at 8 p.m. (rain date, September 18).
The FREE performances at The Public's Delacorte Theater will feature four Festival alumni: New York City Ballet(Red Angels 1994), Paul Taylor Dance Company (Esplanade, 1975), Ronald K. Brown/Evidence (Upside Down, 1998) and STREB Extreme Action Company (Human Fountain, 2011). (The same program will be performed on both nights.) Free tickets will be distributed, two per person, at The Public's Delacorte Theater on the day of the show and through the Virtual Ticketing system at
www.shakespeareinthepark.org
.
The Fall for Dance Festival has received international acclaim for its quality, innovation and success in introducing new and younger audiences to the world of dance. Since its inception, the Festival has presented 177 companies and introduced more than 220,000 newcomers and dance enthusiasts to an eclectic mix of choreographers and performers.
"We launched Fall for Dance nine years ago with the goal of introducing new audiences to dance and providing a highly visible showcase for artists, and it has succeeded beyond our wildest dreams," said New York City Center President & CEO Arlene Shuler. "We are thrilled that our 10th Anniversary celebration will open with two free programs at the Delacorte Theater. It is particularly meaningful because the New York Dance Festival, which was presented at the Delacorte in the 1960s, '70s and '80s, provided a model and inspiration for our Festival."
"We are delighted to partner with City Center and bring dance back to the Delacorte, where it has such a beautiful and distinguished history," said Public Theater Artistic Director Oskar Eustis. "Fall for Dance was formed on the same democratic principles as The Public Theater; indeed City Center and The Public are both democratic artistic institutions intent on making art for the people. It's a match made in heaven, or New York, which is the same thing."
Stanford Makishi serves as Artistic Producer and Ilter Ibrahimof serves as Artistic Advisor to the Festival.
FREE Performances at The Public Theater's Delacorte Theater:
September 16 and 17, 2013 at 8 p.m. (Rain Date: September 18)
NEW YORK CITY BALLET (Live Music)
Red Angels (1994), the final work choreographed by Ulysses Dove before his death in 1995, is a visually dramatic, dynamically charged abstract ballet that highlights its four dancers' power and athleticism. Red Angels is a ballet of intense color, sound and sensual impact, with a score for electric violin by Richard Einhorn.
New York City Ballet is one of the foremost dance companies in the world, with a roster of nearly 90 dancers and an unparalleled repertory of modern masterpieces. The Company was founded in 1948 by the legendary choreographer George Balanchine and arts patron Lincoln Kirstein, and quickly became world-renowned for its athletic, contemporary style, and a repertory of original ballets that has forever changed the face of classical dance. Now under the artistic direction of Peter Martins, NYCB is committed to promoting creative excellence and nurturing a new generation of dancers and choreographers.
www.nycballet.com
PAUL TAYLOR DANCE COMPANY
Esplanade (1975), Paul Taylor's signature work, brims with youthful exuberance. After exploring relationships – among friends, family, lovers – using natural movement, Taylor sends dancers hurtling fearlessly across the stage.
Paul Taylor Dance Company is one of the world's most highly respected and sought-after ensembles. Dance maker Paul Taylor first presented his choreography with five other dancers in 1954. That modest performance marked the beginning of more than a half-century of unrivalled creativity, and in the decades that followed, Mr. Taylor became a cultural icon and one of history's most celebrated artists, hailed as part of the pantheon that created American modern dance. He now boasts a repertoire of 138 works. The company has performed in more than 500 cities in 64 countries. In the summer of 2001 the company toured in the People's Republic of China and performed in four cities that had never seen American modern dance before. Its season in 2005 at New York City Center marked its 50th Anniversary. It will celebrate its 60th Anniversary with a three-week season at Lincoln Center in March 2014.
www.ptdc.org
RONALD K. BROWN/EVIDENCE (Live Music)
Upside Down (1998), choreographed by Ronald K. Brown, is an electrifying piece set to the music of Malian vocalist Oumou Sangare's "Kun Fe Ko" (The Uncertainty of Things), a song that says the destiny of a child is in God's hands, and Fela Anikulapo Kuti's song "Upside Down."
Ronald K. Brown/Evidence, founded by Ronald K. Brown in 1985 and based in Brooklyn, focuses on the seamless integration of traditional African dance with contemporary choreography. Brown uses movement as a way to reinforce the importance of community in African American culture and to acquaint audiences with the beauty of traditional African forms and rhythms. Evidence now tours to some 30 communities in the United States and abroad, and reaches an audience of more than 25,000 annually.
www.evidencedance.com
STREB EXTREME ACTION COMPANY
Human Fountain (2011), choreographed by Elizabeth Streb, is inspired by the Bellagio Fountains in Las Vegas. In Human Fountain, performers leap from as high as 30 feet from a three-story, open honeycomb structure and, with nerve and split-second timing, create cascades of airborne liquid muscle.
STREB Extreme Action Company, founded by MacArthur "genius" award-winning choreographer Elizabeth Streb in 1985 and based in Brooklyn, has traveled from the heights of the experimental dance world to the cutting-edge of popular entertainment. In 2011, the company performed sold-out shows at the Park Avenue Armory, the Whitney Museum of American Art's downtown ground breaking and the River to River Festival. STREB has performed in theaters large and small and served as artists-in-residence at the world's top art museums. The company was commissioned by the London Organizing Committee of the Olympic and Paralympic Games and the Mayor of London to participate in the London 2012 Festival. On One Extraordinary Day (July 15, 2012), from dawn to midnight, STREB dancers performed 7 action events across major London landmarks including the Millennium Bridge, Trafalgar Square, ending with Human Eye, where 32 STREB Action Heroes performed a spoke-dance on the towering landmark of The London Eye. STREB performers are trained in ballet, modern dance, martial arts, acrobatics and the circus arts.
www.streb.org
* * *
The Festival will continue at City Center from September 25 – October 5 with performances by 20 acclaimed dance companies and artists from around the world, including three new works from today's most exciting young choreographers, commissioned by New York City Center in celebration of the tenth anniversary. The Festival's many free pre-show events will include dance lessons and panels by choreographers, artists and dance educators. All tickets are 5 and will go on sale Sunday, September 8 at 11 a.m.
The two-week Festival at City Center will consist of five unique programs and will include performances by 605 Collective, Alvin Ailey American Dance Theater, American Ballet Theatre, Ballet Hispanico, BODYTRAFFIC, Colin Dunne, DanceBrazil, Dance Theatre of Harlem, Dorrance Dance, doug elkins choreography, etc., Gabriel Missé and Analia Centurión, HeadSpaceDance, INTRODANS, Les Ballets Trockadero de Monte Carlo, Martha Graham Dance Company, Nrityagram, Richard Alston Dance Company, Sara Mearns and Casey Herd, Sidi Larbi Cherkaoui/Sadler's Wells London and The Royal Ballet.
To celebrate the Festival's 10th season, City Center has commissioned three new works: Annabelle Lopez Ochoa will create a new piece for Ballet Hispanico; Justin Peck will choreograph a new ballet for Sara Mearns, Principal Dancer, New York City Ballet, and Casey Herd, Principal Dancer, Dutch National Ballet; and The Royal Ballet's Artist-in-Residence Liam Scarlett will create a new pas de deux for the company, which marks the first time his work will be seen in New York. Each commissioned work will receive its world premiere at the Festival and will be performed twice.