FUN ART - A Fundraising Carnival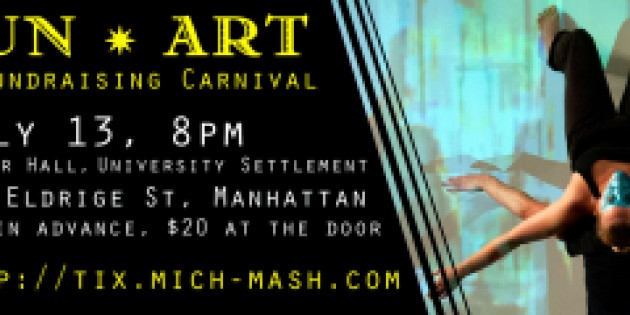 Company:
Mich-Mash Productions
Mich Mash Productions will host Fun Art - A Fundraising Carnival on July 13, 2013 to share creative works of dance that mix performance and technology.
The fundraiser will feature six dance pieces, games, raffles and a silent auction. The company, headed by Artistic Director Micheline Heal, will present a wide range of works that demonstrates the breadth of the company's repertoire. Created collaboratively, these works range from choreoplays (dance-theater pieces with a narrative arc) to abstract movement explorations.

Held in Manhattan, this fundraiser is the company's coming-out celebration in New York City. Proceeds from the fundraiser will support Mich-Mash Productions. Works can be seen on YouTube,

http://www.youtube.com/user/michmashproductions

.
0 VIP, 5 General Admission, both more at the door.
To purchase tickets, please visit https://www.artful.ly/store/events/1264.

Follow @mashbuzz #michmash