Give the gift of flight! Aerial dance classes with Grounded Aerial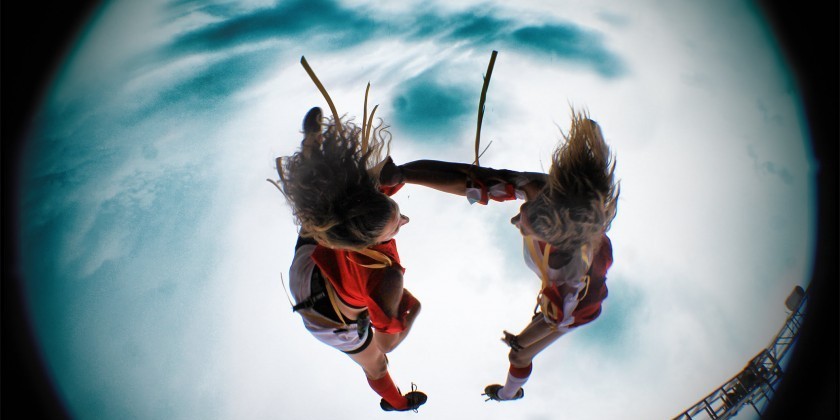 Company:
Grounded Aerial
Saturday, January 14th!!

11am to Noon: 
Bungee Work-Out Class 
(all levels welcome) $45.00
Get ready for some serious fun, airtime, and aerobic awesomeness...

3pm to 5:00pm:
Aerial Expression Workshop 
(advanced investigation for aerialists and dancers) $60.00
Wall, bungee, duets, ground and floor exploration...

NEW location: The MUSE! 
350 Moffat Street Brooklyn, NY 11237
L to Wilson Ave. Stop, then walk one block north on Moffat
Why Grounded Aerial?  What's the difference?
Karen A. Fuhrman has her M.A. from NYU. Performed for Pilobolus, Ellen Degeneres, Conan O' Brian, Good Morning America, the Oscars, Cavalia, De La Guarda, MOMIX, VH1/Vogue Fashion Awards, etc.  Grounded Aerial has appeared at the San Fransisco Aerial Arts Festival, Microsoft's worldwide launch, Limelight club, Company (Barcelona), Bidvest International (South Africa), Guatemala City World Cup, Skirball Theater (NYC), Baila! (Guatemala City), Spiderman release party, Usher, Hammerstein Ballroom, the Kimmel Center (Philadelphia), the ESPN awards, the Lincoln Center, America's Got Talent, Beach House music video, Studio 54, Lagos Nigeria, Sleep No More, Off Broadway show Red Flamboyant, NBC's, "I Can Do That" and Broadway musical, Matilda. She conceptualized two evening-length aerial shows, one performed on the side of a 22-strory building (Rochester Fringe) and other (Insectinside) though-out the US. Grounded has held countless workshops in the States and abroad. She was recently in Canada customizing specialized flying apparatuses for the movement impaired, and currently an adjunct modern and jazz dance professor at De Sales University.
PRE-REGISTRATION IS REQUIRED
Send payment to: groundedaerial.com
(be sure to click "friends and family" so you aren't charged a fee!
 
Previous students quotes:
"A fierce workout like no other"
"Gives me that competitive professional edge" 
"Pilates on crack"
"Now, I feel the sensations of flying whenever I meditate...amazing"