Highlights from Dance & Movement Theater
Brought to you by NEW YORK INTERNATIONAL FRINGE FESTIVAL
NEW YORK INTERNATIONAL FRINGE FESTIVAL
Announces Dance & Movement Theater Highlights
17th Annual Festival Runs August 9-25, 2013

The 17th annual The New York International Fringe Festival
(FringeNYC), the largest multi-arts festival in North America, will
run August 9 - 25, 2013. The festival offers programming from 185 of
the world's best emerging theatre troupes and dance companies in 20
venues in downtown Manhattan. With attendance topping 75,000 people,
FringeNYC is New York City's fifth largest event (just behind New York
International Auto Show, Tribeca Film Festival, New York City
Marathon, and New York Comic Con). The 185 shows in FringeNYC 2013
represent 13 countries (including Spain, Sweden, Italy, Japan,
Holland, Bulgaria, Slovakia and Australia) and 17 U.S. states
(including New Jersey, California, Illinois, Ohio, Utah, Florida,
Missouri and Minneapolis). Shows represent an array of genres
including drama, comedy, classical theater, dance, performance art,
puppetry, clowning, and children's theater. A complete schedule of
performances is available at
www.FringeNYC.org
.
Dance & movement-theater highlights include:
LYDIA AND TOM
Choreographer: Adrianna Aguilar (New York, NY)
A slice-of-life musical meets contemporary dance piece. Lydia & Tom
traces the titular duo's friendship from adolescence to adulthood,
tested by physical distance, professional disappointment, competition
and unrequited longing. Lydia & Tom wrestles with the joy and anguish
of our formative relationships. 1h 40m. The Theater at the 14th Street
Y (344 East 14th Street at 1st Avenue); FRI 9 @ 6:45; SAT 10 @ NOON;
WED 14 @ 8:45; SUN 18 @ 6:45; SAT 24 @ 7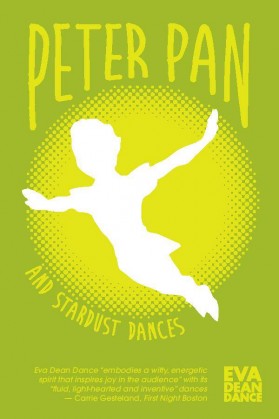 PETER PAN AND STARDUST DANCES
Eva Dean Dance (Brooklyn, NY)
Choreographer: Eva Dean
Floating dancers on circus globes, bedeviled pirates, free-spirited
gypsies inhabit the netherworlds of Peter Pan, Esmeralda, and Tinker
Bell. Enter their world, illuminated by mystical twirling lights. A
wonder for all ages 4 to 104 who believe in twilight magic. 45m. The
Theater at the 14th Street Y(344 East 14th Street at 1st Avenue); SUN
11 @ NOON; MON 12 @ 4:30; WED 14 @ 5:45; SAT 17 @ 4:30; WED 21 @ 4
SHYAMA - THE LEGEND OF KRISHNA
Nrithyanjali Institute of Dance Inc. (North Brunswick, NJ)
Choreographer: Ramya Ramnarayan
Shyama is a journey in search of the illusive boy Krishna. This
concept is spearheaded by choreographer/performer Ramya Ramnarayan.
Bharatanatyam comes to life through literature, technique &
storytelling. We explore Krishna's dynamic facets, fascinating
childhood, and His attractive charming form.1h 15m. The Theater at the
14th Street Y (344 East 14th Street at 1st Avenue); SAT 10 @ 6:15; SUN
11 @ 9:45; THU 15 @ 7:30; SAT 17 @ 2:30; SUN 18 @ NOON
WHAMMY! THE SEVEN SECRETS TO A SANE SELF
HotCity Theatre (St. Louis, MO)
Choreographer: Mikey Butane Thomas
The agony and ecstasy of "self-help" get a delirious makeover in
Whammy! Part 1960's dance party and part Nietzschean nightmare, this
dance-theater piece probes the American fever dream where Dr. Phil,
Diazepam and daily afflictions smash into sexual addiction, suicide
and The Shirelles. 1h 15m. CSV Flamboyan (107 Suffolk Street between
Rivington & Delancey); THU 15 @ 5:45; FRI 16 @ 2; MON 19 @ 7:15; THU
22 @ 5; FRI 23 @ 7
FringeNYC shows run 2pm - midnight weekdays and noon - midnight on
weekends. Tickets are 5 in advance (8 at the door) available
beginning July 19 at
www.FringeNYC.org
or 866-468.7619. Discount
passes for multiple shows (including the Fiver and the Lunatic Pass)
are also available. For more information visit
www.FringeNYC.org
.