Joffrey Academy of Dance's National Call for Artists for the 5th annual Winning Works: Choreographers of Color Awards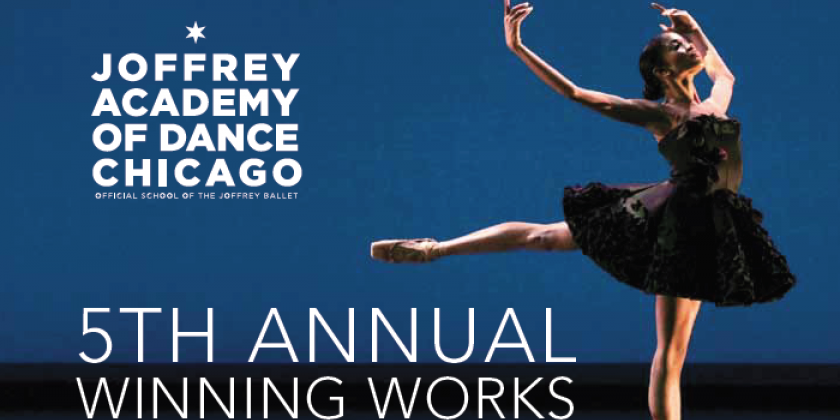 Company:
Joffrey Academy of Dance
Joffrey Academy of Dance's National Call for Artists for the 5th annual Winning Works: Choreographers of Color Awards.
CHICAGO – July 9, 2014 – The Joffrey Academy of Dance, Official School of The Joffrey Ballet, announces a national call for artists to submit applications for the The Joffrey Academy's Fifth Annual Choreographers of Color Award. The goal of the Award is to recognize talented and emerging diverse choreographers of color whose diverse perspective will ignite creativity in the form of original works of dance. The deadline for application is October 1, 2014.
The winning choreographers will be awarded a $2,500 stipend and given a minimum of 30 rehearsal hours. They will set their piece on the international members of the Joffrey Academy Trainee Program and the newly formed Joffrey Studio Company and have the opportunity to work closely with Joffrey Academy Artistic Directors Anna Reznik and Alexei Kremnev.
The choreographic work must be original and developed by the applicant and the finished piece must be a minimum of 10 minutes and maximum of 12 minutes long. The world premiere works will be showcased at the Museum of Contemporary Art Chicago March 7-8, 2015.
To apply, interested choreographers must submit the following by mail or email: DVD or video clip with a five-minute or less excerpt of their choreography with a brief written description, a letter of intent describing interest in the competition and the kind of work that will be created in 500–1,000 words, headshot, curriculum vitae, and general application found on-line at joffrey.org/winningworks with three references. The completed applications can be sent to The Joffrey Ballet Attention: Choreographers of Color Competition Selection Committee, 10 East Randolph Street Chicago, IL 60601 or emailed to choreographersofcolor@joffrey.org
The final works will be presented as part of the culminating Winning Works: Choreographers of Color
Awards 2015 in three performances on March 7 at 3:00 and 7:30 PM and March 8 at 3:00 PM. Tickets are currently on sale and available by visiting joffrey.org/winningworks or by calling the MCA box office at 312.397.4010.
About the Joffrey Studio Company
The Joffrey Studio Company is a scholarship program of the Joffrey Academy of Dance, Official School of The Joffrey Ballet. The Joffrey Studio Company consists of 10 outstanding students selected by Ashley Wheater, Alexei Kremnev and Anna Reznik. Joffrey Studio Company participants will train alongside dancers in the Trainee Program of the Academy and participate in daily classes Monday through Saturday. Led by Kremnev and Reznik, the Joffrey Studio Company will be taught and rehearsed by Academy Faculty, Academy Directors, and the Joffrey Artistic Staff.
About the Joffrey Academy Trainees
The Joffrey Academy Trainee Program is a one to two year program for students ages 17 and older who are preparing for a professional dance career. Students are selected to participate in the Trainee Program by invitation from The Joffrey Ballet Artistic Director, Ashley Wheater, and Academy Artistic Directors, Alexei Kremnev and Anna Reznik. The Trainee Program is a rigorous program in which students train in ballet and other dance disciplines. Trainees rehearse and perform classical and contemporary works from The Joffrey Ballet's extensive repertoire and have the opportunity to work with world-renowned guest choreographers.
Graduates of the Trainee Program have found positions with professional dance companies dancing successfully with The Joffrey Ballet, American Ballet Theater, New York City Ballet, Staatsballett Berlin, Dresden Semperoper, Estonian National Ballet, Tulsa Ballet, Complexions, Cincinnati Ballet, Dance
Theatre of Harlem, Atlanta Ballet, Milwaukee Ballet, Memphis Ballet, Kansas City Ballet, Texas Ballet Theatre, BalletMet, North Carolina Dance Theatre, Pittsburg Ballet Theatre, Polish National Ballet, Slovak National Ballet, Ballet West, Royal New Zealand Ballet and more.
The Joffrey Academy of Dance, Official School of The Joffrey Ballet is grateful for the support of its 2014-2015 Sponsors. With special thanks to Winning Works Sponsor, Katten Muchin Rosenman LLP and to Joffrey Academy Sponsors, Allstate, Athletico and Exelon.
For more information on The Joffrey Academy of Dance, Official School of The Joffrey Ballet and its programs please visit joffrey.org/academy.