Mark Gindick at The Yard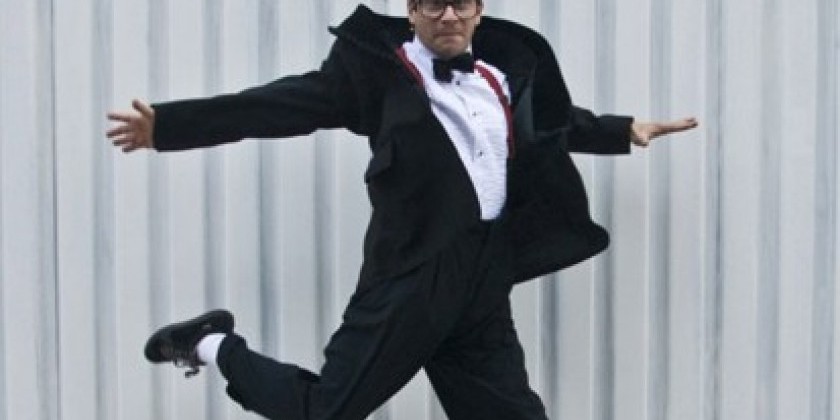 WING-MAN: A Modern Clown Show
THE NEXT BUSTER KEATON IS HERE! IT'S MARK GINDICK IN "WING-MAN"!
IN WHICH A POST-MODERN CLOWN, FRESH OUTTA PBS, YEARNS FOR LOVE (OR LUST) IN AN ONLINE AGE
(I Mean, Who Hasn't? Doesn't?)
The Yard Presents
MARK GINDICK in 'WING-MAN,' A Modern Clown Show
FRIDAY, AUGUST 23, 2013, at 8:00 PM
SATURDAY, AUGUST 24, 2013, at 6:30 PM ("Twilight Time")
Tickets 5 / 5 (Seniors, Students, Active Military)
FAMILY-FRIENDLY MATINEE: SATURDAY, AUGUST 24, 2013
at 11:00 AM ("Brunch Time")
Matinee Tickets: PAY WHAT YOU CAN
All Performances at
The Yard's Patricia N. Nanon Theater, 1 The Yard, Chilmark MA 02535
(Middle Road just north of Beetlebung Corner) Information,
Tickets & Groups: 508-645-9662 or online at
www.dancetheyard.org
Forget CABARET. From The Yard's point of view, life is a vaudeville, good friend. And Mark Gindick proves the point in WING-MAN, a hilarious one-man show with not one live word spoken. It's live but silent. It's physical high comedy without the bad low jokes. On the face of it, Mark Gindick - physical comedian and 21st Century professional circus and stage clown - shows us his courageous quest for love and hot dates via the latest social media. In the artist's words it's simply a question Quixote could have posed to his own wing-man Sancho Panza, "How do I speak less and lust more?"
At the heart of it, and perhaps in lieu of it, Mark grabs for love, intimacy and spontaneity with the audience, everything social media technology is not and can't do. In the grand tradition of Charlie Chaplin's Modern Times (remember the rose?), Wing-Man confronts the use and demands of new digital technology on our lives, and builds a new, live, interactive and intimate relationship with the audience. OMG! He's in love with the audience – maybe even the press . . . Gindick steps lively in the "New Vaudeville" steps of Broadway's Bill Irwin (a 1980's and now legendary Tony-award-winning protégé of The Yard's David White) and David Shiner, with hints of other greats - Harold Lloyd. Jacques Tati, even the Big Apple circus' venerable Grandma. Mark Gindick is the creator, writer, and performer of Wing-Man. The work is directed by West Hyler (Jersey Boys) and produced by Michael Bongar.
BIOGRAPHY: Mark Gindick is a professional actor, clown, physical comedian, director, teacher and writer/creator of his own theatrical shows. Wing-Man, his original theatrical piece without one spoken word, won BEST ONE-MAN SHOW in United Solo Theatre Festival, the largest solo festival of it's kind in the world. Mark has appeared in major feature films, including the Nora Ephron comedy Julie & Julia with Meryl Streep; on television, The Late Show with David Letterman, Late Night with Conan O'Brien and was featured in The PBS mini series CIRCUS; starred Off-Broadway and at the Edinburgh Theatre Festival in the New York Times acclaimed hit The Comedy Trio Happy Hour (Happyhourclowns.com); clowned in circuses such as Ringling Brothers and New York's Big Apple and taught clowning at SUNY Purchase college and other New York City venues. Mark wrote and starred in How To Be A Man at the Palace of Variety on 42nd Street (NYC) and Mark's unique blend of vaudeville, dance, and physical comedy earned him three Golden Nose Awards. Mark's Web site (under construction) is
www.Markgindick.com
.