October Dance Events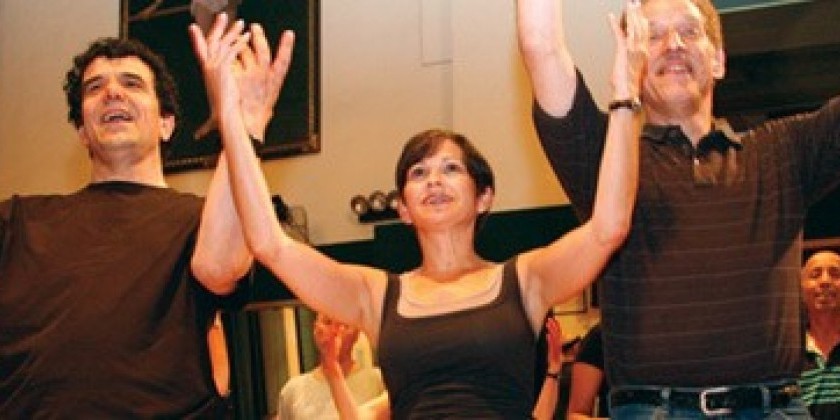 At 92Y!
-OCTOBER 2013-
92Y DIG DANCE WEEKEND WITH ALISON CHASE
Fri, Oct 4, 12-3 pm,
Fridays at Noon | ALISON CHASE PERFORMANCE: FACETS
Directed by a founding member and teacher of Pilobolus, Alison Chase Performance presents a work-in-progress as well as excerpts from the Pilobolus repertory. Also presenting work are Pilobolus and Momix veterans Lisa Giobbi, Rebecca Stenn and Joseph Mills.
Fridays at Noon tickets are and can be purchased in advance online or at the 92Y Box Office in the lobby.
Fri & Sat, Oct 4 & 5, 8 pm; Sun, Oct 6, 3 pm; 5
Dig Dance | ALISON CHASE PERFORMANCE
The performances feature selections from classic works like Femme Noir and Tsu Ku Tsu, along with new works, set to original scores, including Red Weather, a duet from Drowned and Contact Aureole.
Sat, Oct 5, 2 – 5 pm, 0
Dig Dance Master Class | ALISON CHASE: ART AT THE HEART OF PARTNERING
Get close individual attention to learn the skeleton-to-skeleton technique of weight sharing. Build and solidify partnering and improvisation skills and learn two essential tools for expanding one's expressive vocabulary and creating a stronger performer. Study with a master teacher with deep experience in the intense partnering pioneered by Pilobolus.
* * * * * * * * * * *
Thu, Oct 10, 7-9 pm, 6 sessions, 15
DANCE IN THE BROADWAY MUSICAL
Spectacular dancing has animated the Broadway musical since its inception. This analytical look at the evolution of Broadway choreography examines groundbreaking dances by George Balanchine, Jerome Robbins, Bob Fosse and many others. Whether you're a dancer, cultural historian or fan, you'll gain a greater appreciation for the artistry so many choreographers have brought to that quintessential form, the American musica. Through contextualized viewing of video recordings, group discussions and interactive exercises, see how Broadway dance reflects trends in American history. With Lisa Jo Sagolla, a choreographer and journalist, who teaches at Columbia University and is the author of The Girl Who Fell Down: A Biography of Joan McCracken and Rock 'n' Roll Dances of the 1950s.
92Y DIG DANCE WEEKEND WITH JANIS BRENNER
Fri, Oct 11, 12 pm,
Fridays at Noon | JANIS BRENNER & DANCERS: ARTISTIC THROUGHLINES, GLOBAL CONNECTIONS
Janis Brenner has often paid tribute to her mentors and the artists who've inspired her. Now 92Y asks her to switch direction and present artists whom she has mentored. Brenner met Helena Franzén in 1986 and encouraged her to choreograph. Franzén, an acclaimed artist in her native Scandinavia, presents the U. S. premiere of her solo, Trigger Point. Kun-Yang Lin met Brenner in his native Taiwan in the late '80s and later danced in her company for eight years. Now based in Philadelphia, he shows his solo, Moon Dance. Kyla Barkin and Aaron Selissen perform a duet from Barkin's dance, Reflexive. Brenner met Barkin at UCLA in the early '90s and she and Selissen are long-time members of Brenner's company. Lilja Ruriksdottir, the first Icelandic dancer to attend Juilliard (where she met Brenner in 2011) presents her dance Wait. Brenner herself contributes the premiere of Where-How-Why Trilogy. The new dance consists of three solos, performed by Esme Boyce, Sumaya Jackson and Brenner, which explore questions of place, relevance and the reasons for continuing on an artistic path.
Fridays at Noon tickets are and can be purchased in advance online or at the 92Y Box Office in the lobby.
Fri & Sat, Oct 11 & 12, 8 pm; Sun, Oct 13, 3 pm; 5
Dig Dance | JANIS BRENNER & DANCERS: ARTISTIC THROUGHLINES, GLOBAL CONNECTIONS
These performances feature the "meticulous artistry" (The Village Voice) of Janis Brenner and her full company. Brenner premieres Where-How-Why Trilogy, a group of three solos set to music by David Lang, Joni Mitchell and the electronic music band Tosca. And she revives her 2011 work, The MindStuffVariations, a complex dance with a live commissioned score by Jerome Begin, inspired by moving spontaneously and trying to use words to describe that movement at the same time. As she created the dance, Brenner came across work by psychologist William James, written 100 years ago, about Mind-Stuff Theory and what she read fit perfectly with what she was trying to do in the studio – to be in the moment while also accessing thought, memory and sensation. The resulting dance is sometimes witty and sometimes emotionally fraught. Friday's performance will also include an excerpt from Kyla Barkin's Reflexive, Saturday night's will include Wait by Lilja Ruriksdottir and Sunday's will include Helena Franzén's Trigger Point.
Sat, Oct 12, 2 pm, 5 or 5 for both classes
Dig Dance Master Class | JANIS BRENNER: MOVEMENT AND VOICE IMPROVISATION / INTEGRATION
Drawing on decades of interdisciplinary work, this class includes a physical warm-up and a vocal warm-up with the teaching of a song to be sung as a "round" and then creatively played with through movement. Activities lead into solo and group movement/voice investigations through structured improvisations. Open to all levels of dancers and performers from any discipline.
Sat, Oct 12, 3:30 pm, 5 or 5 for both classes
Dig Dance Master Class | HELENA FRANZÉN
Helena Franzén gives a release-based technique class that focuses on opening the body, finding ease and the most efficient way of moving. Floor exercises and inspiration from yoga are used to find flexibility, the body's inner strength, spatial orientation, musicality and sensitivity of different surfaces of the body. Learn a section of repertoire from Trigger Point, Franzén's dance being shown at 92Y this weekend.
* * * * * * * * * * *
92Y DIG DANCE WEEKEND: INTERMEZZO
Join us for the debut of a new dance company formed by Craig Salstein, soloist with American Ballet Theater. Intermezzo, committed to classical ballet and music from great composers, kicks off with a celebration of the composer Giuseppe Verdi, with new work from five new dancer-choreographers, including Marcelo Gomes (ABT), Lisa de Ribere (formerly with New York City Ballet and ABT), Adam Hendrickson (NYCB), Gemma Bond (ABT) and Raymond Lukens (Jacqueline Kennedy Onassis School).
Fri, Oct 18, 12 pm,
Fridays at Noon | INTERMEZZO
Get a behind-the-scenes view at this open rehearsal, as Intermezzo prepares for its debut tonight. Director Craig Salstein will talk with the audience, but also focus on getting his dancers ready.
Fridays at Noon tickets are and can be purchased in advance online or at the 92Y Box Office in the lobby.
Note: Craig Salstein does MovementTalks at 92Y on Jan 31.
Fri & Sat, Oct 18 & 19, 8 pm; Sun, Oct 20, 3 pm; 5
Dig Dance | INTERMEZZO
Join us in the evening for complete works from each of the five dancer-choreographers being presented.
* * * * * * * * * * *
Fri, Oct 25, 8 pm, tickets from 5
EDWARD HENKEL'S MOVEMENTTALKS: Dance Diplomacy: Stories from the Trenches
Jonathan Hollander, Carmen Nicole and Emad Salem
What can a dance performance do that official diplomacy or other cultural exchanges can't? Hollander (who invented the term "dance diplomacy") and his Battery Dance Company have danced across a carpet of insects in Burma, stayed in a police academy in Germany and taught Palestinian and Israeli students to partner each other. Hear Hollander, the company's Deputy Director, Emad Salem, and dancer Carmen Nicole offer their perspectives on the special connections dance can create across countries and cultures.
Sat, Oct 26, 8 pm – 12 am, 7 pm class, 3 in advance, 5 at door
Social Dance Parties | CLASSIC BALLROOM
92Y is the place to be on Saturday night! Singles and couples of all ages and levels welcome. Ballroom hosts Jeni Breen and Gene Eagle bring stardust evenings of favorite ballroom dances – Foxtrot, Waltz, Cha Cha and Tango. Trip the light fantastic with us! Light refreshments and cash bar.
Wed, Oct 30, 8 pm, from 5
Israeli Folk Dance | PRE HILULIM DANCE PARTY
Join Ruth Goodman, Yossi Almani and the Hilulim team from Israel featuring Gadi Bitton, Yaron Ben Simchon and Yaron Carmel together with dancers from around the world for an extraordinary night of Israeli folk dancing. Dance live to the music of Sagiv Cohen, singer of Yesh Sham Bama, Baderech Elayich, Perach Ba'Aviv and other dances, and enjoy seeing some of your favorite dancers perform during the evening. Great dancing, great food and great music!
Wednesdays, Ongoing
ISRAELI FOLK DANCE – OPEN SESSION
From the early evening and into the wee hours of the next morning, folk-dance masters Ruth Goodman and Danny Uziel lead the Israeli folk-dance party that has become a staple of the folk-dance scene among the cognoscenti. Call the Israeli Folk Dance Hotline at 212.415.5737 for schedule updates.
DOUG VARONE AND DANCERS IN RESIDENCE AT 92Y
Join Doug Varone and his exceptional dancers for performances, open rehearsals and workshops during their sixth year in residence at 92Y. Master classes for pre-professionals and professionals. For further information call 212.415.5553.
In 1935, what became 92nd Street Y's Harkness Dance Center provided a home to the fledgling American modern dance movement and its leader, Martha Graham. In the decades that followed, every great American dancer and choreographer – visionaries including Alvin Ailey, Merce Cunningham, Jerome Robbins, Agnes de Mille, Robert Joffrey and Donald McKayle – spent time at 92Y, building the foundation for modern dance as we know it. Through the generous support of the Harkness Foundation for Dance, the Dance Center continues this proud tradition of dance teaching, creation and performance, serving the professional world and the community at large. Technique classes range from ballet and modern dance to hip-hop and Flamenco. Rounding out the program are several performance programs including the annual 92nd Street Y Harkness Dance Festival; a professional development program for dance educators; and several teen dance troupes. For more information, please visit http://www.92y.org/dance.
92nd Street Y is a world-class nonprofit community and cultural center that connects people at every stage of life to the worlds of education, the arts, health and wellness, and Jewish life. Through the breadth and depth of 92Y's extraordinary programs, we enrich lives, create community and elevate humanity. More than 300,000 people a year visit 92Y's New York City venues, and millions more join us through the Internet, satellite broadcasts and other digital media. A proudly Jewish organization since its founding in 1874, 92Y embraces its heritage and enthusiastically welcomes people of all backgrounds and perspectives. For more information, visit www.92Y.org.