Contribute
Your support helps us cover dance in New York City and beyond! Donate now.
ROADSIDE ATTRACTION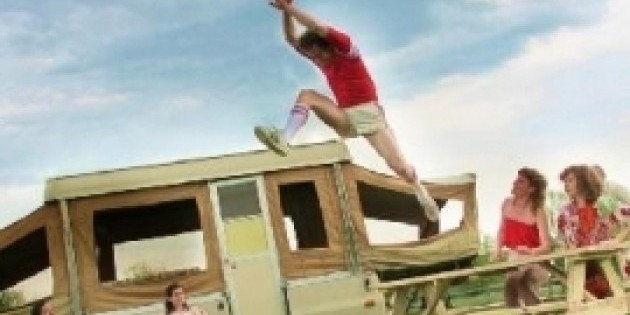 By Third Rail Projects this Summer 2013
Third Rail Projects rolls into summer with the premiere of
ROADSIDE ATTRACTION,
a mobile, site-specific dance/theater piece for
eight performers and a pop-up camper.

Roadside Attraction; photo by Tom Pearson


_

Time Out New York Best 101 things to do in New York this Summer:


"a new site-specific theater piece from the boundary-busting Third Rail Projects "


– Jenna Scherer, Time Out New York

Presented and commissioned by Arts Brookfield
Premiering in the River To River Festival 2013

FREE EVENTS
Open to the general public

Brookfield Place Plaza, 220 Vesey Street
Between West Street and the Hudson River
Open Rehearsals: Jun 16 – 22, from 6:30pm - 8:30pm
Performances: Jun 23 – 26 at 12pm &1pm (15 min.)
Jun 27 at 1pm & 7pm (60 min.)

One New York Plaza
At Water St. between Whitehall & Broad Streets
Performances: Jul 1 & 2 at 12:30pm (60 min.)

"Leave it to Third Rail Projects to take a 1977 Coleman pop-up camper and convert it into a stage, which is just what they've done for "Roadside Attraction," a new nomadic performance-installation and shrine to kitschy Americana."
– Siobhan Burke, The New York Times

Roadside Attraction is a versatile new work housed in and around a vintage Seventies-era pop-up camper that has been retro-fitted to become the stage and setting for a new dance/theater performance

Designed to be shown virtually anywhere, indoors or out, Roadside Attraction is a family vacation that steps back in time to when Supertramp was on the radio, Connect Four was on the folding table and frisky business was in the bunks. Mom's red Candies clapped from the camper's linoleum kitchen window before she emerged in her cheetah print bathing suit with matching blanket, her platinum wig blowing in the breeze.

Exploring expectations, acceptance, and the excruciating but illuminating identification with family role models, Roadside Attraction is a slice of nostalgic Americana, replete with lawn chairs, a picnic table, and all the trappings of a family that has been together on a road trip for far, far too long.

As a performance, Roadside Attraction is a dance/theater piece for eight performers that incorporates the intimate, quirky, stunning and startling choreographic sensibility that is the hallmark of Third Rail's critically acclaimed dance/theater work. Directed and Choreographed by Jennine Willett, with Tom Pearson and Zach Morris and in collaboration with the company. Performers include: Elizabeth Carena, Rebekah Morin, Tara O'Con, Tori Sparks, Niko Tsocanos, and Carlton Cyrus Ward. Original music composition by Sean Hagerty, with Isaiah Singer and Elizabeth Carena, played live.

More info on Roadside Attraction • Twitter #Roadside

The premiere of Roadside Attraction is presented by Arts Brookfield as part of the River To River Festival 2013. All events at Brookfield Place are sponsored by American Express, Bank of America, Battery Park City Authority and Brookfield. Roadside Attraction has also been made possible, in part, by New Music USA's 2013 Live Music for Dance Program; Kaatsbaan International Dance Center, Inc.; Mana Contemporary; by Materials for the Arts/New York City Department of Cultural Affairs and Department of Sanitation; and by Third Rail Projects, with support from individual and institutional donors.