Sokolow Theater/Dance Ensemble Collaborates with Horse's Mouth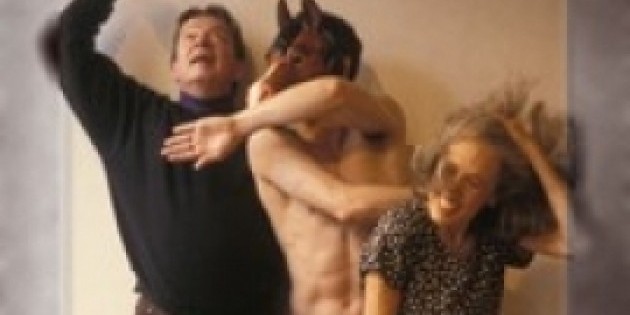 New production at 14th St Y
SOKOLOW THEATRE/DANCE ENSEMBLE & FROM THE HORSE'S MOUTH TO PRESENT ANNA SOKOLOW'S WAY
December 4-8, Theater at the 14th Street Y
Collaborative Season To Demonstrate Sokolow's
Influence
New York, NY, August 5, 2013
– Rare video, live performance and narrative script covering Anna Sokolow's personal struggles and the creation of Theater Dance will be presented in Anna Sokolow's Way, a duel production by
Sokolow Theatre/Dance Ensemble
and
From the Horse's Mouth
Wednesday, December 4 to Sunday, December 8 at the Theater at the 14th Street Y. Discover how Anna Sokolow influenced theater, music and dance around the world, demonstrating how art can influence one's inner struggles and guide society.
This collaborative season will include a multi-disciplinary dance/play about Ms. Sokolow, conceived and directed by Jim May, Sokolow Ensemble's founder, artistic director and former dancer (Bessie Award). The program will feature highlights from Dreams, Rooms, Diaries of Franz Kafka, Opus 65 and Magrit,
performed by highly skilled artists dedicated to the preservation of Sokolow's technique of voice, theater, and dance. Teenage students from
Ellen Robbins
'
school will also perform.
Co-directors of From the Horses's Mouth,
Tina Croll and Jamie Cunningham
Photo by Tom Brazil.


From the Horses's Mouth
, the acclaimed dance/narrative series co-directed by Tina Croll and Jamie Cunningham, will offer its unique blend of movement, storytelling and supportive visual imagery to bring Anna Sokolow vividly to life through the sharing of personal experiences by dancers, actors, critics and musicians who's lives she touched over a 60-year career in dance. Notables from the theater and dance community will partake in this intimate format of talking and dancing, in honor of Anna Sokolow's extraordinary legacy.
There will be
three performances of Anna Sokolow's Way, three performances of From the Horse's Mouth, and a Gala combination performance of Anna Sokolow's Way and From the Horse's Mouth on Friday, December 6.
Anna Sokolow's Way
is partially funded by the Matisse Foundation.


PROGRAM:
·
Wed., Dec. 4 Evening - Anna Sokolow's Way – Sokolow Theatre/Dance Ensemble
·
Thurs., Dec. 5 Evening

– From the Horse's Mouth
·
Friday Dec. 6 GALA - From the Horse's Mouth and Sokolow Theatre Dance Ensemble

- Anna Sokolow's Way
·
Sat., Dec. 7 Matinee – From The Horse's Mouth
·
Sat., Dec. 7 Evening – Anna Sokolow's Way – Sokolow Theatre/Dance Ensemble
·
Sun., Dec. 8 Matinee - Anna Sokolow's Way – Sokolow Theatre/Dance Ensemble
· Sun., Dec. 8 Evening – From the Horse's Mouth
ABOUT ANNA SOKOLOW (1910-2000)
ABOUT JIM MAY - Artistic Director, Sokolow Theatre/Dance Ensemble
ABOUT FROM THE HORSE'S MOUTH – Conceived and Directed by Jamie Cunningham and Tina Croll