The Yard Presents: Dan Froot and Dan Hurlin's "Who's Hungry"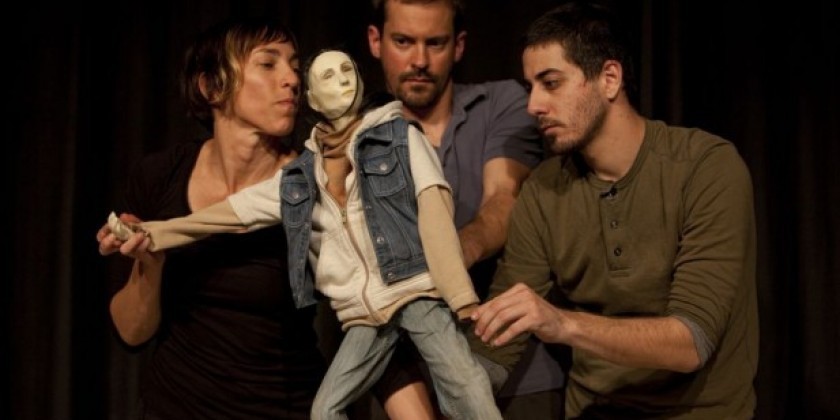 Raising awareness of chronic hunger
ARTISTS IN OUR BACK-YARD ASK THE VINEYARD, "WHO'S HUNGRY?"
WRITER DAN FROOT AND DIRECTOR DAN HURLIN INVITE PERFORMERS, ROD PUPPETS, REAL STORIES, AND YOU TO DINNER –
IT'S TIME FOR THE REAL-LIFE HUNGER GAMES TO SHOW THEMSELVES
Listing Information:
The Yard Presents
"WHO'S HUNGRY"
A Contemporary Adult Puppet Theater Drama
FRIDAY, SEPTEMBER 20, 2013 at 8:00 PM
SATURDAY, SEPTEMBER 21, 2013 at 8:00 PM
Tickets 5 / 5 (Seniors, Students, Active Military)
Additional Donations to the Vineyard Committee on Hunger (which distributes funds to all island food organizations) will be accepted at each performance and an Island Food Pantry box will be available for canned food donations.
All Performances at
The Yard's Patricia N. Nanon Theater, 1 The Yard, Chilmark MA 02535
(Middle Road just north of Beetlebung Corner)
Information, Tickets & Groups: 508-645-9662 or online at www.dancetheyard.org
Photo by Rose Eichenbaum
Dan Froot and Dan Hurlin invite audiences to an evening of adult puppet theater that gives a voice to hunger in New England and these United States. "Who's Hungry" weaves together dance, music, puppetry, and text, sharing testimonies of five homeless and/or hungry Americans and raising awareness of chronic hunger in our communities and country. In Massachusetts, the food insecurity rate has grown by over 43% since the start of the 2008 recession. Martha's Vineyard supports and welcomes a booming tourist population each summer. However, when off-season rolls around, the remaining year-round population reveals itself as a largely working and middle-class community, many of who struggle with food insecurity. Living on this island means more than geographical separation from the mainland; within the intimacy of this small community, hidden cultural issues can often be amplified because everyone knows everyone.
And everyone knows someone who's hungry.
Even with the committed work of organizations such as the Island Food Pantry, the Island Grown Initiative, and the faith-based institutions, food insecurity still looms among our neighbors across the Vineyard. Froot and Hurlin's beautiful, starkly poignant piece brings the subject(s) up close and personal, and invites a deeper public dialogue about food insecurity and hunger rampant in the richest economy in the world. Performed at a specially built 24-foot dinner table, the audience views the performance from one side, as if they are banquet guests – if not hosts.
The Yard hopes that by inviting audiences to a truly unforgettable "dining" experience, we can catalyze conversations with island service organizations, the local population, and all in attendance, and help advance a pro-active agenda for food "security" on the Vineyard and beyond.
"We all can go down to a food line and serve food…But you're not the actual person behind the food line. You get to go home. This was a real wonderful thing to be able to have the audience kind of participate in that experience for themselves."
Robert Coughlin, one of Who's Hungry's Community Narrators
NOTE: PLEASE READ ATTACHED ESSAY "PUPPETRY AND WHO'S HUNGRY" BY LESLEE ASCH FOR FURTHER BACKGROUND.
BIOGRAPHIES:
Dan Froot, Producer / Playwright – Dan Froot's work has toured internationally since 1983. His awards include a Bessie (New York Dance & Performance Award) and a City of Los Angeles Artist Fellowship. He has worked with Yoshiko Chuma, Ping Chong, David Dorfman, Mabou Mines, Ralph Lemon, and Victoria Marks, among others. He teaches at UCLA's Department of World Arts and Cultures / Dance.
Dan Hurlin, Designer / Director – Dan has received a United States Artists Fellowship, a Guggenheim Fellowship, two Obie awards, a 2001 Bessie, and a 2004 Alpert Award. He has just received the prestigious Rome Prize for Visual Arts for 2013-2014. His experimental puppet theater work tours internationally. He has performed with Ping Chong, Janie Geiser, and Jeffrey M. Jones, and directed works by Lisa Kron, Holly Hughes, and John C. Russell, among others.
FUNDING CREDITS:
This engagement of "Who's Hungry" is the first stop in a six-city tour of New England, and is made possible with an Expeditions Touring grant from the New England Foundation for the Arts. This Yard presentation is additionally made possible with the support of the National Performance Network. Other support for the Yard's presentation of "Who's Hungry" comes from the National Endowment for the Arts, the Massachusetts Council on the Arts, an Anonymous donor, and the Friends and Members of The Yard.
++++++++++
"Puppetry and Who's Hungry"
by Leslee Asch
© 2013 all Rights Reserved
Leslee Asch, Executive Director of Silvermine Arts Center, New Canaan, CT; served as Producing Director of the Henson International Puppet Festivals from 1992–2000; and remains a member of the Board of the Jim Henson Foundation….and collaborator on this NEFA Expeditions Tour.
Why use puppetry to tell these stories? There are many possible answers to that question. For one, puppet actors are created actors – designed to fit a specific role and to illuminate the essence of a character. As each of these stories belongs to a specific individual, why not create the actors to fit them exactly – and go to the essence or heart of their story, where stories become more universal?
Puppets can exist in any form or scale, from larger than life, to diminutive. Reflecting upon why he chose to tell this story through puppet theater, Dan Hurlin, the creator of the puppets for Who's Hungry, explained that he chose to make the puppets small in scale because "humans are kind of hard-wired to adore and empathize with small things. No matter where it comes from, the impulse to adore and protect tiny things is in us all, so I think this is in play when talking about how puppets draw an audience in, and make the stories more vivid for the viewer. We adore these beautiful, defenseless objects, and so we are drawn to them. And when we get drawn into their painful stories, their size makes it all the more heartbreaking. Dan Froot and I are, of course, hoping that heartbreak can or will lead to community action."
For me, there is another equally subtle reason. Puppet theater is innately interactive. The words "willing suspension of disbelief" are often used to express the idea that the audience accepts the characters as real, knowing full well that they are inanimate objects given the appearance of life through human intervention. So, as we invest the puppet with life, we become willing participants or co-conspirators. The more we breathe them to life, the more invested we become in their plight.
This connection creates an openness and receptiveness which can allow subject matter that, if told by actors, might be too intense, causing audience members to shut down, or tune out. The experience, mediated through the inanimate puppet is close – but not too close – and the meaning is able to be absorbed. One of the most provocative examples of this phenomenon was seen in Handspring Puppet Company's "Ubu and the Truth Commission." In this piece, which was based on the actual testimony of the South African Truth Commission, examining atrocities committed under apartheid, puppets were used to give the testimony of parents who had lost children, repeated in dead-pan voices by the interpreters. The testimonies were so heart-wrenching, that the audience may well have found them too vivid, and therefore easier to ignore, if told by flesh and blood actors. Somehow, these rough-hewn wooden actors brought the audience closer to the testimonies. This distancing, to allow oneself to get closer to the subject, is utilized to great affect in "Who's Hungry." We are at once enthralled and engaged. We again find a sense of awe.
This, I believe, is why puppetry was lost for so long as an adult art form and was relegated to childish entertainment. Sadly, in our society only children have been allowed to maintain the capacity for wonder, awe, and fantasy, which opens the doors to this co-created act. In the hands of a skilled actor, a puppet – which may be no more than a carved wooden head attached to a piece of cloth – moves, speaks, and acquires a personality. To our unending amazement, an inanimate object comes to life.
Throughout the centuries, the power of this transformation has engaged significant writers, painters, musicians and theater artists including Alexandra Exter, Manuel de Falla, Paul Klee, Federico Garcia Lorca, and George Sand. And, while puppetry's history is often divided into two "camps" – political/ social change, with roots from Punch & Judy to Bread & Puppet; and high-art, the dichotomy fades in a piece like this, which not only represents the highest degree of artistic articulation but is the most engaged community action I've seen.
The word "puppet" comes from the Latin pupa, meaning "doll." But puppets are more than dolls, for in them is the illusion of life. They are symbolic mirrors in which we are startled – and sometimes delighted – to see ourselves reflected. In Latin, pupula, a diminutive form of pupa, means pupil, as in the pupil of the eye. Are these figures powerful tools to help us see? I believe they are.
Inherently multidisciplinary and drawing on the universal language of images, puppetry crosses international borders and bridges diverse cultures. At its very heart it is a fusion of art forms: all elements of the visual and performing arts are employed, including painting, sculpture, text, music, movement, and technology. Puppetry is the perfect union of the theater, which puts ideas into action, and the visual arts, which give them form.
So, sit back and stay open to experiencing and co-creating these tales, in recognition of our common humanity…