Related Features
Advertise With Us
Make an impression - place an ad on The Dance Enthusiast. Learn more.
Contribute
Your support helps us cover dance in New York City and beyond! Donate now.
Dancing In the Line of Duty: Danny J. Santana, Dancer and United States Navy Officer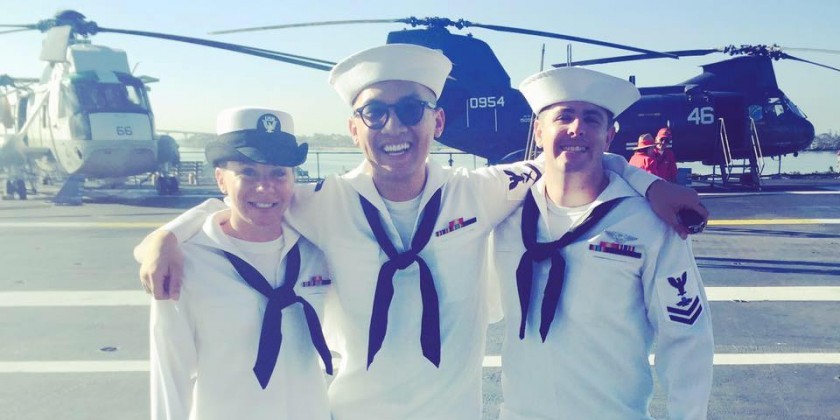 A Message to all Dance Enthusiasts
A dancer for 17 years, Danny J. Santana, was a member of the dance team at Independence High School, pursued a dance major at San Jose State University, and later, choreographed for De Anza College. His favorite genre, contemporary dance, allows him to express himself beyond the structure of ballet.
Santana sacrificed his biggest passion to join the military, and ever since, has only able to drop into classes at studios in whichever part of the world he is stationed. Despite the inconvenience of balancing dance training with military life, he carries a message for all dance enthusiasts who might find themselves in a similar disposition…
---
"Note to self: dance on less slippery rocks."
 
Sammi Lim for The Dance Enthusiast: Hey, Danny! I'm glad for this chance to chat. What prompted you to reach out to The Dance Enthusiast?
Danny Santana: The Dance Enthusiast has been the one stable platform I can rely on wherever I am in this world. Seeing all your featured artists and how they're succeeding in their community really brings me back to my roots and serves as an everyday reminder of how far dance has gotten me.
---
TDE: How did you come to the decision to exchange your pointe shoes for combat boots?
DS: Moving away from home and falling into the bad crowd with drugs and alcohol, I dropped out of college. Trying to balance dance and rent and all my bills, I just couldn't make ends meet anymore. 
Financially, the Navy has been my biggest blessing. Emotionally, however, it's definitely been a sacrifice. Being away from my family and not being able to dance full-time has been an artistic hindrance. That being said, I feel blessed having been able to experience so many cultures at such a young age. I've sailed to Japan, the Philippines, Singapore, Australia, and Indonesia. 
I currently take jazz and contemporary dance at Culture Shock Dance Center in San Diego where I live. My Navy career definitely takes up a lot of my time and I'm pretty lucky I can squeeze in a couple dance classes a week.
"Yes, a male trained in pointe..."

TDE: Did you consider the risk of sustaining a critical injury in the line of duty that would undermine your ability to dance?
DS: I do experience injuries from time to time with such a physical career, but I can't exactly stop. The military is very physically demanding and I just have to push forward. 
TDE: On the opposite side of the scale, do dancing and navy training inform one another?
DS: I thought I was fit before the military, but was I was wrong. Navy boot camp really did whip me into shape. We did cardio, calisthenics, and lifting everyday for two months. I actually loved it. I did freak everyone out when I could hold a penchée while tying my shoe effortlessly!
"New York City, the day I danced with Alvin Ailey."
TDE: How often are you sea bound? I bet living on deck gives you sea legs. Does dancing feel wobbly when you first land ashore?
DS: I go out to sea a few times a year and travel to various countries. Coming to shore after sailing for such a long time was initially quite the adjustment. Walking was hard, let alone dancing. One time while sailing, I tried an arabesque. It was no joke. Don't do it.
TDE: Do you have a message you deem important to pass onto other dance lovers?
DS: My one message to share with other dancers is to simply never stop. Don't let anything stop you from dancing, not an injury, money problems, or moving to five different countries. Dance has had the most powerful impact in my life. It took me from such a dark place and miraculously brought me back to my feet. And all I had to do, really, was dance.